Though the United Nations recently declared that access to the Internet is a basic human right, less than half of the world's population can get online. And women are connecting more slowly than men, with an estimated 200 million fewer women than men online in 2014. This digital gender divide isn't just unfair; it's fundamentally detrimental for women.
According to Nancy Hafkin, a Senior Associate at Women in Global Science and Technology, an organization that promotes women's development of science, technology, and innovation, "Women without access to the Internet risk getting left further behind as more of the world's communications and businesses migrate online, and women who cannot or do not use the Internet risk deeper isolation, including missed opportunities for education, jobs and career advancement."
Marie Aimee Umuhoza was one of those women. "Being a first-born child has never been easy and it did not make it any easier that I was a girl," says Marie Aimee, a bright young woman studying at the Akilah Institute for Women in Kigali, Rwanda. "I have always felt that I had a lot of people's expectations to meet while also looking out for my little brothers." Marie Aimee is set to graduate in 2016 with a diploma in Information Systems (IS), one of 8 brave young women in Akilah's inaugural class in IS.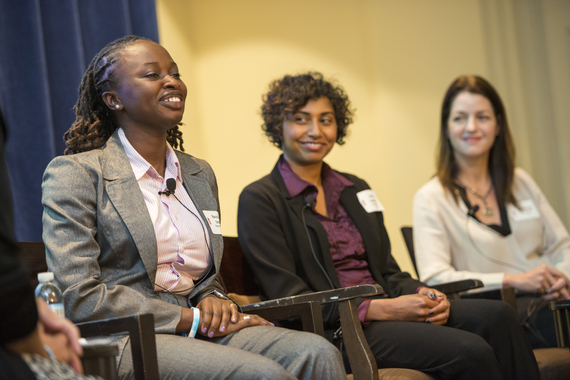 NPR's Barbara Klein talking tech with Marie Amiee Umuhoza (Akilah Institute Class of 2016), Shireen Santosham (GSMA), and Kay McGowan (USAID)
Jason Hornick/Marriott International
"Seeing ICT growing in Rwanda every day, it's hard to ignore all of the possibilities for our future. That's why I decided to study and enter the ICT field." It was a difficult decision she told me. "At first I felt that this is not a field for a woman. This is what we grow up thinking." While her teachers tried to steer her away from math and science, her mother encouraged her to be bold. Her advice: "I understand it's raining, but you have to dance in the storm."
Technology has become a gateway for Marie Aimee, and so many other women around the world, opening the door to participation in the economy, politics, healthcare, community engagement, and above all, education. Education is where we see the most powerful change. Education experts predict that by 2030, most of what students learn will come from online sources. Already, Intel estimates that 77% of women and girls with access to the Internet in Sub-Saharan Africa use it to further their education.
"Being connected, heard, and externally validated within a global community provides many women the courage and support they need to become change agents at home," says Jensine Larsen, Founder of World Pulse.
A technology-based education allows young women not just to get online but to engage with the rest of the world as innovators, business owners, and community leaders. Slowly but surely, women and girls everywhere are leading innovations in science, technology, engineering, and math.
Despite progress over the past few years, women continue to lag behind on connectivity, according to GSMA's 2015 Connected Women Report, and there are still serious challenges. "Biases are high around women's access to technology," said Shireen Santosham, Director of Research & Insights for the GSMA Connected Society program and a report co-author, speaking at an Akilah-sponsored event on women and tech. "Women are less confident around accessing technology so breaking that cycle is very important."
Kay McGowan, Digital Finance Lead at USAID's Global Development Lab, agrees, noting that technology access is missing as its own Sustainable Development Goal. "A small percentage of people are leapfrogging ahead with technology but so many others, especially women, are being left behind."
We must address the global gender gap in technology to reduce barriers for women and ensure equality. It is a right worth fighting for because in truth, the Internet is the only way forward. Eleven million people are set to enter Africa's labor force every year over the next decade and already, almost every job has a digital component.
With a student to computer ratio of 2-1 at Akilah that outpaces other universities in the region, Marie Aimee now spends her days learning about systems analysis and design, coding and programming, and building databases. She accesses readings on a Kindle and plans to use the WiFi-enabled computer lab to research and apply for jobs.
"One of my biggest dreams is to see a greater number of girls in the Information Systems field," said Marie Aimee. "My purpose is to become a role model for others, to become a living testimony of what women can achieve."
Karen Sherman is the Executive Director of the Akilah Institute for Women and a Senior Associate on Women's Economic Empowerment at the Georgetown Institute for Women, Peace and Security. She is the author of the forthcoming book, Surviving Women.
Related
Popular in the Community