If the principal dancers in the Boston Ballet's upcoming performances of John Cranko's Onegin seem especially relaxed and comfortable on the Boston Opera House stage, then the audience can take a bow.
That's because Boston isn't Milan.
Two Boston Ballet principal dancers, Petra Conti and Eris Nezha performed for years at La Scala, where audiences are so demanding that it actually affects the way the dancers perform.
"When I dance at La Scala," says Nezha, "the audience can be very challenging. They will even come up to you in the street and tell you how a particular part of the ballet should be danced.

"And they are not even dancers!"
Nezha says that as a result, when he is planning his performances, he has to merge his interpretation of a role into the expectations of the seasoned (and perhaps even hardened) Milanese audiences.
Boston is a breath of fresh air for the couple who met in Verona when Conti was 17 and dancing in Cinderella. They met again, and married, while dancing at La Scala.
"Boston audiences don't come with preconceptions about how a role should be performed," Conti says. "This allows the performers do what they believe is appropriate, instead of trying to live up to what you think the audience wants you to do."
Crankin's Onegin, with its breathtaking Tchaikovsky score, is one of the most emotion-laden ballets in the world.
Conti describes her character Tatiana as "a young, shy country girl -- just in love with the idea of the fantastic Eugene Onegin. She is young, pure, innocent.
"By the third act, she is ten years older, and she has a new status. A very rich husband. She lives in St. Petersburg, not the country.
"I need to show all that. When I answer the call for third act, I have more wrinkles and I am a more mature lady.
"When I first danced the role at La Scala, I was 22. They said, 'You're too young. You can only do the first two acts.
"But I love performing drama. And when I came out for the third act, people on stage said, 'You look incredibly different! We couldn't recognize you!'
Conti says the best part of her job is "to change into something I'm not.
"I can't wait to show Tatiana to the audience and make them cry. It's our goal, to make them feel something. This ballet is all about emotion."
Nezha is equally emphatic about the emotional nature of his character, Eugene Onegin.

"He's a typical dandy from the big city," he says. "I start the ballet in a small city, polite and bored. After that, there are actually two Onegins -- the real Onegin and the Tatiana's dream Onegin. So I have to dance both of those men.
"And then in the third act, after 10 years, he's older, tired of the life he's led. He doesn't even recognize the faces of his past lovers.
"He's physically heavier and he moves in a heavier way. There's an emptiness about him. He's less confident. That's what I have to portray."
Although the couple won't be dancing together in the Boston Ballet's Onegin, they do take their work home with them.
"It's really helpful to have a husband who is a principal dancer, too," Conti says. "Even at home, we work on the characters. We correct each other. We support each other. It helps a lot to have the same job!"
Nezha agrees. "Art doesn't make you tired," he says. "At home, we help each other to improve. We talk together. I'm a better dancer because of it."
If only Eugene and Tatiana could get along as well, but then, there wouldn't be much of a ballet if they did.
John Crankin's Onegin, Boston Ballet, Boston Opera House, February 25-March 6. For further information, http://www.bostonballet.org/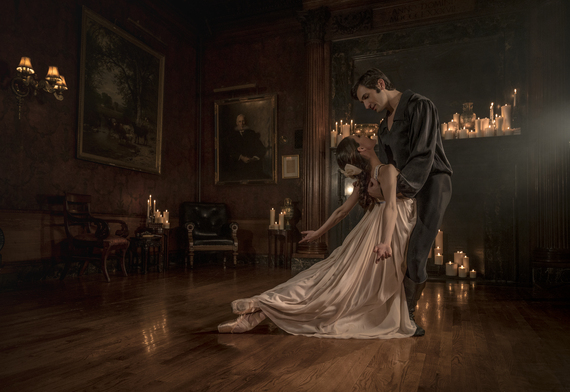 Petra Conti and Eris Nezha by Ian Barnard; photographed on location at The Algonquin Club, courtesy of Boston Ballet
REAL LIFE. REAL NEWS. REAL VOICES.
Help us tell more of the stories that matter from voices that too often remain unheard.