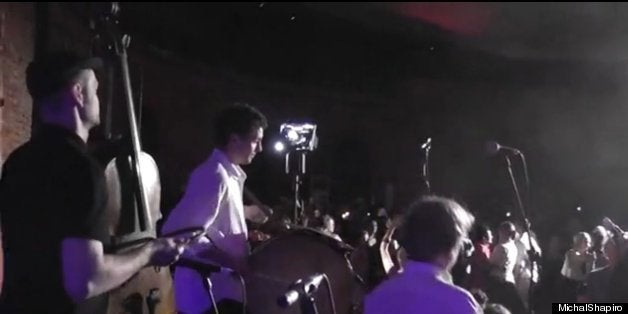 There's something shakin' in Poland these days. Musicians who are curious about their folk legacy (the real one) have been discovering its joys, and are passing that joy along to a whole new generation of young people. And they are dancing up a storm... to the Mazurka.
They even got ME dancing, to a point of happy exhaustion!
To backtrack a bit, the folk heritage of Poland got buried during the Communist years as state sponsored folk troupes were kitsch at best, and distorted its guts and glory into an over-produced, homogenized cliché. Poles turned away from this package, and with the passage of time many thought that this weird product actually WAS their music.
But 30 years ago, a man named Andrzej Bienkowski lugged a video camera out to the hinterlands of Poland and started to document the real stuff. It became a passion, and now his Warsaw flat is a salon for this new wave of musicians to embrace the singing, playing and dancing of their homeland. And just as the Hungarians discovered in the 70s, it is a rich tradition indeed, full of complexity, drive and enduring melodies.
I also found it to contain an odd mixture of stoicism and hedonism. The folksongs which are primarily non-polyphonic, tend to stress the hardships of life --with the exception of wedding songs-- while the couple dancing (and the music for it) is intensely physical, joyous, and even trance inducing. So forgive me if I concentrate on the instrumental side!
If it wasn't for my profile of the Janusz Prusinowski Trio when I saw them at WOMEX I would not have been invited to this invigorating event They are the main organizers of the "Mazurkas of the World Festival," a total immersion, and non-stop environment of music and movement. There are workshops for violin playing, Baraban (drum) playing, singing, and of course, dancing. There are people like Maciek Zurek, spreading the word and setting up dance parties, and this year's festival saw greater attendance, by people already knowing the music and dances, than ever before. The festival takes place in May, so if you headed to the area at that time, and you like to dance, or just enjoy an intensely energetic musical experience, check it out.
After the festival, the press group and I spent three days in the country, meeting the people who still create the music, and seeing how it fits into life there. I confess that a large part of our time was spent slugging back home made vodka, as each song sung requires an introductory quaff. I'm still reviewing my footage, hoping it is not too shaky to use! If it is passable, you can look forward to part two of my visit.
The video here is just a sampler.
To see six full songs by the Kapela Brodaw click here.
I will be adding more exclusive full performances to my site at InterMuse shortly.
For more information about the Mazurkas of the World Festival please click here.
For more information about the Janusz Prusinowski Trio, click here.
Popular in the Community