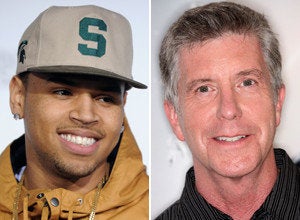 Chris Brown is set to perform on "Dancing With The Stars" on Tuesday night, but he may not get a very warm welcome.
"DWTS" host Tom Bergeron sat down for an interview with Ryan Seacrest on Monday and told his fellow reality talent competition host that there might be trouble if he gets an opportunity to interview Brown on the air.
"I did say to the producers that it might be to their advantage to not have me interview him, because my natural tendency would be to say something," Bergeron revealed (via Entertainment Weekly). "So don't put me in a position where you're asking me not to say something, because I won't really do that."
Still, despite Bergeron's warning, "DWTS" did promote Brown's appearance on Monday night's show. Reality TV may just get very, very real.
Popular in the Community