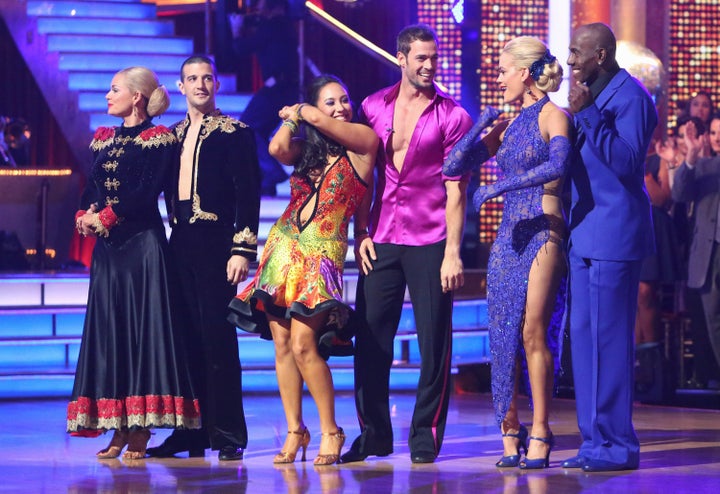 The battle for eternal Mirror Ball glory on "Dancing With the Stars" has never been this evenly matched heading into the finals. But after tonight's performances, I know who I'm placing my bets on.
If you asked me who I thought was going to be the Season 14 champion in Week 1, I would have said William Levy. He has the full package. (Get your mind out of the gutter, Bruno.) He's incredible handsome, has a rabid fan base and he's not a bad dancer. Sounds like a win-win, right? Wrong.
In the last couple of weeks, William's "shake my hips, show my chest" routine has gotten old. Take his freestyle as an example. It offered little variation from what we've already seen William do. Lo siento, William, but I like my "Dancing With the Stars" winner to show a bit more variety.
Then there's opera singer Katherine Jenkins. Not only is she beautiful, but in just 10 weeks, she's managed to charm the pants off American audiences. Do I need to show you a "naughty bits" montage to prove it? She's also one of the most technically skilled dancers the show has ever seen. If this were a competition based solely on precision, then Katherine would take it, but we all know "Dancing With the Stars" is more like a popularity contest than an actual dancing competition. And unfortunately, she doesn't quite have the fan base to win it all.
Donald Driver, on the other hand, has the talent, charisma and Packer Nation behind him, and after tonight's spectacular, jaw-dropping freestyle, I think he should start clearing off some room (maybe next to his Super Bowl ring?) for that coveted Mirror Ball trophy. He promised something "crazy," and he certainly delivered.
Of course, this is only my opinion, and after tonight's scores, it's Katherine that's No. 1 on the leaderboard, with a perfect 60, while William and Donald are both tied for second with scores of 59.
Starting off the night with the judges' picks, William and Cheryl got to redo their first cha-cha-cha. It just so happened to be William's first dance of the competition, so needless to say, it was a full-circle moment for the Cuban heartthrob. Before he was the "Latin James Bond," he was just a man who didn't know how to cha-cha-cha properly.
Bruno came in during rehearsals to help William ... or stare at his bottom ... I'm not quite sure. "Your hip action is just like sex on legs." Yep. It pretty much went like that.
On the floor, William showed the judges exactly how far he's come since Week 1. Len said it was as good as he's ever seen in "14 seasons of cha-cha-cha." Len must have taken his happy pills because I definitely didn't think it was the best cha-cha-cha ever.
Meanwhile, Katherine and Mark had to redo their Rock Week paso doble, which the judges originally felt was too agressive. Even headbangers have hair metal ballads, Katherine! The second time around, Katherine packed less of a punch and more finesse.
Bruno complimented her "vivid, lush artistry" and her masterful technique, which has been Katherine's strength since Week 1. Carrie Ann dubbed the Welsh songstress the "prima diva of the 'Dancing With the Stars' ballroom."
Katherine received her first 10 from Len, scoring her first perfect 30 of the competition, and all I have to say is, it's about time.
To quote host Tom Bergeron, "Donald and his partner, wearing most of a whole dress" needed to give their Argentine tango another go.
During rehearsals, Carrie Ann told Donald that content was lacking from his original performance, so for his redo, Donald really brought the heat to the ballroom. Unfortunately, Len thought he could have taken it a bit further, saying that it was "a tad careful." Much to the dismay of the audience, Len gave the football star a 9. Poor Donald. He just can't catch a break from Len.
In my opinion, Donald's performance may have told a story, but it was also a bit boring. I think he could have amped up his footwork.
As for the "make it or break it" freestyle round, William and Cheryl's freestyle was everything that you'd expect from William: a wind machine, a partially bare chest and bon-bon shaking. For Len, this routine was getting old, and the head judge was "fed up with it."
I never thought I'd say these words, but I agree with Len. William played it safe. Yes, Cheryl added a few lifts into the routine, but on the difficulty scale, they were on the moderate side. William could have done more, but he relied on what he knows best. Regardless, he knows his fans will still vote for him -- and that's completely fine.
It's the freestyle; you can do whatever you want. I just wish he would have gone out of his comfort zone and tried something different. I'm not saying that he should stop shaking his bon-bon -- no, never! -- but he had the chance to do something different and blew it. Of course, the ladies still love him, so his performance probably won't hurt him in the slightest.
William could have taken a lesson or two from Katherine and Mark's freestyle. The high-energy routine combined jive, quickstep, lindy hop and tap. It was a bold move, and it certainly paid off for the duo. Although, I didn't think it was as epic as the judges said it was.
Did anyone else think Katherine and Mark's lifts were a little sloppy? She lost her footing more than once, or at least that's what I saw on my TV screen. But I guess the judges thought differently because the they praised Katherine for her freestyle and gave her a perfect 30.
Even though I thought her lifts were off, I will say that Katherine's technique was incredible. It reminded me of J.R. Martinez's jive last year, which also incorporated some lindy hop and lifts.
However, the true game changer for me was Donald, who took the ballroom by storm with his country hoedown freestyle.
Donald and Peta, showing their Green Bay Packers pride in green and yellow cowboy costumes, strategized their freestyle like a football play. First, they analyzed their competition. "William will probably do a salsa and Katherine will stick to ballroom," Donald told Peta during rehearsal. Then, the duo prepared their defense: Do something unexpected. "No one expects us to come out to country music," said Donald. You're right, Donald, I didn't expect that at all. Lastly, they came up with unbeatable offense: Lifts, lifts and more lifts!
Throughout the season, Donald's athleticism has been his biggest strength. He can literally toss Peta around like a rag doll, and it's incredible to watch. I spent most of Donald's freestyle with my hands on the side of my face.
It was fun, energetic, jaw-dropping and everything you want a "Dancing With the Stars" freestyle to be. But most importantly, it was memorable, and it finally earned Donald that coveted 10 from Len -- and his first perfect score of the competition.
Kudos to Donald for knowing the "Dancing With the Stars" audience and staying true to his Packer Nation. His love of the show is one of the things that make Donald the most endearing contestant this season ... not to mention that he probably wants that Mirror Ball more than his competition does.
Also, his family (did you see his adorable children?!) and friends were all wearing Cheeseheads. Well played, Donald, well played. You definitely know how to play this game.
Who do you think deserves the Mirror Ball? The "Dancing With the Stars" Season 14 finale airs Tuesday, May 22 at 8 p.m. ET on ABC.
Calling all HuffPost superfans!
Sign up for membership to become a founding member and help shape HuffPost's next chapter