The acclaimed violinist often incorporates her own unique form of dance into her performances, but she has never taken a dance class ― until now. As a contender on this season of "Dancing with the Stars," she's learning from one of the the best: her pro partner, Mark Ballas.
"I'm at his beck and call to make me the best dancer I can be," Stirling told HuffPost. "I personally am working so hard because this is a chance of a lifetime for me. From since the time I was a child I wanted to take dance lessons. And I'm completely self-taught. I never had the chance. I jumped into the violin world ... This is a gift."
HuffPost also spoke with Stirling about the stiff competition, as well as what's in store for this week's routine.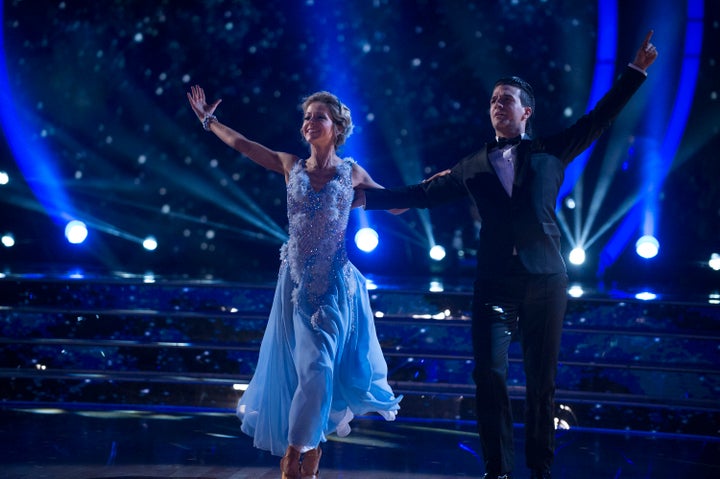 On her "Dancing with the Stars" stint: 
"It is so much fun. But it is so intense. It's everything I thought it would be — all the magic, the glitter, the sparkles, the fun. But at the same time, it's so much more work than I thought it would be … [on] our bodies, and the time commitment. It's a full-time job doing this show. I wouldn't take it back. I'm having the time of my life and I'm learning so much — that's going to make me even in the future a better performer."
On whether she has an "edge" because of her onstage performance experience:  
"It's funny, coming on to the show I thought to myself, 'I have a little bit of an edge.' I know how to move, is how I looked at it. To be honest, it's been helpful in a way. But in a way, it's also been a hindrance because I'm not trained. I taught myself, and I [had] just kind of done what might come naturally. And dance isn't necessarily what comes naturally, so Mark has had to basically un-train a lot of really bad habits that I've done now for several years.
"In order to do things with a partner, you have to do it right or I'm going to mess him up. We've had to back up a bit and retrain and un-train. And the nature of how I have to stand for the violin is not the proper positioning for dancing … It's much more unnatural than I expected. I've heard a lot of people say, 'Oh, it looks effortless for you.' If they knew the amount of work that goes into literally every step and every single hand gesture. I've rehearsed over and over again. It's definitely not natural. It's definitely not easy."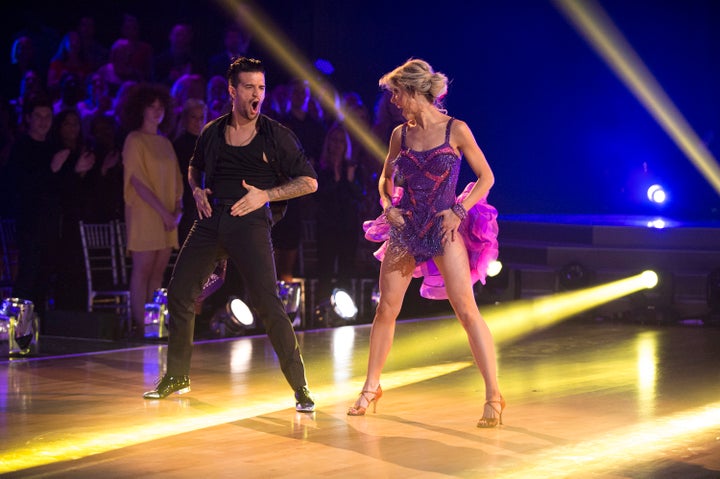 On this week's dance routine:
"It's very different than anything we've done yet. And I think that's interesting. And every week I do something different than I've ever done. I'm like, 'OK, I guess that's just how the show is.' … This one is sensual and sexy. Again, I'm just thrown out of my comfort zone ― 180 degrees. I would never describe myself as being sensual and sexy. So, this is going to be a new experience for me."
On how they're doing so far in the competition:
"I'm very happy with how we're doing and where we're sitting. I wouldn't say that we're the frontrunner. But I feel like we're in a really good spot. We're very consistent ... We've gotten really good scores — close to the top every week. That does put a little bit pressure on for sure. Its nice to realize that every week I'm so terrified. I'm so nervous. And yet somehow I go out there and bring it every week. and that gives me a little bit of confidence in myself as I'm shaking backstage. I made it through last week, I can make it through this … But I'm terrified going out there every week. I'm not gonna lie."
"Dancing with the Stars" airs Monday at 8 p.m. ET on ABC.
This interview has been edited and condensed. 
REAL LIFE. REAL NEWS. REAL VOICES.
Help us tell more of the stories that matter from voices that too often remain unheard.
BEFORE YOU GO
PHOTO GALLERY
"Dancing with the Stars" Season 25