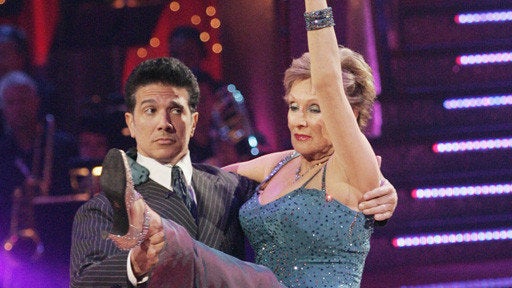 Is it just me or is this the most boring season thus far of Dancing With the Stars? I don't know why either -- Cody Linley and Julianne Hough's jitterbug Monday night was one of the best, most crazy fun dances I've seen ever on the show. And Cody really does epitomize the perfect contestant for this show: he's a gangly teen, enthusiastic if sometimes overly goofy, but he has youth -- a youthful body and a youthful spirit of invincibility -- on his side, not to mention Julianne, who showed her strength as a choreographer this week, really pushing Cody to his limit with some difficult lifts (at one point she jumped into his arms, he immediately dropped her into a rag doll, then ran across the floor still holding her wrapped around his waist and now knocking him on the head) and giving him a great businessman-who-needs-to-let-loose character role.
The show's producers seem to know enthusiasm is waning and are trying to spice things up. This week they tried adding American social dances. Next week, they're temporarily replacing Len Goodman, the judge who seems to have the strongest ballroom background, with guest judge Michael Flatley, an Irish step dancer, and an extraordinary one, but who to my knowledge, has no ballroom background.
It was interesting to see what the contestants and professional dancers could do with a different set of dances (many of the latter struggled, or pretended to anyway, with dances they weren't used to teaching), but these dances -- hustle, salsa, west coast swing, and jitterbug -- are all social; they're either danced only in the United States, in the past (hustle is disco-era and jitterbug fifties), or vary considerably by region (New York-style salsa is different from LA-style, is different from Cuban is different from Puerto Rico, etc.). The wonderful thing about International-style dances is that they are danced at competitions all over the world. You can go to Germany or Japan or Russia, and connect with people whose language you can't speak through your common knowledge of the steps, your common love of the ballroom world, of this unique form of movement and partnership. Ballroom is hugely popular in much of Europe and Asia, and participating in this kind of social sport makes the U.S. all that less insular. So, I hope the social dances were just a one-week aberration.
I'm not completely sure why this season is so lackluster but I think it's partly because there's too little dancing and too much talking. Who wants to see Cody's high school principal tell him to behave and listen to Julianne? Who cares to see contestants' family members giving encouragement? It's nice to know it's there and all, but for the most part it's boring. And most of the time that the contestants spend speaking with Samantha after their performance is wasted; nothing interesting comes out. I frequently find myself rolling my hands at the TV, saying, "c'mon, let's move this along, let's get this show on the road."
Since, unlike So You Think You Can Dance, the amateur contestants, many with full-time-plus day jobs -- can't be expected to do more than one dance per show, perhaps they could showcase more professional dancers - both ballroom and beyond. There are some excellent ballroom dancers who've never been on the show before: Slavik Kryklyvyy and Hanna Karttunen, Riccardo Cocchi and Yulia Zagoruychenko... And with their similarity to ballroom, ballet and modern dance -- particularly works by choreographers like Twyla Tharp and Jerome Robbins who created ballroom-y ballets -- would appeal to the DWTS crowd. I'm sure audiences would savor seeing some of the current greats (for example, Marcelo Gomes and Misty Copeland - the ballerina of the future) perform Tharp's Sinatra Suite (go here and here to see Baryshnikov do parts of that) or portions of Deuce Coupe or Robbins's Other Dances or Alvin Ailey's jazzy Pas de Duke (go here for a video clip). Or Mimulus, a sweet Brazilian troupe who combine social Latin with modern. Or Keigwin and Company with their uniquely witty humor. There are a ridiculous number of excellent companies and dancers and choreographers this audience would be into; the list is endless. This is a show celebrating dance, after all, not idle chatter.


Popular in the Community