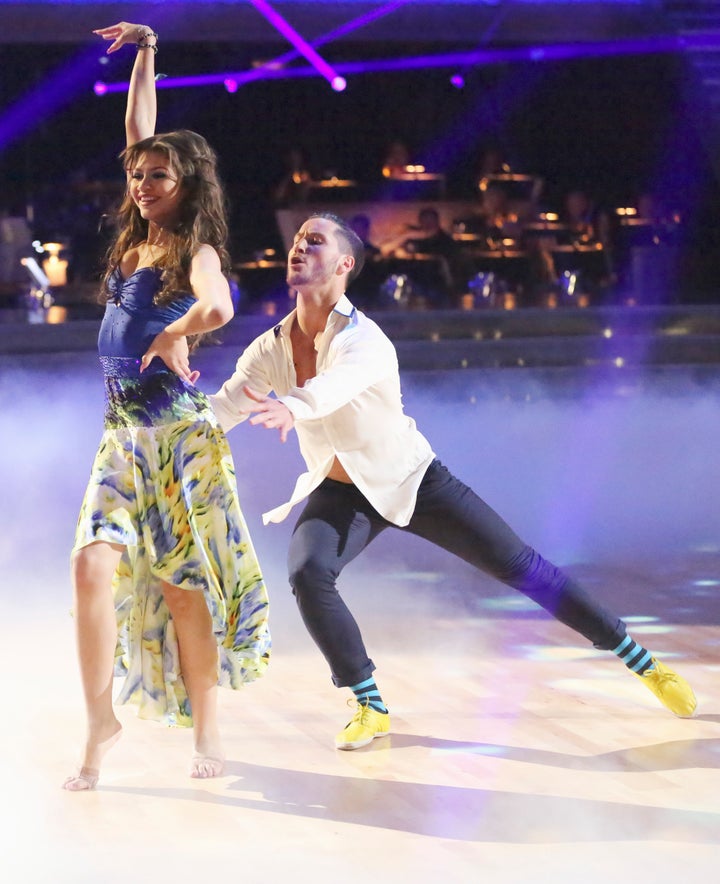 Season 16 of "Dancing with the Stars" kicked off on Monday night, complete with a cast of vaguely famous reality stars, athletes, and professionally trained dancers who probably shouldn't be allowed to compete against the likes of Andy Dick. The "stars" of this season include country singers Kellie Pickler and Wynonna Judd, Olympians Dorothy Hamill and Aly Raisman, TV stars Ingo Rademacher and Zendaya (one name only, kind of a big deal), reality show veterans Lisa Vanderpump and Sean Lowe, athletes Victor Ortiz and Jacoby Jones, comedian DL Hughley, and of course, Andy Dick. The contestants all performed to varying degrees, with Zendaya stealing the show and Hughley falling flat. So how did everyone measure up?
Zendaya and Val Chmerkovskiy: Disney channel star Zendaya and her partner Val tackled a contemporary routine that brought down the audience to their feet. OK, so Zendaya is a professionally trained hip-hop dancer, but at just 16 years old, it was still an impressive feat. "Sweet sixteen and a superb debut on 'Dancing with the Stars,'" Bruno proclaimed, leaping from his chair with enthusiasm. Score: 24
Kellie Pickler and Derek Hough: Kellie and Derek started off the night with an upbeat Cha Cha that even managed to get hard-to-please Len smiling. "You got sass and you got class," Carrie Ann told Kellie. Score: 21
Aly Raisman and Mark Ballas: After winning the gold in 2012, learning the Cha Cha was nothing for Olympic gymnast Aly Raisman. Though the judges thought the routine was a bit safe, Len loved her "vitality" and Carrie Ann called her a "sass-a-frass" (presumably a good thing). Score: 21
Dorothy Hamill and Tristan MacManus: Dorothy, who recently battled breast cancer, joined "Dancing with the Stars" after being inspired by fellow figure skater Kristi Yamaguchi's journey on the show. Her "Tiny Dancer" contemporary number certainly did Kristi proud, with Carrie Ann calling her performance "golden" and Bruno praising her connection with the music and audience. Score: 21
Ingo Rademacher and Kym Johnson: Ingo and Kym performed a contemporary routine set to a debatable cover of Coldplay's "Yellow". Despite the song, Ingo's passion shined through and Bruno aptly compared his performance to Bradley Cooper's dance number in "Silver Linings Playbook." Typically, Len was unimpressed by the lifts, declaring that it was not true dancing. Score: 20
Jacoby Jones and Karina Smirnoff: A recent knee surgery left NFL player Jacoby only a week to rehearse his Cha Cha with Karina. Despite the short amount of practice time, Jacoby channeled his inner-swag and pulled the dance off with ease. Once again, Len wasn't pleased with how "performance-driven" it was, but Carrie Ann and Bruno agreed on his natural moves and huge potential, with Bruno declaring him to be Season 16's "sex machine." Score: 20
Sean Lowe and Peta Murgatroyd: Former "Bachelor" Sean and partner Peta impressed the judges with their foxtrot. "You have this fearless exuberance," Carrie Ann told him. Score: 19
Victor Ortiz and Lindsay Arnold: Victor and Lindsay, both new to the "DWTS" stage, performed an enthusiastic foxtrot that had Carrie Ann calling the boxer charming and debonair. As the official downer of the night, Len told the couple that their dance was "a bit uneventful," but Bruno shared Carrie Ann's positive stance on the routine. Score: 18
Lisa Vanderpump and Gleb Savchenko: "Real Housewife" Lisa and her partner Gleb danced a technically-lacking foxtrot and, while they impressed the judges with their natural ease on the dance floor, Len called it "acceptable" but not "exceptional." Score: 18
Wynonna Judd and Tony Dovolani: Wynonna and Tony took on the Cha Cha and all of the judges applauded the couple for giving it their all. "You got it honey!" Carrie Ann told her. Score: 18
Andy Dick and Sharna Burgess: Andy charmed the judges with his awkward foxtrot that Bruno described as like "watching Woody Allen do the foxtrot." Len less than favorably compared his performance to Robocop, but Carrie Ann was touched by the dance. Score: 17
DL Hughley and Cheryl Burke: DL Hughley performed a cringe-worthy Cha Cha set to an even more cringe-worthy cover of Flo Rida's "Low." "That was yikes," Carrie Ann said of the routine, with all of the judges agreeing that Hughley needs to work his butt off to stay in the competition. Score: 12
"Dancing With The Stars" airs Monday at 8 p.m. ET and Tuesdays at 9 p.m. ET on ABC.
PHOTO GALLERY
"Dancing With The Stars" Season 16 Cast
REAL LIFE. REAL NEWS. REAL VOICES.
Help us tell more of the stories that matter from voices that too often remain unheard.