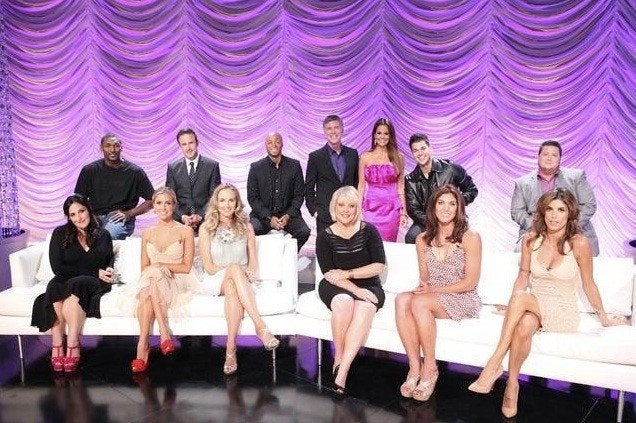 And we don't know what was more exciting: the brand new -- and significantly larger ballroom -- or the thought of seeing Nancy Grace do the cha-cha.
This season's mix of reality stars, athletes, actors, television journalists and talk-show hosts took to the new-and-improved dance floor to attempt to impress the judges, their fans -- and lets not forget about the people that love to hate them.
But did they do enough to keep them dancing for another week? Let's discuss.
Ron Artest: Unfortunately for this L.A. Lakers star, his moves don't come as naturally to him as his layups. His rather stiff and awkward cha-cha with partner Peta Murgatroyd lacked substance -- and judge Len Goodman put it best when he described it as, "all sizzle, no sausage." Artest (or is it Metta World Peace now?) is going to have to really rely on those Lakers fans to get him through to next week after he pulled in the lowest score of the night.
Score: 14
Rob Kardashian: Let's just say that this reality star is lucky to have Cheryl Burke as his partner (however, the same could have been said for his older sister Kim, who competed in "DWTS" with fan favorite Mark Ballas, but was knocked out in season three). He took his Viennese waltz seriously -- in fact, too seriously -- as he stiffly moved around the dance floor, taking each step with precision. And it was judge Bruno who called him out on it, saying that he didn't seem to relax into the music and feel the dance. Yet, big sister Khloe Kardashian had a few choice words for the judges, calling them out from her seat in the audience. Not the klassiest move, Khloe.
Score: 16
Kristin Cavallari: Kristin looked like she was totally over former fiance Jay Cutler in the arms of dance partner Mark Ballas. Kristin danced a simple and relatively slow cha-cha -- a safe strategy for week one. And while Len said it felt a little subdued, Carrie Ann seemed thoroughly entertained, telling Cavallari, "I want to watch you dance more and more and more."
Score: 19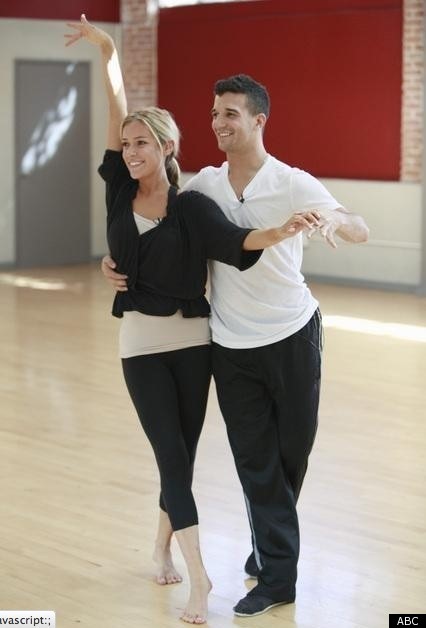 Chynna Phillips: Don't call it a comeback -- but Chynna Phillips had one of the best performances of the night. The Wilson Phillips singer/songwriter gracefully glided across the stage with partner Tony Dovolani. She looked gorgeous, confident and held the form of a trained dancer. Partner Dovolani seemed so confident in his celebrity partner, that he threw in some more challenging moves. She won the hearts of the judges -- as Bruno said, "You looked like you were stepping out of a dream and into my heart."
Score: 22
Nancy Grace: For all those hoping that Nancy Grace would talk back to the judges, sorry to disappoint you, but the outspoken television host actually held back her tongue and took the judges' criticism. Not to mention, she smiled the whole way through her cha-cha and looked like she was having fun -- a lot of fun. It was a decent first week effort, but it seemed like Grace was trying to charm the audience with her smile so that they would somehow overlook the fact that she seemed to lose track of the choreography. However, her Irish partner, newcomer Tristan MacManus, is sure to ensure her safety for a few more weeks.
Score: 16
David Arquette: Arquette seems to be a crowd favorite of the night -- and rightfully so. He said that his goal was to do his "best impression" of a person doing a Viennese waltz, but it turned out better than just an impression. He just needs to loosen up a bit, but at least he's got a strong partner in Kym Johnson, the reigning "DWTS" champ. With the continued support of his estranged wife Courteney Cox and their daughter Coco, David Arquette, who revealed that he's been sober for over eight months, will go far.
Score: 18
Elisabetta Canalis: There really aren't any words to describe Elisabetta Canalis' cha-cha other than really awful. All we can say is, looks like George Clooney didn't fall for Canalis for her dancing. The Italian model's performance with partner Val Chmerkovskiy seemed to rely on cheesy props and baring skin.
Score: 15
Hope Solo: Hope Solo, the U.S. soccer star and Olympic goalie, had some graceful moments and a few clumsy moments in her Viennese waltz with partner Maksim Chmerkovskiy, who remains the cheekiest in the bunch. Solo definitely struggled with her athletic build, as her feisty coach tried to give her tips to appear more delicate and graceful -- and less rigid and clumsy. Overall, Solo impressed the judges, and even Len told her, "Good hold, good posture, lovely movement...you've just got to get a little more fluidity." Yet, being an Olympic gold medalist, we doubt Solo like coming in second, so she'll step up her game for next week.
Score: 21
Carson Kressley: Fashion designer and celebrity stylist Carson Kressley proved that he is just as fun and energetic on the dance floor as he seems in real life. Kressley, decked out in a glittery bronze ensemble, seemed to be genuinely having fun in his cha-cha with partner Anna Trebunskaya. He's not the best, but he's willing to learn -- and have as much fun as he can doing so.
Score: 17
J.R. Martinez: Martinez, an Iraq war veteran and actor on the soap opera "All My Children," gave one of the strongest performances of the night -- and tied for first -- with his Viennese waltz with partner Karina Smirnoff. He seemed like a true leading man, and not only did he sweep his partner off her feet -- literally! -- but he also swept the entire audience off their feet, and they gave him a standing ovation for his performance. We have to agree with Len when he said, "For me, J.R. stands for just right."
Score: 22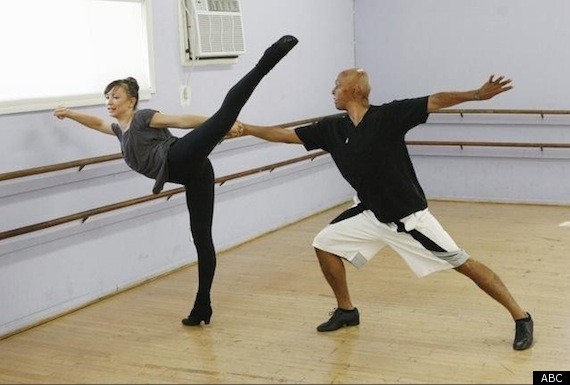 Ricki Lake: Despite all the self-deprecating humor during her interviews and practice sessions (not to mention receiving the first "DWTS" injury), the former talk show host looked great on stage with partner -- and three-time champion -- Derek Hough. Although there is definitely room to improve, Lake seemed truly graceful in her waltz, and most importantly, confident. After all, she's already lost eight pounds since her intense training began.
Score: 20
Chaz Bono: Perhaps the most anticipated dance of the night, and could therefore, only be saved for last was Chaz Bono, the LGBT activist and author. And Chaz definitely impressed, proving that the child of Sonny and Cher has got a move or two. Although Chaz admits that he's not a natural dancer, his cha-cha with partner Lacey Schwimmer was definitely one of the most lively performances of the night. After facing some controversy over the past few weeks for being the show's first transgender contestant, Chaz said that he felt like he needed to "do well for the people that have been supporting" him.
Score: 17
Check out all of the highlights from the "Dancing With the Stars" season 13 premiere below.
REAL LIFE. REAL NEWS. REAL VOICES.
Help us tell more of the stories that matter from voices that too often remain unheard.