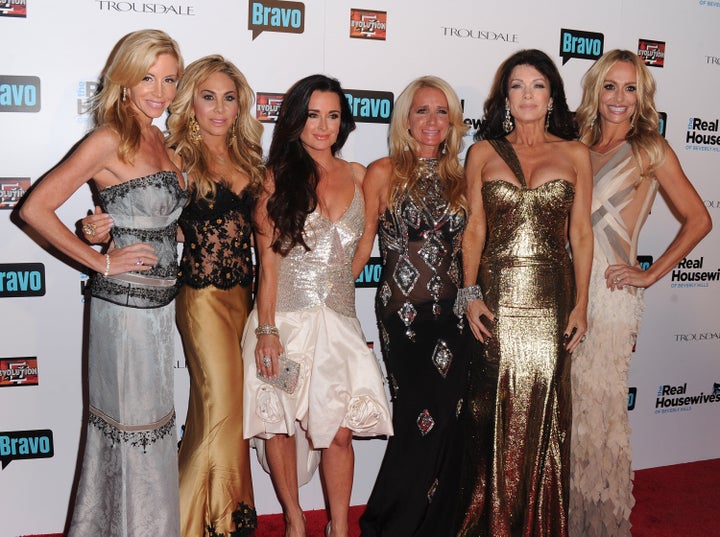 "Dancing with the Stars" assembles a group of celebrities to send out on the ballroom floor each season but what's one gaggle of famous folks you'll never see doing the Cha-Cha? "The Real Housewives."

"They have no interest in having any of the ladies on the show," one "Dancing" insider tells me. "Season after season the housewives pitch themselves to grace the dance floor and season after season the show says thanks but no thanks."

Back in 2009, Bethenny Frankel made it clear that she would love to appear on the show -- she even attended a live taping and sat in the front row. However, after all her campaigning and stunts, no offer came.

"They never made Bethenny an offer," a friend of the Skinnygirl tells me. "She went to the show with a friend of [host] Tom Bergeron's who was kind enough to get his pal-plus-one two front row seats next to the head of ABC. But even that couldn't get her on the show."

Real Housewife of New Jersey, Teresa Giudice, was trying to get on the show last season and this season Paris Hilton's aunt, Kim Richards, would have loved to do the show but was never asked.

"Initially everyone assumed the 'Housewives' had been asked but Bravo had not allowed them to do a show on another network. But now it is clear Bravo would love its franchise to get exposed to 20 million viewers. However, they are just not welcome at the dance," an insider tells me.

A spokesperson for Bravo confirmed no offers to any "Housewives" talent have ever been made and ABC did not respond to requests for comment. However, they shouldn't feel alone. One "American Idol" winner tells me "Dancing" doesn't want anyone from "Idol" either.
But they are happy to have Kate Gosselin? Go figure.
REAL LIFE. REAL NEWS. REAL VOICES.
Help us tell more of the stories that matter from voices that too often remain unheard.