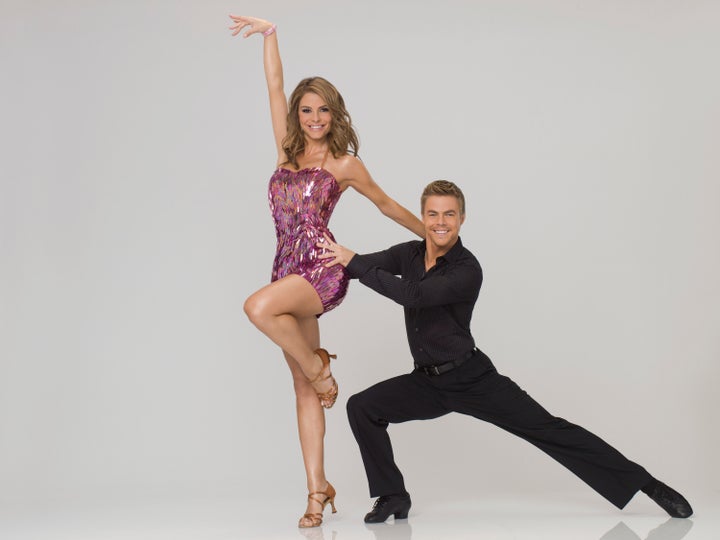 Even though Donald Driver wanted to be the first celebrity to receive judge Len Goodman's first 10 of "Dancing With the Stars" Season 14, that honor went to another contestant -- Maria Menounos.
However, it wasn't an easy week for Maria and her partner Derek Hough. Despite having the most hysterical/annoying/maniacal laugh ever, Maria wasn't laughing during rehearsals when she passive-aggressively told Derek, "Sorry I'm not attractive enough for you."
Whatever tension Maria and Derek had in rehearsals, it carried over quite effectively into the ballroom as their "Romeo & Juliet" meets "Twilight" paso doble earned the duo the first perfect score of the season.
This week also marked the first time this season that the remaining couples split into teams to compete against each other -- Team Tango (Katherine, Roshon, Maria and Jaleel) and Team Paso (Melissa, William and Donald). Team Tango managed to squeak past with a victory, despite having a few less-than-stellar solos. Their choreography as a team, however, was great, earning each contestant 27 additional points.
Team Paso, on the other hand, relied on their shirtless men, which may have made Bruno happy, but Len wasn't as impressed. "If this was a body building contest, we would be screwed," said Roshon. "But lucky for us, Team Paso has to dance." Team Paso still managed to secure each member of their team 26 additional points.
Also, fans of Tristan MacManus and Karina Smirnoff got an extra-special treat, as the pros shared a dance while the couples were getting ready for their team dances. Tristan, black definitely is your color. Although, I could have done without all of that smoke.
Now, let's break down the individual dances:
William Levy & Cheryl Burke
Dance: Viennese Waltz
"It's classical week, but I'm not a classical guy. I was born and raised in Cuba on the streets. How is that classical?"
William and Cheryl danced the highly technical Viennese Waltz while young opera singer Jackie Evancho -- a.k.a. mini Katherine -- performed "Ave Maria." I can't wait to see Jackie on Season 25 of "Dancing With the Stars."
For once, he and Cheryl aren't relying on his looks, and the routine was purely rooted in their footwork and movement. Despite recovering from an injured ankle, William was still able to complete his turns and keep straight lines.
Bruno praised the emotions Levy invested into his classical effort -- "You felt it, you lived it" -- while Carrie Ann complimented William on his ability to tell a story with his dancing. As for Len? Well, he said that he wasn't transported to Vienna, but he definitely was somewhere in Austria.
Judges' score: 27 + 26 = 53
Maria Menounous & Derek Hough
Dance: Paso Doble
Despite having a rough rehearsal, Maria and Derek owned the ballroom tonight. Sure, the vampire theme may be a bit overplayed at this point, but for this routine, it captured Maria and Derek's love/hate relationship perfectly.
In their dramatic paso doble, the duo played the Montagues and Capulets, and although Derek is no Leonardio DiCaprio, the tension was perfect. For some reason, however, I was unaware that there was a "Romeo and Juliet and Vampires" book out there. Back on the dance floor, the anger builds with the music, and for the first time this season, Derek has choreographed an incredibly memorable piece -- similar to last season's "Psycho"-inspired tango with partner Ricki Lake.
Carrie Ann said that their performance was on fire, while Len praised it for being as "sharp as a razor and crisper than a Pringle." Unfortunately for Donald Driver, it looks like he won't receive Len's first 10: Maria and Derek earn the first perfect score of the season.
Katherine Jenkins, you better watch your back!
Judges' score: 30 + 27 = 57
Donald Driver & Peta Murgatroyd
Dance: Viennese Waltz
Last week, Len told Peta to push Donald even further, so this week, she created a "professional-grade routine" for the football player, incorporating reverse spins and one very awkward looking "fleckerl."
Like William and Cheryl, Donald and Peta have an opera singer performing live as they dance their Viennese waltz: Vittorio Grigolo. From the start, Donald has a great frame, and his movements have a sharp, clean quality. At the end, he spins Peta around the dance floor, and judging from the camera angle, it's tough to tell if they had a lift. Even Carrie Ann couldn't determine one way or the other.
Whatever Donald does on the dance floor, he tackles it with determination and athleticism. Len applauded Donald's footwork, while Carrie Ann praised his intensity -- lift or no lift.
Judges' score: 27 + 26 = 53
Roshon Fegan & Chelsie Hightower
Dance: Argentine Tango
After narrowly escaping the dance duel, Roshon admits that the past few weeks haven't been going his way and he's just desperately hoping that he gets out of this rut. To look more masculine during his tango, he enlists Val's help during rehearsals. He wants to learn how to be a man. Val tells him to lower his chin and focus his eyes in such a way as to be intimidating -- to truly lead Chelsie. That's the signature smoldering Chmerkovskiy stare.
Hopefully, he and Val listened to this song while they were practicing their manliness.
On the dance floor, instead of choosing a piece of classical music, Roshon and Chelsie dance to an instrumental version of Lady Gaga's "Bad Romance," which takes away from the overall classical theme of the night.
Len and Bruno both felt that Roshon needs more strength in his legs and footwork, while Carrie Ann, on the other hand, hugged Roshon, and telling the Disney star that he's back and praises his gravitas.
Did anyone else notice that "Dancing With the Stars" logo cut into his performance, or was it just my cable? Whatever the mess up was, I hope it doesn't hurt him when voting comes into play, especially since Roshon needs all of the votes he can get.
Judges' score: 25 + 27 = 52
Melissa Gilbert & Maksim Chmerkovskiy
Dance: Argentine Tango
The theme may have been classical, but Melissa's sheer, sparkly nightie was anything but classy. Seriously. What was that?
Melissa, along with her injured partner Maks, tackled Mozart's "The Marriage of Figaro," but it wasn't necessarily a peaceful marriage between the ever-changing music and the up-and-down movement. Judges Carrie Ann and Bruno criticized the duo for the amount of lifts in their routine, while Len felt that their Argentine tango lacked technique.
Maybe Maks should have let his little brother Val help him choreograph the routine too?
At this point in the competition, it's obvious that Melissa's dedicated fan base has saved her from the bottom two week after week, but now she's with six other stars who deserve to be here a heck of a lot more than she does. You've had a good run, Melissa, but I don't think it would be fair if you moved on to next week.
Judges' score: 21 + 26 = 47
Katherine Jenkins & Mark Ballas
Dance: Rumba
Katherine wanted to keep it classy on the dance floor, but as Mark put it, "You can't spell classical without a--." Unfortunately, for the Welsh opera singer, she kept it a little too sophisticated.
The pair danced a rumba to Pachelbel's "Canon in D Major," and although judge Len described it as "elegant," Carrie Ann felt the number lacked chemistry and Bruno needed a little more heat to get his "juices flowing."
Honestly, I thought that Katherine and Mark played it way too safe, and I'm going to agree with Carrie Ann on this one: There was absolutely no passion.
Judges' score: 27 + 27 = 54
Jaleel White & Kym Johnson
Dance: Viennese Waltz
After last week's incredible comeback, Jaleel just wants to keep that momentum going, but unfortunately for him, Kym choreographs a really complicated routine -- to the "Downton Abbey" theme. Yes, the "Downton Abbey" theme has lyrics. It's actually called "Did I Make The Most Of Loving You?" This all makes so much sense now. Consider your minds blown.
Honestly, I couldn't even concentrate on Jaleel and Kym's dance because all I could imagine was Mary and Matthew sharing this dance in the ballroom -- and doing it 10 times better. Matthew also looks better in uniform. Sorry, Urkel, but Matthew always wins when it comes to my incredibly fickle heart.
Not so surprisingly, Jaleel just doesn't nail it. His movements just aren't as clean and fluid as they should be, as Len criticizes. However, all of the judges praise the "airy-fairy" storytelling elements of the dance. More than any other routine, this was a perfect marriage between music and movement. Hopefully, Melissa was taking notes.
As a "Downton Abbey" fan, I was thoroughly entertained -- and slightly mesmerized.
Judges' score: 24 + 27 = 51
"Dancing With the Stars" airs Mondays at 8 p.m. ET and Tuesdays at 9 p.m. ET on ABC.
PHOTO GALLERY
'Dancing With The Stars' Season 14 Cast
REAL LIFE. REAL NEWS. REAL VOICES.
Help us tell more of the stories that matter from voices that too often remain unheard.