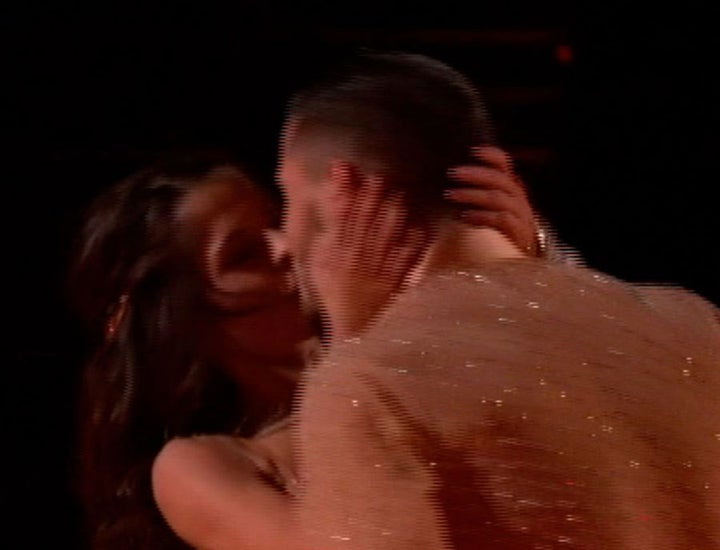 The semi-finals of "Dancing with the Stars: All-Stars" brought out the fighting side of the celebrities. With the Mirror Ball trophy in sight and a double elimination hanging over them, the contestants are going all out and giving each performance everything they've got. This week each couple was responsible for two routines: a quirky fusion routine and a Michael Jackson number. The dancers all brought their A-game, and managed to pull off some of the most exciting routines yet, despite the tension of the competition. So who were the true standouts? And who's starting to fade into the background?
Shawn Johnson and Derek Hough: Shawn and Derek started their night with an Indian folk dance that mixed Bhangra with the Knight Rider. It might have sounded like a questionable combination, but their energetic performance had the judges and audience on their feet. Bruno called Shawn a "Bhangra star" and Len said it was "dynamite fantastic." Score: 30
Michael Jackson: For their second routine, Shawn and Derek performed an Argentine Tango set to "Bad." Shawn's technique was perfect and Bruno asked Shawn if there's anything she can't do. (I've been wondering also.) Carrie Ann thought it lacked passion, but Len thought she nailed it. Score: 29
Melissa Rycroft and Tony Dovolani: Melissa and Tony kicked off the evening with a ... unique dance style, the "Caveman Hustle." After suffering a back injury, Tony was unsure if he would be able to perform, but luckily he pulled through and, despite the awkward CGI dinosaur at the beginning of the number, the judges loved it. Score: 27.5
Michael Jackson: For their Michael Jackson routine, Melissa and Tony performed an Argentine Tango to "Dirty Diana." Melissa, the only remaining all-star who didn't win her original season, gave the performance everything she had and the couple brought down the house. Even Len told her: "I would be really disappointed if you aren't here next week." Score: 30
Apolo Ohno and Karina Smirnoff: Apolo and Karina started their night with a circus-inspired jazz routine. Apolo, never one to back down from a challenge, struggled to grasp the routine and his frustration in rehearsal was tangible. Though Carrie Ann thought it was disjointed, Bruno found it to be edgy and surreal. Score:27
Michael Jackson: Apolo and Karina's "Man in the Mirror" rumba left all the judges in agreement. The routine was emotional and effortless, with Carrie Ann telling Apolo, "You reached into my heart and melted it. Score: 30
Emmitt Smith and Cheryl Burke: Emmitt and Cheryl took on an espionage lindy hop that forced Emmitt out of his comfort zone and resulted in his most animated performance yet -- but he still managed to maintain his swagger in a suave white tux. Bruno called him the most fun performer he's ever seen. Score: 27
Michael Jackson: Their second dance of the night was an intense tango set to "Leave Me Alone." Once again, Emmitt brought the charisma, and despite not having perfect technique, the judges loved it. Score: 27
Kelly Monaco and Val Chmerkovskiy: The only important thing to know about Kelly and Val's surfer flamenco is that it somehow ended with Val in a speedo and Kelly splashing around in a bathing suit. The performance was also a bit sloppy and was more paso than flamenco. Score: 25.5
Michael Jackson: When Kelly and Val were assigned the intimate rumba, we knew we had longing glances and an inevitable makeout session to look forward to. Their performance to "I Can't Stop Loving You" included both and left all of the judges in love with the couple. And of course, Val announced that he "can't stop" loving Kelly. Score: 28.5
What was your favorite performance of the night? Who do you think will get eliminated Tuesday night? Sound off in the comments.
"Dancing with the Stars" airs Mondays and Tuesdays at 8 p.m. ET on ABC
PHOTO GALLERY
"Dancing With The Stars: All-Stars" Cast
Calling all HuffPost superfans!
Sign up for membership to become a founding member and help shape HuffPost's next chapter