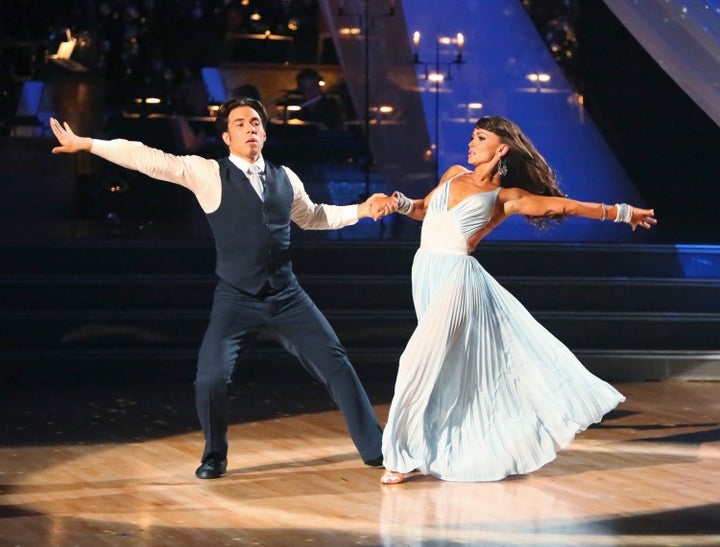 After last week's shocking elimination that sent Sabrina packing after earning a perfect thirty, all of the all-stars were on edge and no one felt safe. Due to the election, however, all of the contestants actually were safe this week because there will be no elimination episode (next week will be a double elimination). With the comfort of at least one more week on the stage, the dancers were all able to get creative with their dances.
This week's episode was fusion-themed and asked the dancers to combine two very different styles of dance, making for some confusing routines and even more confused dancers. Additionally, "Dancing with the Stars," always current and socially aware, created their own version of negative political ads, with all the all-stars campaigning for the mirrorball trophy (they were actually pretty funny!). So who's the favorite to win? And whose campaign is falling short? Find out below.
Shawn Johnson and Mark Ballas: This week was full of confusion for Shawn. With Derek injured, Mark filling in, and an injury of her own, Shawn had a lot to deal with. Thankfully, her hard work paid off and Shawn and Mark effortlessly pulled off their tango and paso doble fusion, with Bruno calling it flawless. Len, who has always been Shawn's toughest critic, gave her the ultimate compliment when he told her, "I'm voting for you." Score: 30
Melissa Rycroft and Tony Dovolani: Melissa and Tony took on a mixture of the tango and cha cha and didn't hold back. Carrie Ann, who thought Melissa didn't give it her all last week, called her a star, and Bruno thought she was on fire. Score: 29
Gilles Marini and Peta Murgatroyd: Gilles and Peta ended the partner routines with an Argentine tango and samba. The couple fused the style easily and Bruno (jumping out of his chair as usual) shouted "That's how we do it the South American way!" Score: 28.5
THE GOOD:
Emmitt Smith and Cheryl Burke: Emmitt took the stage for his samba and rumba decked out in an entirely hot pink ensemble and totally owned it. Carrie Ann earned boos from the judges and audience alike when she said she thought he was "a little in his head," but Bruno called it a "smooth and balanced blend." Score: 27.5
Apolo Ohno and Karina Smirnoff: Apolo and Karina hit the stage with a fierce cha cha/paso doble. Carrie Ann, Apolo's biggest fan, renamed him Apolo Oh-Yes (pretty clever, Carrie Ann) and Bruno called it triumphant and wonderful. Score: 27
Kelly Monaco and Val Chmerkovskiy: Kelly and Val's relationship continues to blossom uncomfortably, and, as usual, the couple fawned over each other over the whole course of the evening. Their cha cha and fox trot was typically romantic and ended with a marriage proposal (which was probably real at this point). The judges loved it and Carrie Ann thought the couple found the perfect balance of elegance. Score: 27
Kirstie Alley and Maks Chmerkovskiy: Kirstie continued to get by on her personality and entertainment value with her and Maks' quickstep/samba combo. The judges all praised her quickstep, but agreed that the samba fell apart. While Len said there were "one or two incidents," he thought it was an admirable effort. Score: 24
THE SWING DANCE MARATHON:
This week's group challenge forced all of the couples to fight it out in a swing dance marathon. Lasting four minutes, each couple tried to make it to the end of the strenuous dance without getting eliminated. The first couple out of the marathon added four points to their total score, and the couple left standing at the end earned ten extra points. This season, Melissa and Tony were the swing dance champs, while Kirstie and Maks left the competition first.
Marathon Elimination Order:
Kirstie and Maks: +4 points (total score: 28)
Gilles and Peta: +5 points (total score: 33.5)
Apolo and Karina: +6 points (total score: 33)
Emmitt and Cheryl: +7 points (total score: 34.5)
Shawn and Mark: +8 points (total score: 38)
Kelly and Val: +9 points (total score: 36)
Melissa and Tony: +10 points (total score: 39)
"Dancing with the Stars" airs Mondays and Tuesdays at 8 p.m. ET on ABC.
Which was your favorite performance of the night? Who do you think will be eliminated next Tuesday? Sound off in the comments.
PHOTO GALLERY
"Dancing With The Stars: All-Stars" Cast
Calling all HuffPost superfans!
Sign up for membership to become a founding member and help shape HuffPost's next chapter