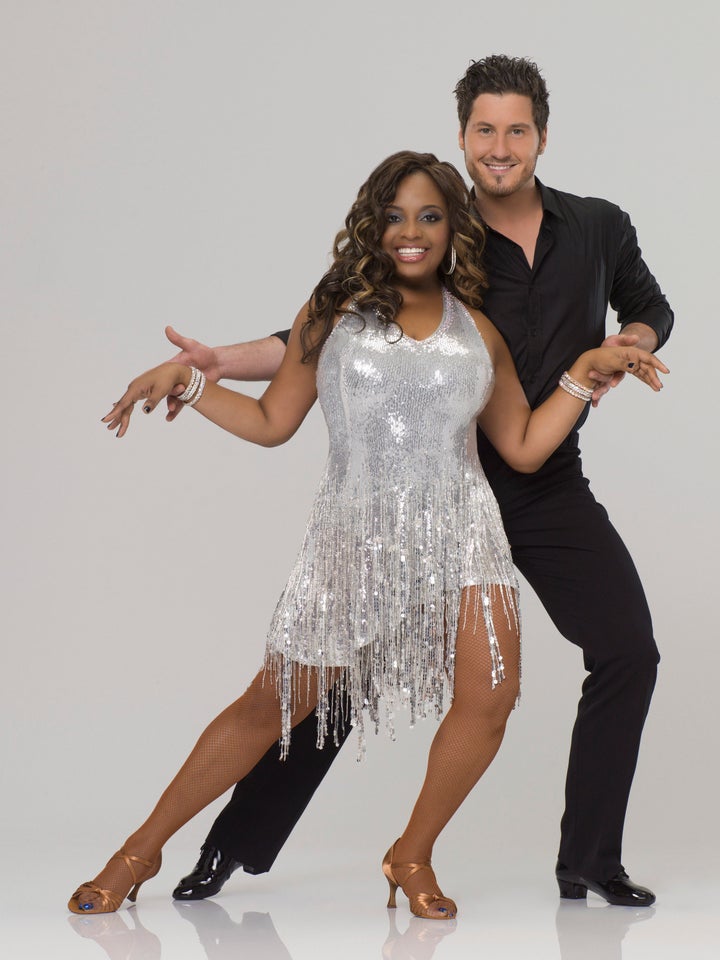 Sometimes on "Dancing With the Stars," things just don't go the way you want them to. As much as I love Gladys Knight -- and Tristan MacManus -- I know that they're ultimately in jeopardy of going home after tonight's less-than-stellar performance.
Meanwhile, fan favorite Maksim Chmerkovskiy could also be in danger of exiting the ballroom earlier due to his partner Melissa Gilbert's nerves. The same could also be said for nice guy Toni Dovolani and his celebrity partner Martina Navratilova, who just can't seem to remember her steps.
However, "Dancing With the Stars" BFFs Mark Ballas and Derek Hough are sitting pretty together, at the top of the leaderboard with their gorgeous partners-in-crime, Katherine Jenkins and Maria Menounous, respectively. Plus, football player Donald Driver even received a shocking apology from Len, who said he "undermarked" him last week.
And despite a potentially major slip this week, "View" co-host Sherri Shepherd learned -- via judge Carrie Ann -- that she can ride her big personality for as long as possible. And thankfully, Latin hunk William Levy will probably stay in the game until the end -- or at least until angry husbands and boyfriends stage a "Dancing With the Stars" rebellion against him.
In fact, I really hope Maks and William can both stay long enough for "Dancing With the Stars" to organize a sexy dance-off between the two of them. And by dance-off, I really mean ass-off.
Shake it, shake it like a Polaroid picture. Shake it, shake it... This is obviously the best idea that I've ever had. Let's make this happen, ABC!
Now, back to the actual dancing. So where did everyone stack up this week? Let's look at the scores.
William Levy & Cheryl Burke
Dance: Quickstep
As if any shred of criticism could be heard over the shrieks and screams in that ballroom, but Len surely tried. It was "good, not great," he said. But that really just fell on deaf ears because I'm pretty sure William's sex appeal can carry him for another few weeks. It probably doesn't hurt that Cheryl also promised that the "higher the scores get, the more clothes William will take off."
Ladies, we know what we must do. Vote! I mean, Carrie Ann even dubbed him the "Harry Connick Jr. of the ballroom." That's an automatic swoon.
Maria Menounous & Derek Hough
Dance: Quickstep
Gladys Knight could have taken a few tips from Maria -- a.k.a the Greek warrior -- this week. Her frame was pretty much perfect, but she didn't get a little off-step toward the middle.
It was a definite improvement from last week, with Maria amping up the sex appeal, as Bruno requested, and the Bonnie and Clyde theme was a nice touch. If Maria hadn't been suffering from a rib injury, she might have been able to tie Katherine and Roshon at the top.
Jack Wagner & Anna Trebunskaya
Dance: Jive
Jack Wagner, you fox. Where have you been all my life (besides on "General Hospital")? Since I'm pretty sure George Clooney will never step into the ballroom, Jack Wagner is the closest thing we have to a silver fox.
He may have lost a little control of his jive, according to Len and Bruno, but I'm willing to overlook this because I think Jack is one of the funnest dancers this season. He just looks like he's having the best time on that dance floor, and that almost means as much as nailing all of the right moves.
And you can't really blame a man for having extremely happy feet.
Donald Driver & Peta Murgatroyd
Dance: Quickstep
Donald, whose nickname used to be "Quickie" when he was younger, proved the judges' wrong this week. That's when Len made a shocking confession. "I watched last week's performance again, and I have to apologize," he said. "I undermarked you." Wait, did Len just really apologize for undermarking someone?! That's a "Dancing With the Stars" first!
It's not like the football player didn't deserve the judges' praises. He and his partner Peta had a phenomenal routine. It looks like all those years of watching "Dancing With the Stars" paid off for Donald Driver.
Gavin DeGraw & Karina Smirnoff
Dance: Jive
Gavin DeGraw wins the award for most improved this week. Sure, the kicks and flicks weren't perfect, but he won over the judges with his animated performance -- and Bruno really loved the leather. It looks like those 13 extra hours of practice really helped the struggling singer. Not to mention, he obviously read my open letter to him that I wrote last week.
But let's forget about the dancing for a second and talk about Gavin DeGraw's extensive hat collection. Why do you think he wears so many hats? Is that just his style? Or could the "We Belong Together" singer be going bald? Can anyone help me figure this out? I just have so many hat-related questions!
Roshon Fegan & Chelsie Hightower
Dance: Quickstep
Roshon and Chelsie -- a.k.a the new Mark Ballas and Chelsea Kane -- brought sophisticated swagger to the dance floor. Roshon brought the swag and Chelsie, the sophistication. Despite having the worst song of the night (I mean, have you ever heard a house band cover Good Charlotte's "Lifestyles of the Rich and Famous?), the two brought impeccable footwork to the ballroom.
Roshon was also laying on the charm extra thick this week. "She needs a swag upgrade," he told the cameras about his partner Chelsie. You know, I'm sure that Chelsie could get some swag advice from Justin Bieber. He's all about the "swaggy" right now. Maybe she can use his swagger coach?
Here's hoping that Roshon's next performance will be just as fun.
Sherri Shepherd & Val Chrmerkovskiy
Dance: Jive
Despite "her equipment being way too heavy" for Val to handle, Sherri pulled through the jive this week. Well, that is until the middle of her performance when she completely missed an important pass.
She's sort of like this season's Carson Kressley. Sherri may have missed one of Val's passes, but that didn't stop her from having fun. Even Carrie Ann agrees that "confidence can take you past mistakes."
Plus, she's still "THE HAPPIEST CONTESTANT THAT WE'VE HAD IN ALL 14 SEASONS!"
Melissa Gilbert & Maksim Chmerkovskiy
Dance: Quickstep
Melissa wants everyone to know that she dated bad boy Billy Idol in the '80s.
After a near catastrophic slip, Melissa redeemed herself, pulling off a pretty solid Quickstep. However, once again, Melissa's face is like an open book; she wears all of her nervousness on her face. Melissa's anxiety -- and muscle tightness -- is keeping her from reaching the top.
Now, I know that "Dancing With the Stars" can be a nerve-wracking experience, but all Melissa has to do is look at the chiseled Adonis dancing with her, and I'm sure she'll loosen up. I mean, how can you not go weak in the knees -- and hopefully in Melissa's case, shoulders -- when you look at Maks? Plus, he cried watching the "Lion King!" I think his exact words were "bawling."
Martina Navratilova & Tony Dovolani
Dance: Jive
I love Tony. I really do. And I want nothing more than to see Tony bring home the Mirror Ball, but I just don't think this is his year. Martina may be one hell of an athlete, but sometimes, athleticism doesn't translate into dance.
Martina was painful to watch on the dance floor. She would lose her footwork one minute and then find it the next -- and then she'd lose it again.
Once again, the tennis star was too careful for the judges. "Oh my darling, I think that serve hit the net," Bruno said. I don't think I could have said it any better myself.
Katherine Jenkins & Mark Ballas
Dance: Jive
Katherine -- a.k.a this season's ringer -- and Mark are total naturals on the dance floor. For being out of her comfort zone, Katherine knew how to shake "her naughty bits" quite well. Are we sure that this girl was just an opera singer? I would like to see a list of her extracurriculars.
My only problem? It's hard to watch Katherine when Mark is there, being his super amazing self. I mean, half the time I was too busy looking at Mark to actually realize that he was dancing with a partner.
Regardless, Katherine is obviously the one to beat this season. Of course, she could also be this season's Ricki Lake.
Gladys Knight & Tristan MacManus
Dance: Quickstep
Gladys didn't necessarily have her best night in the ballroom. It's not that she was bad. If I were judging the soul legend, I would have given her a 10 for her fiery attitude and desire to be the best. But her poor frame got the best of her, and it was Len who gave her his first -- and only -- 5 in the competition. Excuse me, Len, but Melissa was far worse than Gladys last week, and you gave her a 6. I'm not quite sure Gladys deserved a 5 -- and the crowd wasn't too pleased with that result either. Once again, Len was the most hated man in the ballroom.
You don't go from singing with Otis Redding to getting eliminated from "Dancing With the Stars." Gladys wants to win, and it looks like she's not giving up her Mirror Ball dreams anytime soon. You have to admire her for that.
And it wouldn't be a "Dancing With the Stars" recap if I didn't gush about how much I love Tristan. For those of you that don't understand my obsession, how did you not gush when Tristan told Brooke, "I have the benefit of when Gladys smiles, everyone else smiles."
Jaleel White & Kym Johnson
Dance: Quickstep
Jaleel and Kym are adorkable, but their jive wasn't up to the judges' standards. Carrie Ann said it lacked "sparkle," while Len thought it lacked technique. Meanwhile, Bruno really liked Jaleel's hat.
Sure, Jaleel's jive was good, but it wasn't great, and no number of chocolate milkshakes and red bow ties could make it memorable.
Meanwhile, the "Family Matters" star credits his history of physical comedy for his endurance. "Nobody can walk into a door like I can." Nope, Urkel, no one can embarrass themselves quite like you can.
"Dancing With the Stars" airs Mondays at 8 p.m. ET and Tuesdays at 9 p.m. ET on ABC.
PHOTO GALLERY
'Dancing With The Stars' Season 14 Cast
Calling all HuffPost superfans!
Sign up for membership to become a founding member and help shape HuffPost's next chapter