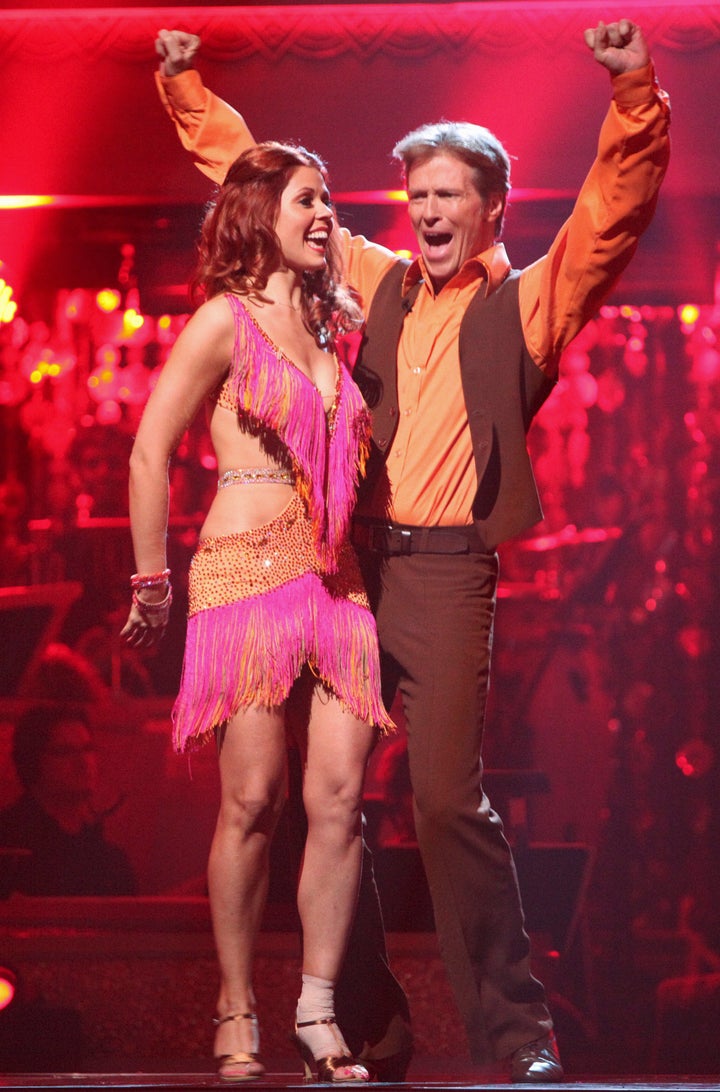 Did they or didn't they? Chances are, if you tuned in to tonight's "Dancing With the Stars," then you know why I'm asking this question.
Maria Menounos and her partner Derek Hough had a little romp on the ballroom floor that quickly escalated into one of the steamiest performances in "Dancing With the Stars" history. Somewhere between rumba and racy, Maria and Derek ended up on the floor, and it looks like the two may have shared more than choreography.
To me, it looked like the two definitely kissed. Sure, it wasn't a can't-eat, can't-sleep, reach-for-the-stars, over-the-fence, World Series forever kind of kiss, but it was a peck nonetheless.
However, Maria and Derek played it cool with Brooke Burke, choosing not to answer the question: Did they or didn't they?
Maria and Derek weren't the only ones bringing the heat to the dance floor. This week the stars had to choose a song that reminded them of their most memorable year, and needless to say, this meant that there were a lot of tears in the ballroom.
And because of the escalated emotional state of all of the contestants -- and the added happy pills that Len took before tonight's show -- everyone scored at least an 8. It was kind of like watching Oprah. "You get an 8, and you get an 8, and you get an 8 too!" And the cherry on top of the ballroom cake? Len called this week's performances "awesome." It may have taken a few decades, but Len has finally adopted modern colloquialisms!
However, there were two stars that managed to impress the judges so much with their fancy footwork that they received the season's first 10s.
William Levy & Cheryl Burke
Dance: Salsa
Year: 1995, the year he came to the US from Cuba
Thankfully, the "Dancing With the Stars" gods decided that this would be the week that Latin sensation William Levy would be given the chance to dance the salsa -- and take off his shirt.
This was a great week to be Cheryl. Despite the near-problematic neck injury, everything about this salsa was flawless. Yes, William probably has the upper hand when it comes to Latin dances -- as we saw last week when he struggled with a ballroom dance -- that doesn't mean that shouldn't be praised for his salsa. However, it sounded like William received the loudest applause of the night for taking off his shirt -- a muy caliente move indeed.
Even Len loved William's salsa, saying that he gave a whole new meaning to "free Willy." Oh Len, please don't start turning into Bruno, who happened to be speechless after seeing William's shirtless salsa.
Maria Menounous & Derek Hough
Dance: Rumba
Year: 1988, the year that her parents immigrated from Greece
I'm pretty sure that Maria's inner monologue during her racy rumba was: "Oh, you want to shake your naughty bits, Katherine? Well, I'm going to make out with Derek on the floor. Beat that!"
This was basically a chance for Maria to mack on Derek -- and visa versa. The house band played a slow tempo version of "Material Girl," and not only was it gorgeous, but it also didn't have a beat. For Maria to have accomplished this sultry rumba in week three means that she's putting some serious pressure on frontrunners Katherine and Mark.
Len described it as a "mix of the ballroom with a bit of the bedroom." And at parts, it really did feel like this could have used a parental advisory.
Jack Wagner & Anna Trebunskaya
Dance: Samba
Year: 2011, the year he met his daughter -- one that he never even knew he had -- for the first time.
In order to celebrate that life-changing moment, Jack chose to dance the samba to his own song, and while I usually don't like when the stars dance to their own music, Jack looked so happy on the dance floor that I really can't complain.
Len said that it was Jack's best dance to date. However, I'm going to take this with a grain of salt because Len also said, "I had a couple of happy pills before we came on. I'm in a really good mood." And when does that ever happen?
Personally, I thought Jack's placements were a little off, and his lines weren't as clean as they should have been. However, he's still one of my favorites to watch because he always has a smile on his face. It's just so hard not to enjoy Jack on the dance floor. That's why I'm calling him this week's most improved. I can't wait to see what he brings to the ballroom next week.
Donald Driver & Peta Murgatroyd
Dance: Rumba
Year: 2010, the year his best friend died of cancer
Emotional story. Check. Emotional Mariah Carey song. Check. Fog machine. Check. Donald's rumba was a sentimental homage to his late best friend, who died in 2010.
"The passion that you just expressed was mesmerizing," said Carrie Ann, and I have to agree. Maybe it was the fog machine or Peta's flowing dress, but I was completely lost in Donald's performance this week. Sometimes it's hard to me to really connect to the rumba because it's such a slow-moving dance, but Donald's performance was absolutely beautiful. It wasn't a perfect rumba, but that's okay.
I can't say it was my favorite of the night, but it definitely was memorable.
Gavin DeGraw & Karina Smirnoff
Dance: Rumba
Year: The year he saw Billy Joel live with his family (which I don't remember hearing)
Guys, Billy Joel changed Gavin's life. This makes so much sense, considering that Gavin was the piano man of 2003. Thank the heavens for "One Tree Hill."
In all seriousness, Gavin's story was really sweet. He explained that his father was very instrumental in landing him some of his first gigs, and it looks like Papa DeGraw is still his No. 1 fan, as he cheered for his son in the ballroom.
Gavin's rumba was nice, but I'm afraid that it wasn't memorable. However, it did make Carrie Ann's heart flutter. She now has "Gavin fever."
"A good dance and a look under the hat? What more could you want from Gavin?" Oh Tom, sometimes you're so on-point, it's scary. Ladies, we finally found out what was under that hat, and it turns out that it was all forehead. It's what Tyra Banks would call a seven-finger forehead.
Roshon Fegan & Chelsie Hightower
Dance: Samba
Year: 1996, the first time he saw Michael Jackson live onstage
Roshon was on a mission to channel his inner Michael Jackson "with a samba twist," he definitely had one of the more memorable performances of the night. Of course, the afro might have had something to do with it.
When it comes Roshon and Chelsie, they're going to have to rely on their WOW-factor if they want to make it any further in the competition. I'm not saying that Roshon is the worst -- because he's obviously not -- but he's still a relative unknown, so unless he pulls out all the stops, people will forget about him and not vote. That's exactly what happened last week. Roshon didn't deserve to be in the bottom, but he was.
At the end of the day, "Dancing With the Stars" is a popularity contest, and sometimes you have to do something a little crazy to get noticed, which is exactly what Roshon did on the dance floor this week.
Was it a perfect samba? No. But it was a great performance. Here's to (hopefully) another week.
Sherri Shepherd & Val Chrmerkovskiy
Dance: Rumba
Year: 2005, the year her son was born
Sherri dedicated her rumba to her son, who was born three months premature in 2005. For having such a sloppy performance last week, Sherri kind of redeemed herself with the rumba. It wasn't perfect. In fact, it was a little too slow, but it had so much emotion and heart, as shown when Sherri broke down in tears. I'm sure we'll hear more about it on "The View" tomorrow.
And did I mention that her son Jeffrey is the absolute cutest?
Also, can someone please explain to me why "Happy Endings" stars Damon Waynes and Eliza Coupe -- who Tom called out in the audience -- did not break it down on the dance floor?! I would have totally given them a 10.
Melissa Gilbert & Maksim Chmerkovskiy
Dance: Jive
Year: 2010, the year she broke her back while touring with "Little House on the Prairie: The Musical"
Footwork is not Melissa's strong suit, as we very painfully saw in her jive this week; but I will say that this was the first time that we've seen her really let go in the ballroom.
The opening sequence was great. I actually thought that she was going to be my most improved this week, but then came the actual jive. Watching Melissa try to keep up with Maks during their side-by-sides was slightly unnerving. She still has a long way to go, but in "Dancing With the Stars," having a few dedicated fans can carry you a long way. For Melissa's sake, hopefully they can borrow her some time too.
Was it just me or was Maks unusually silent this week? I barely remember him talking at all. I think he may need some of Len's happy pills.
Katherine Jenkins & Mark Ballas
Dance: Waltz
Year: 1996, the year her father died of lung cancer
Here's my problem with early frontrunners. Every season, there's one star who clearly stands above the rest, and every season, I get bored with them by week three. This season, it's British opera singer Katherine Jenkins, and to be completely honest, I fully expected to write her off this week because I knew she'd be great. However, to say I was floored by Katherine and Mark's emotional waltz would be an understatement.
It was gorgeous, and the best part? Katherine didn't have to rely on her "naughty bits" to get her through. She's incredibly talented. Yet, I still feel like it's too early to call a frontrunner. She may be great now, but like Ricki Lake last season, there's sure to be one or two stars that will surpass her.
But oh man, Josh Groban? Katherine, how did you know that was my weak spot? If only the house band didn't completely butcher it. Kudos to Katherine for scoring the competition's highest score yet -- and two 10s.
Gladys Knight & Tristan MacManus
Dance: Foxtrot
Year: 1966, the year she went on her first tour with the Pips
"Tonight, the Empress of Soul is bring Motown to the ballroom." Gladys, I love you, and judging by all of your fellow competitors' reactions to your performance this week, I'm not the only one. Seeing Jaleel and Donald cheer and applaud the Empress of Soul was an incredible sight
I don't even care if your foxtrot was incredible slow. You bring some much-needed sass to the ballroom.
Carrie Ann called her foxtrot "divine," while Bruno called it "elegant and absolutely gorgeous." And Len? Well, after telling Gladys that he knows how hard it is to go out there and dance week-after-week because they're the same age (SAY WHAT?), he asked her something that he's probably wanted to ask her for a long time: "Can I please be a Pip?"
Tristan called dibs on that honor first, Len. Duh.
Jaleel White & Kym Johnson
Dance: Rumba
Year: 1993, the year he played Stefan Urquelle, Urkel's handsome, smooth-talking alter ego, on "Family Matters"
Stefan, is that you? Jaleel played it cool and smooth on the dance floor this week with his debonair rumba. Hey, if we can't get him to do the Urkel, at least we can get him to channel his inner Urquelle.
While it may not have impressed the judges, it proved to be quite an emotional journey for Jaleel, who broke down in tears and said, "Stefan and Steve Urkel are my Mickey Mouse." Sadly, we did not get any further Urkel-isms.
Let's just take a look back at the master of swagger himself, Stefan Urquelle.
"Dancing With the Stars" airs Mondays at 8 p.m. ET and Tuesdays at 9 p.m. ET on ABC.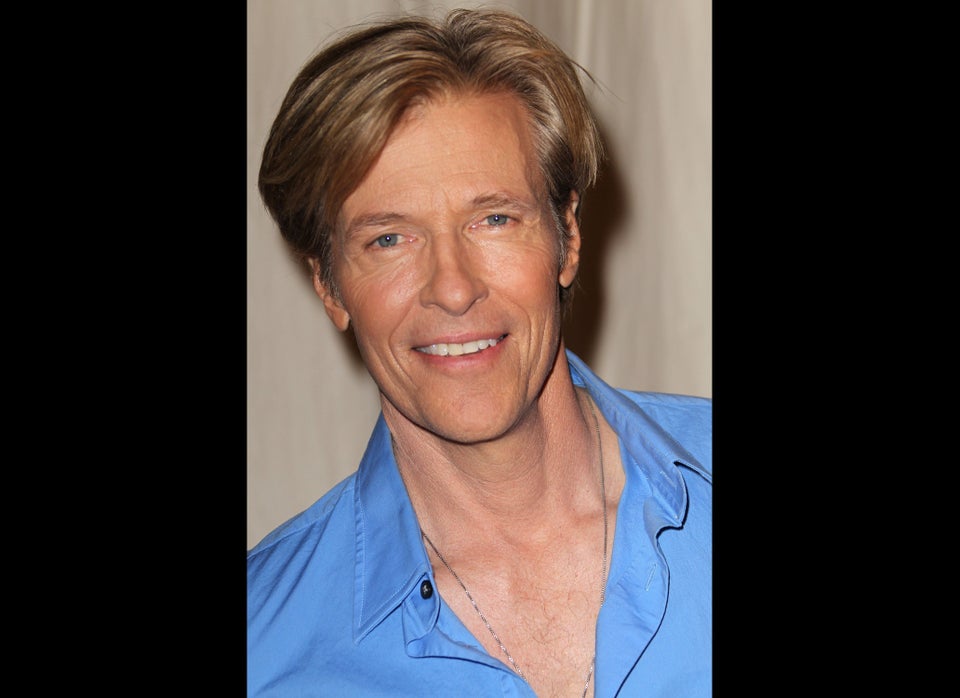 'Dancing With The Stars' Season 14 Cast