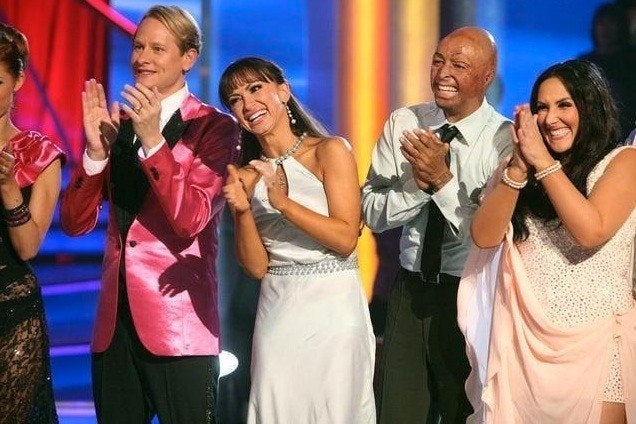 You may have tuned in to see Cher last night on "Dancing With the Stars," but chances are you got sucked into watching movie scores night because it was just that fascinating. There were actors swinging on ropes, pirate sword battles, dancers descending from the sky and even shirtless men wielding lightsabers.
But the highlight if the night belonged to Ricki Lake -- who scored the first perfect 10 in the competition -- twice! That's right, Ricki and Derek's sexy "Psycho" tango earned two 10s from Carrie Ann and Bruno, while Len gave it a solid 9. While I agree that Ricki and Derek had a great night on the dance floor, does anyone else feel like the judges play favorites? It's like Derek and Ricki can do no wrong, while on the other hand, J.R. Martinez, the best contestant in my opinion, can't seem to catch a break with the judges, who always seem to nit=pick his performances more than the other contestants.
Maybe Carrie Ann and Karina had a backstage cat-fight? Or do they just want to push J.R. to do better? Regardless, I'm getting a little tired of the Ricki and Derek Show.

As for Cher, well, she looked...um, amused? For the first hour and 45 minutes, it felt like I was playing "Where's Cher?," trying to spot the legend somewhere in the audience. Surprisingly, the 'DWTS' only panned to Cher about seven times in the entire two-hour show. That's barely enough for a good drinking game.
But Cher did get some screen time after her son Chaz's performance. To be honest, last week I thought Chaz deserved to go home, but after watching his fun, 'Rocky' themed paso doble -- his best performance yet -- I feel like the old Chaz, the one that smiles and looks like he's having a good time, was back. Even Lacey seemed like she was enjoying herself.
Meanwhile, Cher looked like a proud mama, clapping, cheering, bouncing and even praying for her son -- and it was hard to ignore the tears in her eyes after Chaz's performance. Although, I thought Cher getting a standing ovation after Chaz mentioned her was a little much. After all, it was Chaz's night to shine, not hers.
Overall, it was a great night for Chaz, and whether he gets sent home this week or not, he should be proud of his performance. I mean, his segment featured both Cher and Richard Simmons, so he can't really go wrong.
Although I'm not so sure he will go home. After Kristin Cavallari's shocking elimination last week, it seemed like the producers were dropping subtle hints through out the night that 'DWTS' isn't really a dance competition. First Carrie Ann comforted Chynna Phillips, who surprisingly looked like a hot mess this week, by proclaiming, "It's a little disco ball trophy. It's not the end of the world!"
That may have been the most sensible thing she has ever said. Meanwhile, Len told Carson that even though he wasn't the best dancer, if he was watching at home, he would vote for him. So see? Even the judges agree that 'DWTS' is more of a popularity and personality contest than a serious dance competition.
Other notable performances included Hope Solo and Maksim Chmerkovskiy, who danced the fox-trot to the "Toy Story" classic, "You've Got a Friend in Me." It was fun, joyful and Hope looked great. For me, Hope never really stood out, but this week she showed the judges that she's a major Mirror Ball contestant.
Even Rob Kardashian is starting to grow on me. He doesn't want to be seen as the "loser brother who's never had a job before," so what does he do? Pretend to be Superman, of course! Well, more like Super Kardashian! Honestly, I can't diss this Kardashian. He looked great on the dance floor and for the first time, I saw a leading man, one that has the chance to take the trophy -- a slim chance, but still a chance.
To see if your favorite contestant is safe for another week, tune into the results show Tuesday, Oct. 11 at 9PM ET on ABC.
Check out all of the highlights from "Dancing With the Stars" week four below.

Do you want to be the judge? Rate your favorite (and least favorite!) 'DWTS' performances below.
PHOTO GALLERY
'Dancing With The Stars' Season 13
REAL LIFE. REAL NEWS. REAL VOICES.
Help us tell more of the stories that matter from voices that too often remain unheard.