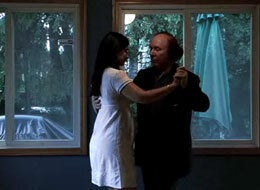 My parents divorced when I was fourteen and I used to play evil tricks on my father for the years he was dating and I still lived at home. When a woman called and said "Is Lenny there?" I would say in the sexiest voice "No, I'm sorry, he's busy right now" then whisper, 'Stop it!'" then giggle and hang up. During high school, I often accompanied him to the symphony or an art show, and on more than one occasion he would have to explain that no, I was his daughter and not his date. My parents divorce was probably one of the most significant and difficult experiences of my life. Any one who has also been through a divorce would probably agree. It was even the topic of one of my first art shows. Until both my parents remarried, I always felt a bit uneasy until they settled down, as if I were the parents of wayward high school grads who hadn't applied to college.
When I attended the Miami Basel fair this last winter, I walked by a booth that had a video showing an attractive young woman dancing in a living room of an apartment with a man. The clip would then jump to the same woman dancing with another man, then another. At first glance, I thought I was looking at an engagement announcement. There's a happy couple surrounded by wedding photos. On closer inspection, it was evident that they didn't look very comfortable together. And in reality, the couple in Kaufman's "Divorced Men" series isn't really a couple a couple at all. After Kaufman's parents got divorced, Kaufman began to explore the void that is left when someone is removed from a relationship--both emotionally and physically in the sense that there is a real void in the emotional and physical space of the home.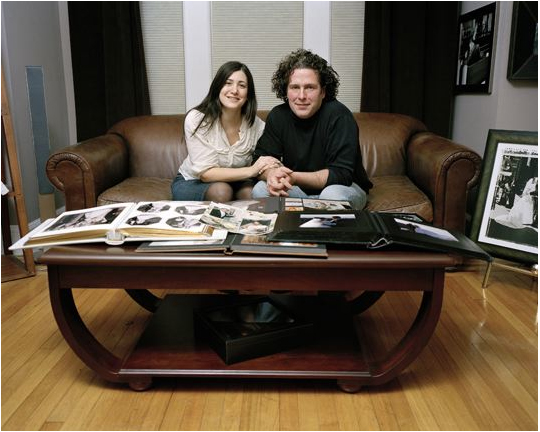 Allison Kaufman, "From the Divorced Men Series III", C-print, 16" x 20", A4.
In the "Divorced Men Series," Kaufman traveled into divorced men's homes and took portraits with them and danced with them. In the hours of their meetings, they opened up to one another. In the process of taking the portraits and filming the dancing, Kaufman taps into the emotional vulnerability found not just with the divorced men, but also with the artist and men's mutual desire to explore a human connection. I find the work both humorous and deeply explorative and touching.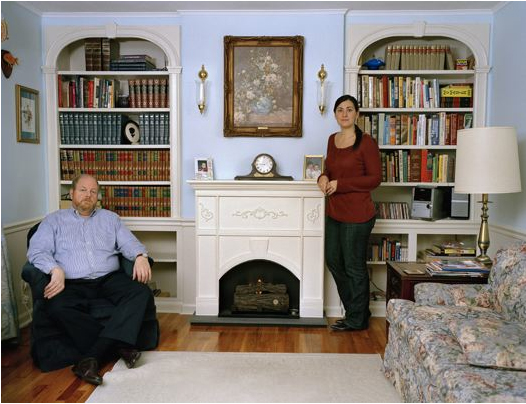 Allison Kaufman, "From the Divorced Men Series I", C-print, 16" x 20", A2. Kimberly Brooks: What was your inspiration behind this project? There are so many facets of experiencing divorce, was there a moment when it occured to you to make divorced men your focus?
Allison Kaufman: Visiting my newly-single father's apartment for the first time was a very significant experience for me, one of many that led me to an artistic investigation of divorced middle-aged men, a demographic I am still working with. It's very strange to visit the home of a newly-divorced parent and see what they choose to surround themselves with when they are living on their own for the first time in a long time, or possibly ever. Experiencing a major change, particularly in mid-life, necessitates forming a new identity to some degree. Vulnerability, disappointment, and hope, among many other things, are all part of that process and are emotions I'm fascinated with, both in my subjects and myself. In my work, I've been interested in the domestic--and its promises and failures--as a site of inquiry for quite some time, and seeing men navigate what is considered a predominately female domain is particularly poignant. The willingness of strangers to participate in the project and be documented in their homes reflected their desire for a sense of connection, something I was certainly looking for from this population for myself and what I believe the work ultimately is about.
<
KB: When I found out the concept behind the work, I saw you as taking the place of a phantom limb; as if you were proxy-wife/girlfriend or daughter filling in the void for that instant. What did you take away from the experience of working with these men?AK: While working with divorced men, I came to realize that the most potent part of our exchange was the temporary relationship that developed during our shoots, which usually only last a few hours. I wanted to record this in some fashion, and to literally make myself part of the work, vulnerable alongside the subject and forced to negotiate issues of persona and performance inherent in all photo/ video. I asked the men to choose a song and style of dancing and I essentially followed their lead, creating an appropriate female counterpart from their cues, and made "Dancing with Divorced Men".
The project is about the need for human interaction, the search for it and the insecurities around it, in an increasingly cyber-connected yet emotionally disconnected world. For just a few hours, I offer these men the opportunity for human connection and the possibility of feeling a sense of hopefulness, healing and forgiving that I, too, am looking for. Reflecting on the voids existing in my own relationship with my father, interacting with men that function as a surrogate allows me a sense of healing in some way. I realize that the act of meeting these men and dancing with them will not always or entirely fill my desires or theirs, and it is perhaps the tenderness in trying to do so, and the potential for the success or failure of the connection that I am interested in, for it mimics the potential success and failure of all of our most intimate relationships.


LEFT: Allison Kaufman, "From the Divorced Men Series II", C-print, 16" x 20", A3; RIGHT: "From the Divorced Men Series IV", C-print, 16" x 20"KB: How did the focus on divorced men take it's form for you? How did it evolve as you got more deeply into it?AK: I think like most artists, my process is conscious and subconscious simultaneously. Ideas and insights come from in-depth conversations and critiques with fellow artists and friends, and also arise at completely unforeseen, random moments when I'm in the middle of something I would think is unrelated. My work usually evolves over a long period of time and I try to look at a project from many angles--where I start is not very often where I end. I use the camera as a way of sketching, I suppose. When I need to feel creative and active I'm out with my camera making initial investigations into topics, and as I narrow my vision to what is most potent, I return with the equipment that seems most appropriate for that particular project.
KB: Is there a work of art that inspires you or that inspired this project?
AK: I'm drawn to a number of works, undertaken mostly by women, where artists form temporary relationships with strangers and attempt to illicit a genuine, emotional reaction. The pieces often use a relatively simple and sometimes light, or even humorous, structure that still seems to speak of complex issues of connection and loneliness. Prior to making "Dancing with Divorced Men" I was looking at a lot of this work and had not yet realized that this particular investigation of mine could function in that way. Examples of these artists and works are Gillian Wearing's "Signs That Say What You Want Them To Say And Not Signs That Say What Someone Else Wants You to Say", Shizuka Yokomizo's "Strangers" series, and the video piece "Karaoke Wrong Number" by Rachel Perry Welty. All of these works deal with issues of the public versus private, our need to be seen or understood in some way, and our willingness to engage with strangers as a means of connection.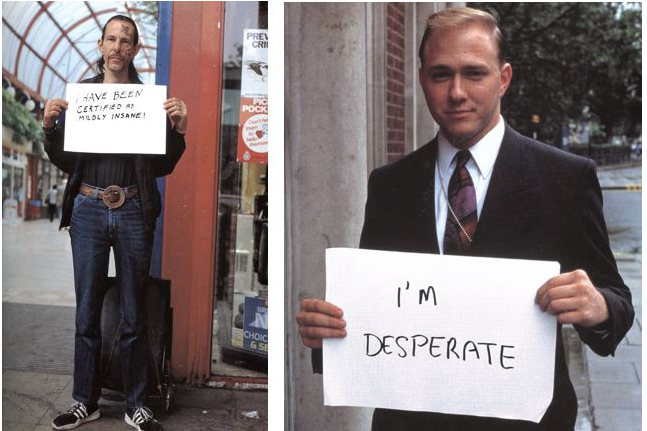 Gillian Wearing, "Signs That Say What You Want Them To Say And Not Signs That Say What Someone Else Wants You to Say", 1992-93.Images found at Tate Collection, courtesy of Maureen Paley/ Interim Art, London
Allison Kaufman is a photo and video artist living in New York City. She received her BFA in Film and Television Production from NYU's Tisch School of the Arts in 2000 and her MFA in Photography, Video, and Related Media from the School of Visual Arts in 2008. Her work has been exhibited throughout the United States at the Aqua Miami and Affordable Art Fairs, Broadway Gallery, ZONE: Chelsea Center for the Arts, Artists Space, and Brooklyn Borough Hall, as well as Galerie Scherer8 in Berlin. Kaufman is the recipient of the Paula Rhodes Memorial Award and an Alumni Scholarship Award from the School of Visual Arts and has been an artist-in-residence at the Constance Saltonstall Foundation of the Arts and Penland School of Crafts. She has taught at a variety of institutions and is currently an adjunct professor at Berkeley College. Updates on Kaufman's work and exhibitions can be found at www.allisonkaufman.net.
Related
Popular in the Community