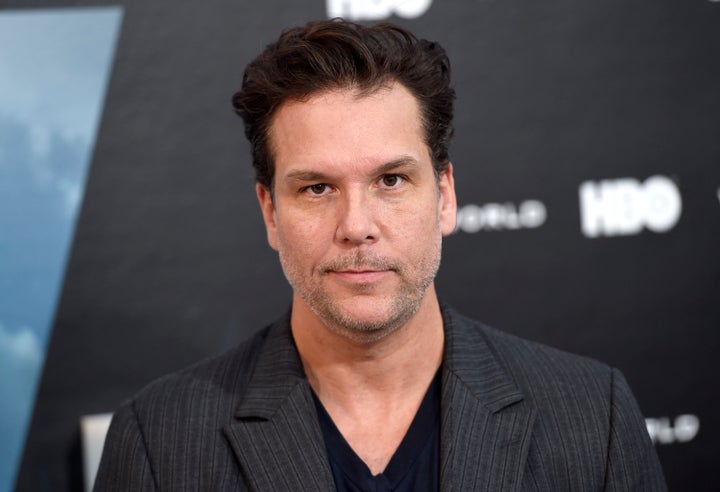 Dane Cook's attempt at a joke about deaf people backfired spectacularly on Wednesday. 
The comedian tweeted, "When a deaf person wakes up late for work do they loudly sign 'FUCK MEEEEE' to themselves as they hastily get ready?" 
The tweet has since been deleted, but it drew a largely negative reaction from Cook's followers and from actor and disability advocate Nyle DiMarco, who is deaf. 
"Thank u, next," DiMarco replied to Cook's tweet, channeling Ariana Grande's new song about her exes.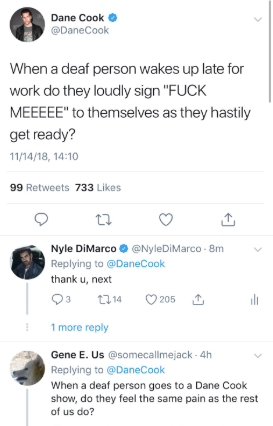 He then followed up his comment by mocking the comedian's original tweet.  
"WhEn A dEaF pErSoN wAKeS uP lAtE fOr wOrK dO tHeY lOuDy sIgN 'FUCK MEEEE' tO tHeMsElVeS aS tHeY hAsTiLy gEt ReAdY? 0_o," he wrote. 
DiMarco recently called out the Netflix movie, "Sierra Burgess Is a Loser," for using the casting of one of its actors, who is deaf, as a punchline. 
"So one of my close friends' deaf brother is in Sierra Burgess," the model tweeted in September.
"When I learned, I was elated. Finally more deaf actors/representation & ASL inclusion in films ... Only to find out the deaf character was written and used for a terrible joke. PS- pretending to be deaf is NOT ok," he wrote.  
"It is extremely easy to make jokes about marginalized/disfranchised groups," DiMarco wrote in a follow-up tweet, adding that it also just "makes you a lazy writer." 
Meanwhile, Cook had returned to headlines in August for joking about his 27-year age gap with his teenage girlfriend, Kelsi Taylor. The two have dated for over a year. 
"We met at a game night I host at my place," Cook said. "We were friends for a while & soon after fell in like with each and then upgraded to love." 
Calling all HuffPost superfans!
Sign up for membership to become a founding member and help shape HuffPost's next chapter
BEFORE YOU GO