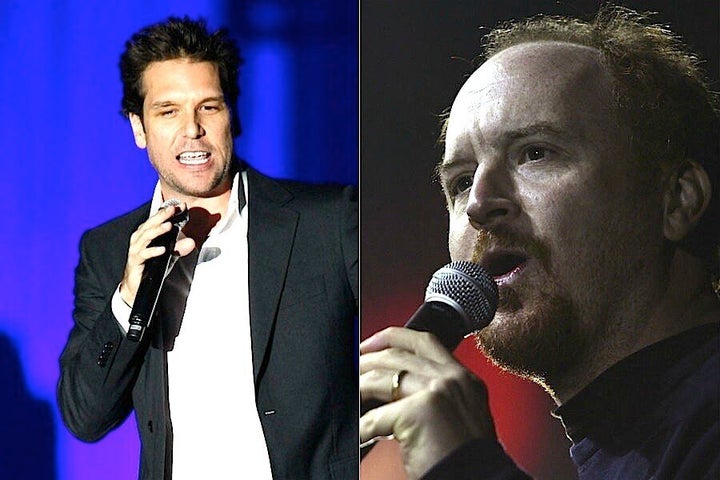 This Thursday, the oft-maligned comedian Dane Cook will guest star on "Louie," and by the looks of the promo, this is something you won't want to miss -- especially given the years of rocky history between the two comedians.
A look says it all, right?
Over the years, Cook has been a punching bag for other comics, with many accusing him of joke theft and plagiarism. And one of the most pervasive claims, one that circulated for years within the comedy world, involved Louis CK, himself.
Cook doesn't repeat the jokes verbatim, but the general concepts are pretty similar. Though, as the blog Dead Frog pointed out in 2007, these were well-worn topics in comedy (who doesn't have an itchy ass joke these days?) and it's difficult to say for certain that Cook stole anything directly from CK.
Still, the claim was enough to send cries of plagiarism pulsing through a comedy community that was already suspicious of Cook; his jocular style, aggressive marketing tactics and mainstream appeal didn't gel with the typically underground, subtler style of the burgeoning alternative comedy scene, and it didn't help that he was fast becoming one of the most famous comedians in the country.
"When I first heard it, it pissed me off for a very unfair reason, which is I just didn't like the dude," he said. "He just bummed me out aesthetically."
Still, CK went on to say that he wasn't ever sure that Cook had actually stolen anything, and was upset that Cook might have "suffered" from that accusation. The two had since exchanged e-mails about the issue, CK said, and were friendly whenever they saw each other.
"In essence, we're talking about, in my lifetime, in 20 years of standup," he said, "we're talking about three things with Louie and I, out of all the material I've ever recorded, we're talking about four kind-of concepts."
When Maron asked if he ever credited CK for the similar jokes, Cook responded: "I didn't credit Louis CK because I never stole anything from Louis CK."
Cook said he'd never stolen "anything" in his life, and any similarities between the two comedians' material was just a coincidence. "You talk to guys that have known me the longest," he said, "They're going to look at you and go: you're crazy to think that Dane Cook steals."
Cook has moved away from stand-up a bit in recent years, focusing on a comedic film career. This fall, he's set to appear on Broadway in Neil Labute's "Fat Pig."
Louis CK, meanwhile, has been nominated for an Emmy for Outstanding Lead Actor in a Comedy Series for his work on "Louie."