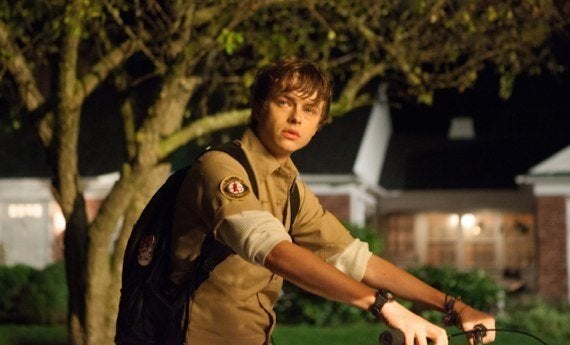 Dane DeHaan knows that you probably already recognize him for playing Harry Osborn in "The Amazing Spider-Man 2," a movie that doesn't come out for more than a year. Because, as roles in superhero movies are wont to do, it has shoved DeHaan firmly into a public spotlight that started shining after the unexpected success of his other superhero movie, "Chronicle."
But that's next year. DeHaan, 27, has already garnered serious critical acclaim at Sundance for his role in "Kill Your Darlings" and in this week's new release "The Place Beyond the Pines," written and directed by Derek Cianfrance ("Blue Valentine"). The film takes place over the course of several years, and DeHaan's character doesn't appear until the second half. Ryan Gosling plays Luke, a stunt motorcyclist who starts robbing banks in an effort to support his young son, Jason. Many years later, Jason, now a high school student (and now played by DeHaan), must face a former police officer named Avery Cross (Bradley Cooper) who played a large role in his father's life.
Here, DeHaan talks about his breakout year (which he refers to as "happy time"), his remarkably young appearance, and how just being cast in "The Amazing Spider-Man 2" has already changed his life.
I remember thinking about halfway through, I thought Dane DeHaan was in this movie. There's an interesting structure to "The Place Beyond Beyond the Pines," it's almost two separate movies.
I'd say three movies -- three different stories. But what I liked about the script when I read it was, yeah, it's truly ambitious. But I knew that Derek could pull it off because I was a fan of Derek. And that's what truly attracted me to it.
You're playing a high school student in this movie. I feel like you get that a lot.
Yeah. I mean, when I graduated college like five years ago, I still looked like a teenager. So, I've been kind of really lucky to have trained as an actor and still be able to have a young career. Lately I've played slightly older people, but I did certainly start out -- and this included -- playing high school kids.
Do most people realize that you're 27?
Hopefully not when they're watching the movie [laughs]. I don't know, I'm an actor. You know, I play parts.
They do skew younger. Would you want to play someone older?
I don't really look at it in terms of age. I look at it in terms of human beings. And I feel like I've been really, really lucky to play a lot of really interesting and complicated human beings. And I'm sure as I get older, the age of those complicated human beings will inevitably be older. But, I mean, the parts that I've kind of gotten a chance to sink my teeth into have been amazing. I just look at it as an acting challenge. And it's a challenge within itself to be 25 years old and have to come across believably 17 years old in a movie. It's not just about what you look like -- it's about creating that character.
Are there pitfalls that you can fall into when playing younger?
I don't know. I don't really look at it in terms of what I could possibly do in which I would fail [laughs]. I kind of look at it as how am I going to do it? You know, I look at the character. I look at what the character does. I look at how they do what they do and why they do what they do. And, ultimately, I believe that can inform who the person is and what truly drives them forward.
This is The Year of Dane DeHaan, right? Between "The Place Beyond The Pines" and "Kill Your Darlings," which I saw at Sundance, I feel you're having a nice year.
It's happy time.
Do you allow yourself to be self-aware enough to know that this is a big year?
It's great. Yeah, I never expected anything like this. But it is what I love to do and I am, for whatever reason, being rewarded with amazing opportunities to not only work at the height of my profession, but also with people I really want to work with. So, personally, I'm just soaking it up and I couldn't be happier.
Did this all start with "Chronicle?" Do you feel that's when people really started to take notice?
I think that the film world started taking notice after [HBO's] "In Treatment." I think "In Treatment" is kind of what led to "Chronicle." I actually filmed "Lawless" before I filmed "Chronicle." And I filmed this this before "Chronicle" came out. Like, Derek didn't know "Chronicle" existed. When I was filming this, I was like, "I'm in a movie, it's coming out and it's called 'Chronicle.'" And everyone was like, "I have no idea what that is."
Well, most people didn't know what it was until it came out, then it became a huge success.
Right. So, I made a bunch of movies before "Chronicle" came out. In terms of the general public, "Chronicle" was definitely my biggest thing they knew me for. But I feel like, honestly, the public already knows me more for being in "The Amazing Spider-Man 2" -- and the fact is that "Spider-Man" is a long way from coming out, you know?
But when you sign up for a movie like "Spider-Man," you have to know that's going to happen.
Absolutely. Yeah, that's part of it. Absolutely.
Did anyone warn you that this would define your career for the next year, for better or worse?
Well, I mean, if you're making a movie for six months -- you know that's what's going to define your life. But It's such an awesome role and it's such a cool experience, I would have never have, like ... it's exactly what I want.
Speaking of "Spider-Man," it's certainly not the case that James Franco defines the role of Harry Osborn by any means, but how will yours be different?
Well, it's my take on the role. So, it's going to be different. Simply stated: he did his thing, I will do my thing.
I'm guessing more dark and mysterious.
Well, you will just have to wait and find out ...
In my notebook I just wrote, "How are you different than James Franco?" That's an odd question without context.
[Laughs] We're different people! People are different!
The way you mentioned earlier that you're more known for "Spider-Man" right now, does that bother you?
No, no. Not at all. It's just the fact of the matter.
In general, would you rather be talking more about "The Place Beyond the Pines" or "Kill Your Darlings" than "Spider-Man?"
No, you didn't even ask me about "Spider-Man." The question was about my life changing in the public eye, career-wise. So, I'm just saying, in the public eye, that's been the biggest change.
Is this a different level of change than what happened after "Chronicle?"
It just keeps building and building. I mean, inevitably, the more things that you're involved with that are popular, the more popular you become. It's as simple as that.
You have a really small role in "Lincoln." How did that come about?
Well, it's like, if you get a phone call, "Hey, do you want to spend a day on set with Daniel Day-Lewis and Steven Spielberg," the answer is, "Yes." [Laughs] So, that's it! "Yes, I do. I would do anything. I just want to see what happens."
That's a much more obvious answer than I expected.
Yeah ...
It just was interesting seeing you in a small role. If I see your name associated with a movie, I just expect you to be in it a lot these days. But that makes perfect sense.
Yeah, I mean, it's all about the opportunity. And if the opportunity seems amazing, then why not do it? Even if it's a couple of lines or an entire movie or a third of a movie, ultimately what I love to do is act. And if it seems like it will be a rewarding, challenging experience -- which I will come out a better actor -- then I want to be involved.
Did the success of "Chronicle" surprise you?
I mean, we always had the tent-pole of 20th Century Fox behind us. I think there's a misconception that "Chronicle" was an independent movie and it wasn't.
Oh, people think that?
Yeah, a lot of people think that. And I always, from the moment I read that script, I knew it was a really good idea. And I knew if we could pull it off, it would be something special.
Mike Ryan is senior writer for Huffington Post Entertainment. You can contact him directly on Twitter.
PHOTO GALLERY
Celebrity News & Photos
Calling all HuffPost superfans!
Sign up for membership to become a founding member and help shape HuffPost's next chapter
BEFORE YOU GO