Although she died countless times on stage and on film, Lulu still lives.
Frank Wedekind's immortal character -- the great femme fatale of the 20th century -- first appeared in his once controversial, now celebrated "Lulu" plays, Erdgeist (Earth Spirit, 1895) and Die Büchse der Pandora (Pandora's Box, 1904).
In the years that followed, Lulu was reborn in other art. Wedekind's plays were the basis for two great silent films in the 1920s, as well as Alban Berg's masterful opera of the 1930s. The plays and their stage performances, the films, and the opera all influenced one another. It is known, for example, that Berg saw G.W. Pabst's 1929 film Pandora's Box while composing his great modernist opera, as did his great champion and correspondent Theodor Adorno, who wrote that he was profoundly affected by Lulu.
There have been other later film adaptions, poems, paintings and drawings, comic books, and even erotica inspired by the character of Lulu, as well as a few rock and pop recordings like Rufus Wainwright's All Days Are Nights: Songs for Lulu (2010) and the Lou Reed / Metallica collaboration Lulu (2011).
Her origins remain obscure. Did Wedekind base the character on Lou Andreas-Salomé and his own frustrated relationship with the vivacious intellectual (who preferred the company of Nietzsche, Freud, and Rilke)? Or did Wedekind base Lulu on his mother, a one-time showgirl in Gold Rush San Francisco? She married Wedekind's father, an older and respectable professional, not unlike Dr. Schön in the plays.
Or, was Wedekind -- a rogue in his youth -- smitten with Lulu, a popular circus performer in Paris in the 1890s? We do know that Wedekind was inspired by the circus as well as Félicien Champsaur's 1888 circus pantomime, Lulu. In the prologue to Earth Spirit, the characters are introduced by an Animal Tamer as if they are creatures in a traveling circus. Lulu herself is described as "the true animal, the wild, beautiful animal" and the "primal form of woman."
Over the years, actresses from Eva Gabor to Judy Davis have played Lulu on stage and in film, while many others have sung the role in opera. Here is a shortlist of six great, memorable Lulus. Each has shaped the way we see the character today.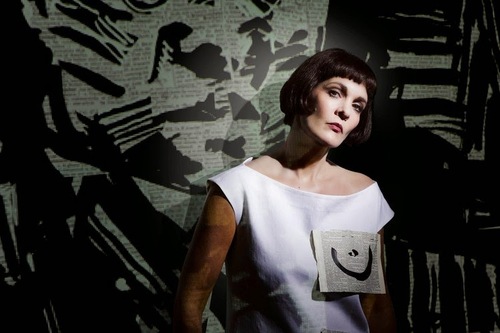 Marlis Petersen as Lulu.
PHOTO: Kristian Schuller/Metropolitan Opera
Marlis Petersen: It would be something of an understatement to say there is great anticipation around the new production of Alban Berg's Lulu that opens at the Metropolitan Opera in New York. The excitement building over this new Lulu stems not just from the fact that artist William Kentridge is behind the staging of this modernist masterpiece, but that Marlis Peterson will be singing the role of Lulu. The riveting German soprano (a blonde who sports a dark bob à la Louise Brooks) is appearing in her 10th and just announced final production of the opera. As an interpreter of Lulu, few have made the role so much their own. No wonder Peter Gelb, the Met's general manager, calls her "the leading Lulu of the day." Lulu opens at the Metropolitan Opera on November 5 and continues through December 3. On November 21, Lulu will be live streamed to theaters across the United States.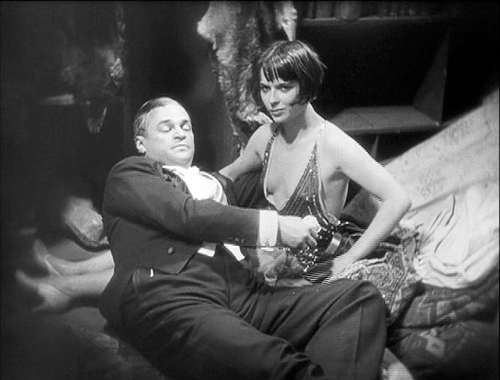 Louise Brooks as Lulu in the 1929 film Pandora's Box.
PHOTO: Louise Brooks Society
Louise Brooks: The best known Lulu may well be Louise Brooks, the bobbed-hair, Kansas-born silent film star called to Germany to play Lulu in the G.W. Pabst directed film, Pandora's Box. Movie-goers at the time were dismayed. They asked, how could an American play what was an especially German character? Though she claimed not to know what it was all about, or even to have read Wedekind's text until years later, Brooks so convincingly inhabits the character of Lulu that any actress or singer playing the role is hard pressed to ignore her. In a recent piece, critic Graham Fuller suggests that Brooks the actress and not Pabst the director is the film's real auteur. It's not a new notion, but still a provocative one. A free screening of Pandora's Box will take place on November 8th at Central Branch of the Brooklyn Public Library.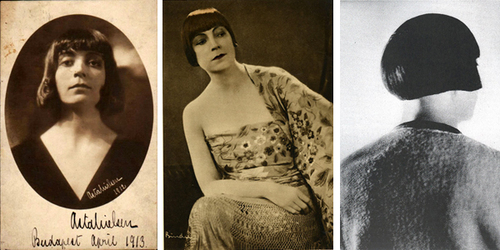 Asta Nielsen in 1913, as Lulu in 1923, and turned from the camera in 1930.
PHOTO: Louise Brooks Society
Asta Nielsen: The first film Lulu was Asta Nielsen, the great Danish actress, who played Lulu in Earth Spirit (1923). One of the early international movie stars, she was noted for her large dark eyes, mask-like face, and androgynous figure. (Famously, she played Hamlet in 1921.) About her, the French poet Apollinaire once exclaimed, "She is everything! She is the drunkard's vision and the lonely man's dream." Be that as it may, Nielsen often and movingly portrayed strong-willed, passionate women trapped by tragic consequences. Due to the erotic nature of her performances, Nielsen's films were censored in the United States, and her work to this day remains obscure to American audiences.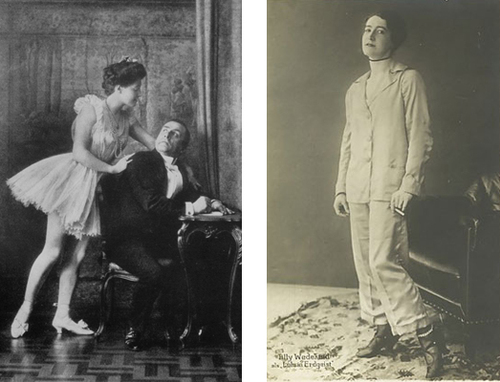 Tilly Newes and Frank Wedekind in Pandora's Box. Tilly Wedekind as Lulu in Earth Spirit. PHOTO: Louise Brooks Society
Tilly Newes: The second actress to play the role on stage was Tilly Newes. Pandora's Box was first staged in Nuremberg in 1904, but was banned by the German censor. Austrian writer Karl Kraus produced a private performance in Vienna the following year, and cast Newes, an Austrian actress, as Lulu. Newes and Wedekind, who played Jack the Ripper, had an affair, and after the playwright insulted her, the actress threw herself into a river. Wedekind rescued her, and soon proposed. Despite a difference of 22 years, they remained together until Wedekind's death in 1918. In 1969, she published an autobiography, Lulu - the role of my life.
Kyla Webb in Lulu: a black and white silent play, which toured the country in 2006
Kyla Webb: Back in 2005 and 2006, the then newly formed Silent Theatre Company of Chicago staged a brilliant and singular adaption of the Lulu plays. Taking their cue from the silent cinema, this Lulu was performed without words. The intent was to say what words often cannot express -- here, gesture and body language did all the talking. At the heart of Lulu: a black and white silent play was an immensely talented young actress, Kyla Webb, in the title role. Webb was Lulu incarnate -- throwing her affections and body about with abandon on a razor's edge of danger and desire. A revival is in the works.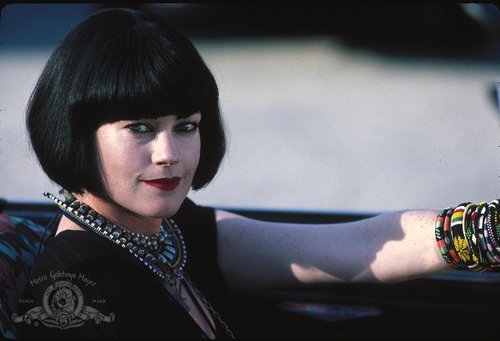 Melanie Griffith as Lulu in Something Wild (1986). PHOTO: Metro-Goldwyn-Mayer Studios Inc
Melanie Griffith: Though she didn't play Wedekind or Berg's Lulu, Melanie Griffith was Lulu to a generation of moviegoers. In Jonathan Demme's 1986 thriller, Something Wild, Griffith is given the character's name and unpredictable personae, as well as Brooks' trademark hairstyle. Though a stylistic gloss on some of Wedekind's more profound themes, Something Wild remains a clever, layered, Hitchcockian take on the nature of desire and uncertainty.
Thomas Gladysz is an arts and entertainment writer. He is also the founding director of the Louise Brooks Society, an online archive and international fan club which went online 20 years ago. Most recently, he contributed the audio commentary to the just released Kino Lorber DVD and Blu-ray of the G.W. Pabst / Louise Brooks film Diary of a Lost Girl.
Popular in the Community