We are happy to admit that we are obsessed with trends and fashion here at HuffPost Style. But even the most devoted fashion fans acknowledge that there are times when clothes are painful, both on the body and on the eyes. Is it possible our wardrobes could actually be dangerous to something more than our wallets?
Here are seven clothing culprits might actually be hurting you.
1. The problem: Chemicals in fabrics. This is an obvious one. Back in November, we ran a piece on a report from Greenpeace that detailed the toxic chemicals used in clothes from fast fashion chains. According to Greenpeace's Media Officer, Myriam Fallon, "Many chemicals that are used in the dying and processing of fabrics can become hormone disrupting and even cancer causing when they break down in nature, and those chemicals are being dumped into rivers right near the factories." Of the retail chains whose product was tested, Calvin Klein, Zara and Mango's wares were all tainted with hazardous chemicals. The solution? Buy locally sourced clothing and accessories, and seek out small designers whose production practices are transparent. Or just buy less. As Jenna Sauers wrote in a Jezebel piece on sustainable shopping, "In the U.S., we own more items of clothing now than at any point in history — yet we pay less for them, and accordingly, we value them less."
2. The problem: High-heel shoes, especially pointy-toe styles. Heels can cause painful bunions and hammertoes, leading to painful and expensive surgery down the road. Not to mention that they are difficult to walk in, and can be a hazard when trying to run for a cab. The solution: Alternate your heels with flat shoes, at least when lots of walking is involved.
4. The problem: Constricting shapewear. To create the desired hourglass shape, the Lycra undergarments squeeze and sometimes even pinch. The tight garments can compress nerves, leading to pain and numbness, and they can even cause yeast infections (we refer you to number three). The solution: Wear shapewear sparingly.
6. The problem: Overstuffed, heavy-as-hell handbags. Large, overfilled purses cause back and shoulder pain. Women have been accused of carrying too much crap, and now we are paying to consequences, with trips to the chiropractor to try to repair the damage. The solution: clean out your purse. You can leave half of that stuff at home, or at your office (you don't need three Tide pens, your iPad and a laptop, do you?). Commit to a small bag, and we promise, you will see that you don't need all the superfluous stuff that was weighing you down.
The solution here is simple: loosen up, ladies! Literally -- let your belt out a few notches, go for jeans with some stretch to them, don't wear Spanx for longer than absolutely necessary, dump the clutter in your purse and alternate your heels with flats.
Simply put, there is no need to suffer for style.
Celebs who don't let pain get between them and their platforms: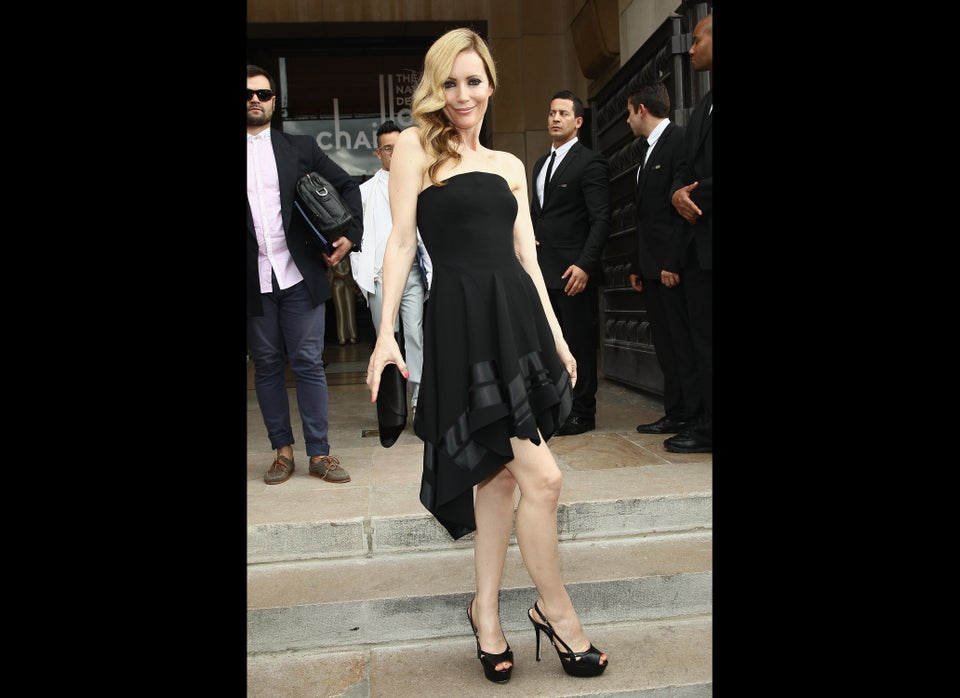 Celebs In Platform Heels