According to the recent study, this disease appears among the army, police, football players, those who perform hard exercise, smoke, hereditary case, around the age of 60. This disease slowly makes all the organs immovable and finally brings the victim to death. Diseased person have a very hard life and are forced to lie down at home. According to Dr. Jalan, this disease stands as a great challenge in front of the modern medical world. Research and work is being done to find out the cure. Over 5 lakh dollars will be spent in the cure of Mainali.
Ganesh Mainali requests everyone:
I, Ganesh Mainai, am coming to the US because of a deadly disease called ALS leaving 7 year old son and my young life partner. Today, I am living in the midst of life and death. My life is like a blooming flower. Some flowers grow up to be blooming while others die before they bloom. Please save me. I request all Nepalese for economic assistance. Mainali is a lawyer by profession.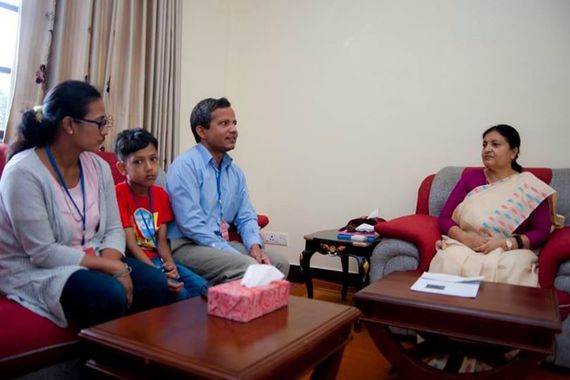 Ganesh with President Bhandari
According to the physicians, 1 person in 100000 get this rare disease motor neuron. This disease where a person loses control over his muscles is called Ammotrophic Lateral Sclerosis (ALS). According to the researchers, patients of this disease are increasing by 5000 every single year. Enough progress haven't been possible, although researchers have been engaged in finding about this disease.
Mainali has spent all available money in going to different hospitals. He doesn't have anything left and it's his daily routine to attend the hospital. Mainali has been actively involved in student rights movement and the political system changing revolution later. Mainali who was injured in the historic revolution is now just limited to his home. According to the physicians some cure might be possible if he can go to USA but the expenses are very high. He has pledged American President Obama, former President Bill Clinton, Geroge W Bush, Bill Gates, social media, artists etc to help ALS victims and establish a fund for ALS victims via program called ALS Ice Bucket Challenge. Mainali is reaching out to all in a hope for life. Smiling, he says he's dying, please save me. Mainali hopes to live a life of dignity and work for those who are victims of injustice. That's his last wish.