In this installment of the Huffington Post Gay Voices RaiseAChild.US "Let Love Define Family™" series, contributing writer David Humiston is inspired by two foster and adoptive dads in Tallahassee, Florida, and shares their story.
Inspiration is a living thing. In the act of making ordinary people do extraordinary things, it gets passed on. Those inspired become those that inspire and, in this way, one candle is used to light another.
Couples like Daniel Nurse and his husband, Casanova, a thirtysomething couple from Tallahassee, Florida, are inspiring. Together since 2006 and married on Valentine's Day of this year, Danny has taken on the Florida House Judiciary Committee (testimony against anti-gay adoption, i.e., Bill 7111), biased caseworkers and even an attorney who initially (and illegally) refused to represent them during adoption proceedings, and have successfully adopted three beautiful children into their loving home. The process was not easy for them, and they admit to moments of difficulty and even self-doubt. However, they persevered and can say that they were among the first same-sex couples to foster-to-adopt in Tallahassee. Daniel, already from a family familiar with the beautiful rewards of adoption, related to me that he was inspired to take his first steps by the annual CBS television special, "A Home for the Holidays."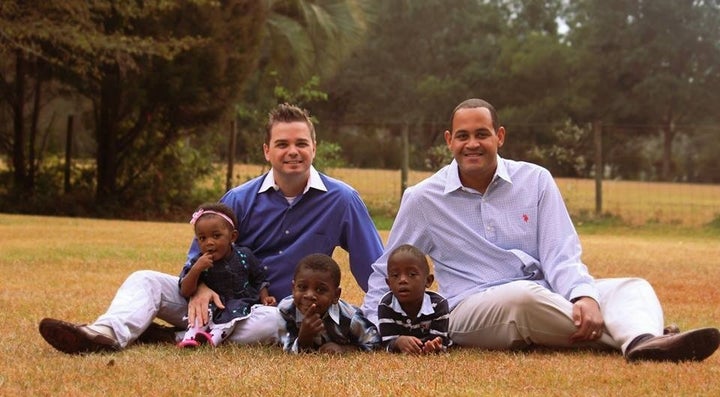 In 2010, Florida's Third District Court of Appeals struck down a 1977 law banning adoption by gay parents, declaring it unconstitutional. Danny and Cas were among the very first to subsequently apply for fostering.
Their first adoption placement, a precious girl, was challenging. The family struggled to adapt and parent, as any family would, and the young girl placed in their care blossomed, but was ultimately reunited with her birth mother. The experience made them wiser, perhaps more patient, but no less eager to try again. And so they did, with two adorable and, as Danny says, "amazing" boys. Sadly though, neither child ended up staying with them for the long haul, but Danny and Cas remained positive and persistent.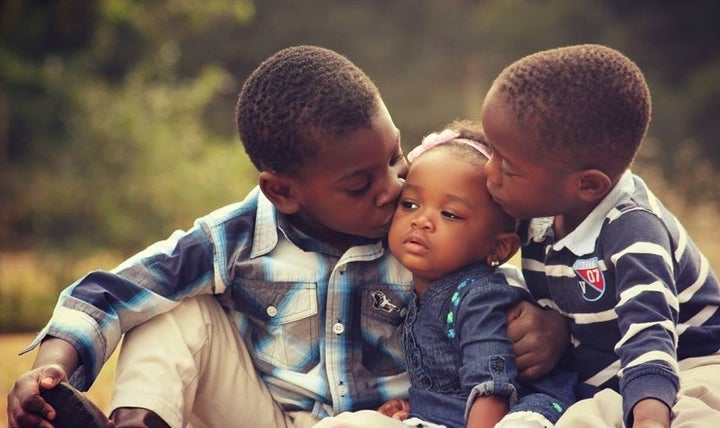 Determination has paid off, and they have now successfully adopted three children through the foster-to-adopt program. Two boys, Neijal and Cameron -- both 4 -- and Ava Rose, who is only 22 months old. The children have brought more joy and meaning into Danny and Cas's life.
Cas's family, long apprehensive and unaccepting of his sexuality, have even been won over by the children, and family meetings have engendered deeper respect, love and understanding. Cas's father, the children's "Paw-Paw," was instantly smitten upon meeting them and insisted on showing his love by cooking them a "hearty meal," as Cas puts it. That meeting, and those that followed, were "critical in mending many years of misunderstanding and misperceptions about my husband's life, and gay life in general," says Cas.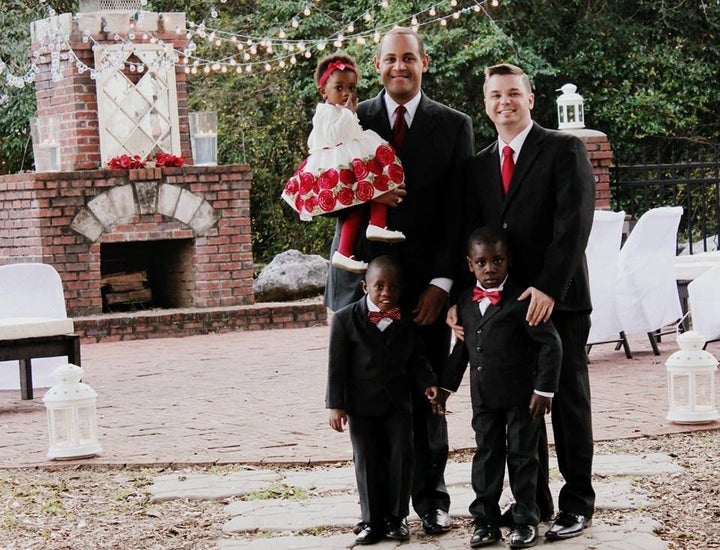 Danny and Cas are happy. They are optimistic. They know that struggles are likely to come their way, but it is nothing they aren't willing to face together. In Daniel's words, they "may face issues, ridicule, embarrassment, but it is all worth it to be able to give back and provide a loving and committed family for those that would not otherwise have one." This is a common theme among foster-to-adopt families, perhaps even more so among same-sex couples who have faced struggles for the opportunity to raise children. Nonetheless, this family is a heartening inspiration for all of us to reflect upon. Their candle of inspiration will, hopefully, be used to inspire the flame of other candles yet to be.
RaiseAChild.US is the nationwide leader in the recruitment and support of LGBT and all prospective parents interested in building families through fostering and adoption to meet the needs of the 400,000 children in the foster care system. RaiseAChild.US recruits, educates and nurtures supportive relationships equally with all prospective foster and adoptive parents while partnering with agencies to improve the process of advancing foster children to safe, loving and permanent homes. For information about how you can become a foster or adoptive parent, please visit www.RaiseAChild.US.