"Are you asking me if I'm a control freak?" Daniel Beaty asks me as I question his decision to turn a once ensemble play into a solo work.
New York theater productions have a long history of traveling out of town, often to work out kinks, re-write a musical number, or in the case of the once Broadway-bound Love Never Dies, throw out an entire book. But when Beaty first started staging his play Through the Night, it employed a range of actors. From Atlanta and Hartford to Philadelphia, this play about the African-American experience in a post-Obama America worked as an ensemble piece.
Then, Beaty realized his play might be heightened were he to cast aside the ensemble and inhabit each of the six characters himself. "I kind of went back to the drawing board, because I wanted to take it to another level," he told me before a weekend matinee performance of Through the Night at New York's Union Square Theater. "By getting inside of the characters, I could take the story to a deeper place and make the characters richer."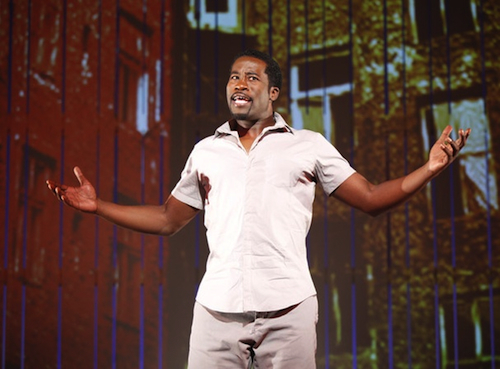 Through the Night isn't the first time Beaty has decided to employ a "chosen schizophrenia." In 2006 he won an Obie Award for another of his plays, Emergency, also a solo play, although that production went so far as to include 40 characters, all played by Beaty. Before that, he debuted his first solo play in 2001 at La MaMa.
"I have found, thus far, that I am able to reach the highest expression of my art when I am able to inhabit the characters as well," Beaty said. "I think most playwrights hear their characters' voices and are clear about what their emotions are. Because I'm a trained actor, as well, I can make that a reality."
A need for artistic creativity drove Beaty to the path of solo playwright and performer. He remembers performing in Berkshire with Shakespeare and Company and having a moment of clarity when a fellow cast member, having read some of Beaty's work, urged him to share his writing with the public. "I remembered learning the lines, creating the characters, and the audience was electric," he said. "It was this shocking revelation that there was this part of myself other than just interpreting other people's words."
From the beginning, Beaty set out with a goal of writing about the black male psyche. He found himself motivated by a 2007 report out of the National Urban League. The statistics on projected jail time for black boys born in 2010 startled him, and set him off to write Through the Night. "I wanted to tell a story of an extraordinary black boy who saw what was going on his community but believed things could be going better," he said.
Initially drawing inspiration from his early grade school exposure to James Weldon Johnson's The Creation and Dr. Martin Luther King, Jr.'s "I Have a Dream" speech, the latter which he watched in class on videotape, Beaty now looks around his New York City neighborhood -- he currently resides in the Bronx -- to find emotions and stories to tell, including those exposed in Through the Night.
Jumping into the shoes of each of his characters, all of which face a serious plight, is seemingly pulled off with ease each night on stage. And that's exactly what Beaty works so hard to make happen, because he wants his audiences to feel an emotional impact. "I want to create work that will reach right into your soul and grab you," he said. "If people are going to come sit in a theater, there must be some degree of urgency and something truly theatrical about what they are watching."
Photo courtesy of Carol Rosegg.
Calling all HuffPost superfans!
Sign up for membership to become a founding member and help shape HuffPost's next chapter