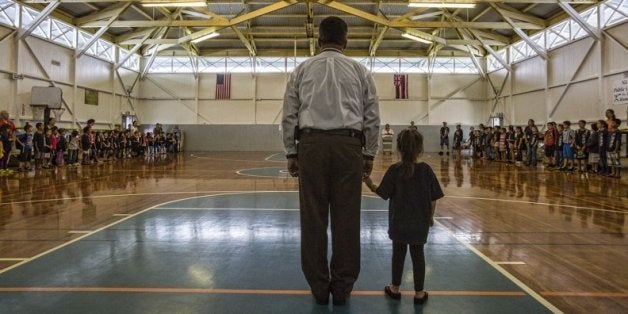 MOUNTAIN VIEW, HAWAII — At 5:45 each school morning, Daniel Caluya wakes up the homeless people and transient drug addicts who are camped out in the open-air walkways. After encouraging them to move on, he collects and discards needles and other paraphernalia. Then Caluya welcomes roughly 130 elementary school children to the Na Wai Ola campus.
Caluya — or "Mr. C," as most of the kids know him — is the principal of Na Wai Ola, a public charter school near Hilo on the eastern slopes of Mauna Loa, wedged between fertile, banana tree-lined pastures in the quiet Big Island town of Mountain View.
There, Caluya, 52, is helping the school overcome challenges that many principals can hardly imagine.
Na Wai Ola is located in the heart of Puna, one of the poorest districts in the state. Data from the 2009 American Community Survey indicates that Mountain View and the neighboring towns of Pahoa, Kalapana and Keaau — where many of Na Wai Ola's students live — are among the five poorest areas in the state. An average of roughly one in four residents of those towns lives below the poverty line; that's about two times the statewide poverty rate, according to U.S. Census data.
The area has, not surprisingly, been described as Hawaii's "poor stepchild," and, at face value, Na Wai Ola could easily be one of the most dysfunctional schools in the state. After all, for much of its 13-year existence, the school was on the verge of being shuttered over financial mismanagement and a lack of meaningful oversight.
And things are hardly more stable for the students in their home lives; 78 percent of his students are homeless, according to Caluya.
This makes it all the more remarkable that Na Wai Ola this past year was recognized by the Hawaii Department of Education as one of the highest-achieving schools in the state as part of the new Strive HI performance and improvement system, which ranks Hawaii's 289 public schools on a range of customized success and growth measures. That standing won the school one of just three top-level $95,000 state prizes. It was also the only charter school in Hawaii out of 32 (another has since opened) to merit a spot on the highest rung of the five-tier index.
The school still faces harsh choices. Just this year, Caluya decided to eliminate the seventh and eighth grades to invest more money at the elementary level.
But Na Wai Ola is, as the school's Dean of Students Mark Kealamakia noted, "the little choo choo that could."
This is the story of the turnaround.
To understand the transformation of Na Wai Ola requires spending time with Caluya, a U.S. Air Force veteran and former foster kid who readily declares: "We don't worship at the altar of mediocrity."
It also warrants a look at how messed up Na Wai Ola — which means Waters of Life — was when he arrived in July 2009. In fact, the school was all but done for — "a disaster," as teacher Rick Turner explained.
Grave financial mismanagement and administrative disorganization — problems the state auditor highlighted in 2005 — had drained the school's coffers. The state responded by revoking the school's charter and was poised to close it down altogether in 2009, but Circuit Court Judge Glenn Hara ruled that summer that the state lacked the administrative framework to justify its closure.
The judge allowed Caluya, who had recently moved to Hawaii after working as a teacher and principal in Texas, to keep Na Wai Ola operating, pending reviews every six months.
Caluya used the initial window of time to tap into a team of school leaders and community volunteers and embark the school on a broad transformation effort. "I had to show the review panel I was here to stay. I said, 'give me a chance to fix this.'"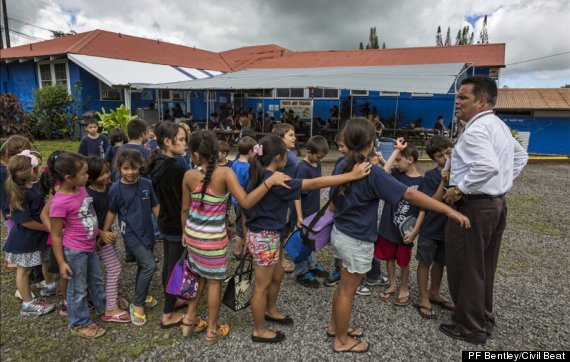 The panel did give Caluya the go-ahead, but he didn't get much in the way of financial support. In fact, Caluya kept Na Wai Ola running during the 2009-10 school year with his own funds, and nursed it back to health — hiring a highly qualified accountant to overhaul its financial plan. He also renovated the public gym next-door so that it could be used to host classes. It is all part of how he helped hold things together until the state resumed its support for the school the following year.
Caluya believes that every student has the potential for greatness as long as they're given the tools they need to succeed. After he retired from his 22-year stint in the military, he wanted to give back to the taxpayers who had supported his long career. Now, Caluya is set on closing the achievement gap between rich and poor students by continuing efforts to spruce up the campus, boost student learning and support the community through outreach programs.
He stresses that his work is nowhere near finished: "I do not think on what I have done, but what still needs to be done."
Adults on campus were quick to underscore how Caluya achieved what everyone thought was impossible.
"It does take a village," said Maurice Messina, who chairs Na Wai Ola's governing board, as he stands at the school's entrance monitoring comings and goings. "But it couldn't have been done without that man."
Caluya showed the state that even the most disadvantaged students can make — and surpass — the grade with the help of required Saturday school for struggling students, free after-school tutoring and a range of community outreach services.
And Na Wai Ola has managed to provide such education with an overall operating budget of just about $1 million each year. While an analysis of DOE data suggests that such an amount is consistent with the base operating budgets of schools its size, the charter school's operating budget, unlike those for regular public schools, has to be stretched to cover every expense — not just overhead costs and other basics.
Charters can't dip into state capital improvement funds, which for regular public schools this year totaled about $147 million. This means charter schools don't get separate state money for facilities, which many charter advocates argue is proof that such schools are being shortchanged by the state, especially because of how expensive capital improvements can cost. (For example, Honaunau Elementary, a regular public school on the Big Island that is similar in size to Na Wai Ola, is due $17 million for capital improvement projects in the coming years, monies that aren't supposed to come out of the school's operating budget.)
With an estimated average of about 80 percent of their state funding going toward salaries, charter schools must, by nature, be resourceful. As Tom Hutton, the recently appointed executive director of the state's Public Charter School Commission, noted in a conversation with Civil Beat earlier this year, "in charters, there are no easy questions."
That's why, to this day, Na Wai Ola leases its classroom spaces — ramshackle bungalows marked by peeling bright-blue paint and porches adorned with spider webs and rust — from St. Theresa Church. The religious institution still hosts mass, not to mention Alcoholics and Narcotics Anonymous meetings on-site when school's not in session.
The school's eating area is housed under a tarp held up by metal poles, while most of the rock walkways connecting buildings are often coated in mud, courtesy of the daily Hilo rain.
The campus has improved since Caluya took over. It continues to expand, too. The school is about to get its first playground, thanks to a grant from Hawaii county, and an administration building whose construction is being funded by an outside donor. And it recently gained access to public park facilities, including public restrooms, and a gym that the county condemned in 2009 because of its hazardous lead paint. (Caluya and a group of volunteers renovated the structure.)
But using county facilities means the school doesn't have much control over who loiters around the park facilities, which explains Caluya's morning routine. He points to a seemingly impenetrable stretch of trees and bushes adjacent to the campus — a stomping ground, he says, for many of the town's transients during the school day.
Community-Building Recipe
In an area like this, the transformation goes well beyond the resources available to Na Wai Ola. The school does what it can to keep the students and even their families afloat. It provides complimentary lunch to all of its children, regardless of their eligibility for free or discounted meals through the federal government's subsidy program at a cost of $5,000 per month, according to Caluya. The school also offers occasional hot meals to the families of students. It even subsidizes dental care for needy kids.
Caluya's descriptions of Na Wai Ola's transformation roll off of his tongue with rhythmic ease, an indication that it's a story he's recounted many times. He answers most questions with a "yes (or no), ma'am" and sprinkles his narrative with idioms and references to his own transient childhood. He was a foster-home child — he counts more than 30 in his past, as well as numerous schools — an experience that inspires him greatly in his work.
With the students, Caluya is tough but tender, garnering both respect and a strong desire to please from the kids. Caluya pointed to one child and said he lives in a tent in the forest, a quiet, brown-eyed boy in the first grade whose legs are a minefield of bug bites. The principal motioned to a catchment across the street, where families line up after school to fill buckets with running water — something they don't have where they sleep. He scolded a student who was on a time-out and then pulled her into his arms. Later, he told a barefoot boy it's not acceptable to leave the classroom without shoes on. After the boy put on his footwear, Caluya stuck up his thumb, said "thanks, buddy" and gave him a hug.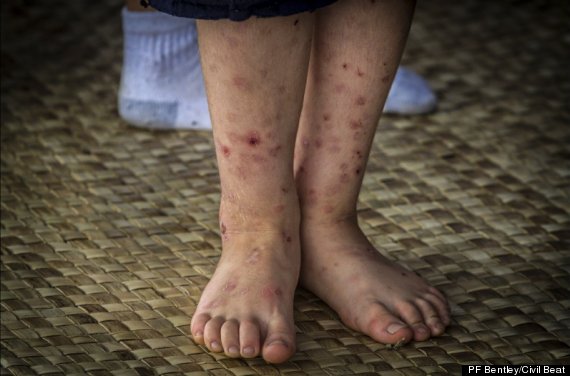 "I put the onus on the kids," he later explains as he walks purposefully through the maze of narrow hallways toward his office. It is a musty closet-sized room where he and Kealamakia, the school's dean, do their business amid sports jerseys, photos and stacks of papers.
On this particular day, Caluya wears a dress shirt and, as he proudly points out, a Pooh-Bear tie.
Teacher Sandy Carvalho's fifth-grade students were learning about the United Nations the day Civil Beat visited Na Wai Ola.
Carvalho sat at her desk, surrounded by towers of workbooks and art supplies, as the children drew and colored flags of countries that joined the UN after World War II. Each had a mini-iPad, all purchased with the $95,000 grant Na Wai Ola received this year from the DOE, to help them with their research.
The iPads stand out in the cramped classroom. Until this year, when the school got partitions to divide up the grades, most of the classroom spaces (and teachers) accommodated two grade levels at once. (The school was able to break up the grade levels this year in part because it cut out the seventh and eighth grades.)
The students scampered up to Carvalho, iPads in hand, their voices high-pitched as they eagerly asked her for permission to move on to the next assignment, for approval on their artwork or help on their flags.
"I just love elementary students," said Carvalho, a former high-school teacher, emphatically, adding that she was skeptical of charter schools before accepting the job at Na Wai Ola. She was patient but stern, asking each student — by name — how his or her flag could be "even better." (Among their answers: color within the lines, space the letters more evenly, erase the pencil marks.)
"You are such a great artiste," she said smiling in a French accent to one student. "That's why I know you can do it."
The students milled around the classroom as they worked on their projects, talking excitedly about the countries they had chosen. She regularly reminded them to always be productive, scolding one student who was playing Candy Crush on her iPad.
Carvalho explained that she loves her students as if they were her own children. "They're at a disadvantage, a disadvantage," she said tenderly. "And I think part of the reason I chose to work here is because of that fact."
"However, I don't let that be a handicap tool," she continued. "I have to be able to balance that. I shower them with a lot of love and attention, and they know this ... They know I have their backs."
Most charter schools got their charters from the state by committing to offer specific innovative learning alternatives, many of them geared toward specific outcomes.
Na Wai Ola has reinvented itself as an agri-science school and it incorporates the campus garden and accompanying aquaculture system into almost every class. Turner, the teacher who oversees the agriculture program, estimated that students, each of whom owns a pair of rubber boots, spend at least 15 hours in the garden each week.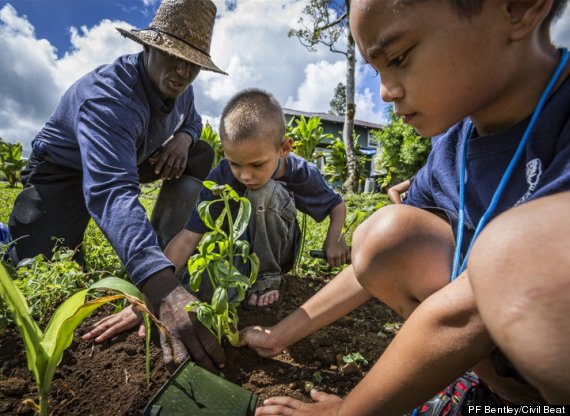 Turner wore a bigger version of the same rubber boots and a straw hat as he proudly showcased the garden, picking produce — including a Japanese cucumber, a sprig of aromatic basil and some parsley — along the way.
After school, the kids marched in single file to the gym for the afternoon protocol, each class guided by a teacher. They packed into the bleachers and, slowly, the chatter died down.
The military man-turned-principal took the hand of a little girl and stood facing all 130 students — chin up, chest out, shoulders back — as the deep, resonant sound of two conch shells filled the room.
"Mr. C" had their full attention.
Calling all HuffPost superfans!
Sign up for membership to become a founding member and help shape HuffPost's next chapter
BEFORE YOU GO
PHOTO GALLERY
5 Hidden Costs of Public High School