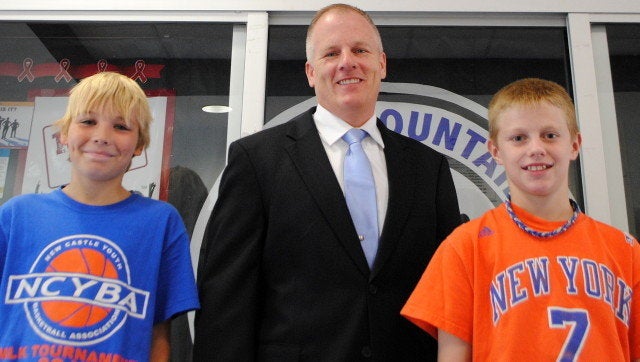 Daniel Cunningham is being hailed as the "Heimlich Hero" for a quick-thinking act that saved his friend's life.
After lunch at Blue Mountain Middle School in Cortlandt Manor, N.Y., 11-year-old Emerson Alcock was walking to recess when a piece of the hamburger he was eating became lodged in his throat. Daniel, also 11 years old, saw that Emerson was choking and instructed another friend to seek adult help while he performed the Heimlich maneuver, the Peeksill Daily Voice reports.
But Daniel successfully dislodged the food piece and went about playing football until the school nurse arrived. Daniel's mother Anne Marie Cunningham said the boy told the story very casually, "he doesn't realize the magnitude of it. Now he's starting to get it."
Blue Mountain Principal John Owens announced Daniel's heroic acts to the school Friday.
"I called him the Heimlich hero," Owens told The Journal News. "We promote 'allied behavior' here, trying to get kids to help out, to take those steps to do something positive. This was an extremely good example."
Daniel reportedly learned the life-saving procedure from his older brother, even though the boy can't necessarily remember its proper name, "what's it called again? -- the maneuver," Daniel told The Journal News.
Last year, in another heroic act on campus, two teachers at Maus Middle School in Frisco, Texas saved the life of 12-year-old Kylee Shea. The seventh-grader became short of breath and collapsed in her school hallway as her heart stopped. Fast-acting gym teachers Kristen Goodgion and Brent Reese immediately performed CPR and kick started the girl's heart with the school's automatic external defibrillator.
Kylee is now alive and well and must carry a pacemaker for her previously undetected heart condition.

REAL LIFE. REAL NEWS. REAL VOICES.
Help us tell more of the stories that matter from voices that too often remain unheard.
BEFORE YOU GO
PHOTO GALLERY
First Day of School Pictures