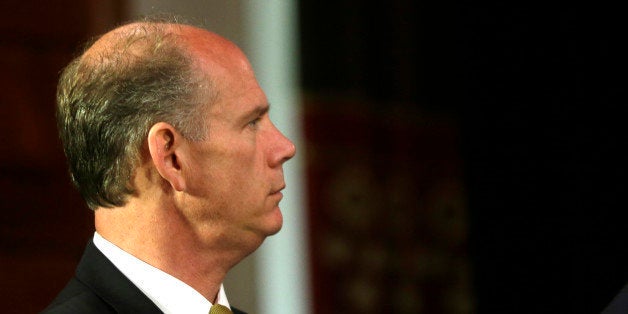 WASHINGTON -- Staten Island District Attorney Daniel Donovan, who gained national attention for failing to bring an indictment against the police officer who killed Eric Garner, said Friday that he will run for Congress to fill the seat vacated by Rep. Michael Grimm (R-N.Y.).
In a statement, Donovan said that since he first announced that he was "seriously considering" a congressional bid in the 11th District, he has received an outpouring of support.
"Last week I announced that I would seriously consider running for the vacant Congressional seat in the 11th Congressional District of New York," said Donovan. "I made that announcement after a 24 hour period in which my phone never stopped ringing with expressions of enthusiastic support from elected officials, party leaders, and residents of Staten Island and Brooklyn. ... In the week since my last announcement the enthusiasm for my candidacy has only broadened and intensified, with expressions of support also from beyond the two boroughs."
Donovan has received strong public support from New York Republicans, such as former New York City Mayor Rudy Giuliani, and is considered the frontrunner for the GOP nomination. In response, however, some Republicans began warning that Donovan was an unwise choice, due to his role in the Garner case.
Garner, an unarmed African-American man, died on July 17 in Staten Island after police officer Daniel Pantaleo put him in a chokehold and pushed him to the ground in order to arrest him for selling untaxed cigarettes. Garner repeatedly said "I can't breathe" before he died.
Although the scene was captured on video by a bystander, a Staten Island grand jury decided on Dec. 3 not to indict the police officer, sparking nationwide protests. A significant amount of ire has been directed at Donovan for not pushing harder to get an indictment.
Rep. Hakeem Jeffries (D-N.Y.), whose district is near the one in which Donovan is running, recently told The Huffington Post that the district attorney's record and his work on the Garner case should be an important issue in the campaign.
"I certainly think that his entire public record, including what happened and did not happen in the context of the grand jury investigation into Eric Garner's death, is something that should be heavily scrutinized," he said.
The governor has not yet set a date for a special election. Since it's not a regular election, there will be no Republican or Democratic primaries; the local parties will instead hold conventions to choose their candidates.
Popular in the Community