"Justin and Selena as One," which the artist said will eventually be cast in bronze, depicts the teens almost completely nude, save for a Canadian maple leaf and Texas "lone star" concealing their respective nether regions. The portrait will be presented at New Fine Arts, an adult megastore in Dallas, at a later date.
Edwards explained the piece in a statement provided to HuffPost:
"Justin and Selena as One" features the 'Adam and Eve' couple conjoined at the torso, each seeming to emerge from the other's rib. Together, they have three legs, sharing Selena's right leg as she appears to lead the younger Justin toward 'Eden'. The pair is being led by an amorous Canada goose and Texas armadillo.

Edwards told HuffPost that his latest piece is partly a comment about how the couple has been portrayed in the media. "The press kind of rushes these stars through their adolescence and through adulthood, so there's a bit of that behind the piece," he said. Gomez is 19 years old and Bieber is 17.
And Edwards isn't concerned if the teen stars break up.
"All Hollywood couples remain forever," Edwards said, recalling pairs Elizabeth Taylor and Richard Burton as well as Jennifer Lopez and Ben Affleck. "Once it's burned into your memories, it's always there. I think it's its own kind of icon. Despite what happens to them, that will always remain."
What do you think of the work? Check out the slideshow and let us know in the comments below.
Look: "Justin and Selena as One."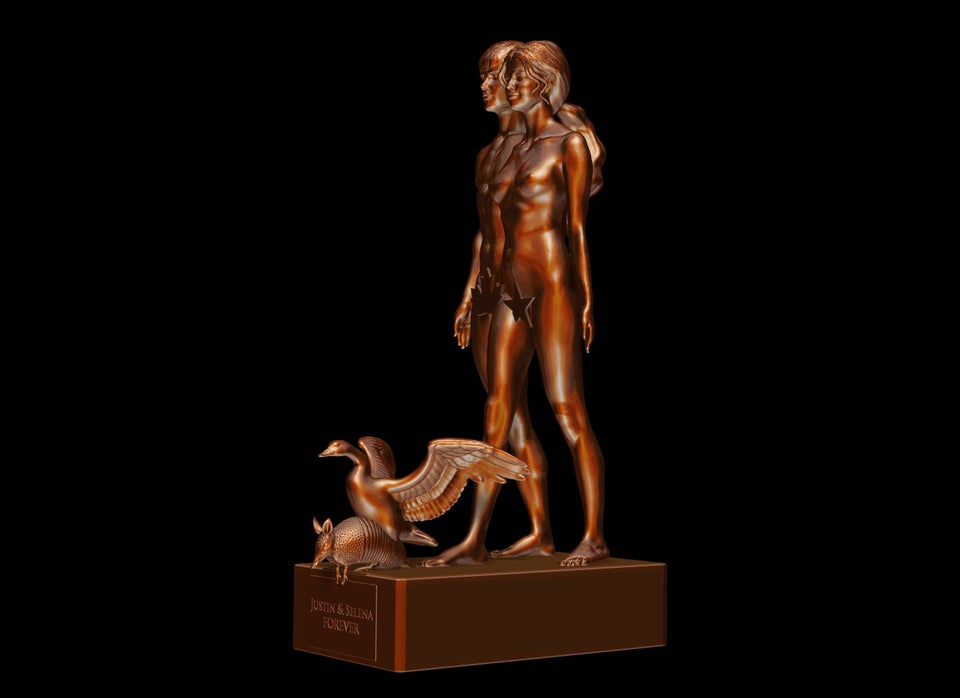 Daniel Edwards
Related
Popular in the Community