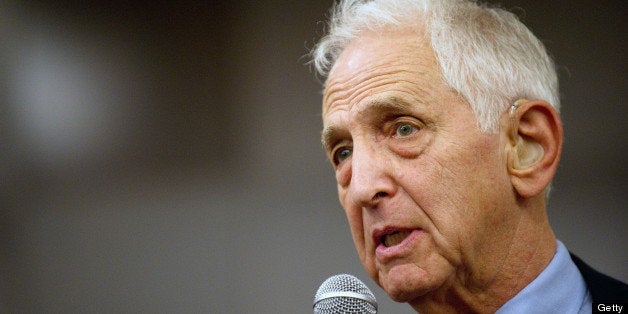 BERKELEY, Calif. -- Famed Pentagon Papers leaker Daniel Ellsberg had harsh words for the Obama Administration during an event here Tuesday evening, charging that the rapid expansion of government surveillance since 9/11 has left the country "a turnkey away from a police state."
"We're not a police state yet, but the foundation has been set," he continued. "It could happen overnight."
Ellsberg, 82, is a former military analyst who became one of the most famous men in America when he leaked a top-secret government report on the Vietnam War to The New York Times in 1971. He has since been a patron saint to the civil liberties movement and is viewed by many as a predecessor of modern-day leakers like Bradley Manning and now Edward Snowden, the man who recently released evidence of the National Security Agency's covert phone records collection and Internet data mining.
Speaking at a panel discussion on "our vanishing civil liberties" organized by the Berkeley chapter of the American Civil Liberties Union and the anti-war activist group Code Pink, Ellsberg argued that recent revelations of the large-scale collection of Internet and cell phone data should be of grave concern to all Americans.
"Reassurances by high officials on the limits of the surveillance state are worthless," he said, referring to a speech given by President Barack Obama last week where the president defended the NSA's monitoring programs.
"Legalizing this activity doesn't make it constitutional," Ellsberg said. "Congress cannot repeal the Fourth Amendment."
The event's decidedly liberal crowd gave a rousing chorus of boos to Ellsberg's mentions of both Obama and Senate Intelligence Committee Chair Dianne Feinstein (D-Calif.), the latter of whom has called Snowden's leak "an act of treason."
Ellsberg said contrary to the government's claims that its monitoring programs are only collecting metadata -- such as the time and duration of phone calls and the subjects and IP addresses of emails -- he was confident the NSA is saving far information more than it lets on.
Director of National Intelligence James Clapper's admission earlier on Tuesday that he gave the "least untruthful" answer possible when he claimed the government wasn't collecting information on millions of Americans eroded all of the administration's credibility on national security issues, Ellsberg said. He also called on other government whistleblowers to come forward to reveal the full extent of the government's spying efforts.
"Snowden is someone who has made me proud to be an American," Ellsberg added, "which isn't something that's happened too often in the past dozen years."
During a wide-ranging discussion with panelists, including Icelandic parliamentarian Brigitta Jónsdóttir, author Norman Solomon and National Lawyers Guild Executive Vice President Nadia Kayyali, Ellsberg called the administration's use of the National Defense Authorization Act to allow for the indefinite detention of American citizens "an impeachable offense." Ellsberg has signed on as a plaintiff in a lawsuit against the government challenging the NDAA.
He will be back in the Bay Area later this month when he's scheduled to march in the San Francisco LGBT Pride Parade on behalf of Manning, the imprisoned Wikileaks leaker. Manning was initially selected to serve as the event's grand marshal (in absentia, due to his current imprisonment), but subsequently had the honor revoked by the organization's leadership.
Calling all HuffPost superfans!
Sign up for membership to become a founding member and help shape HuffPost's next chapter
BEFORE YOU GO
PHOTO GALLERY
Politicians React To NSA Collecting Phone Records