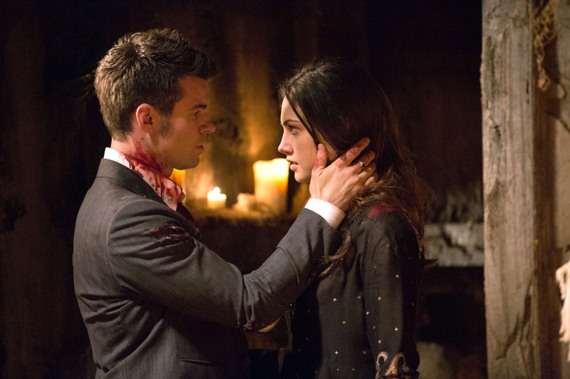 Photo credit: Pictured (L-R): Daniel Gillies as Elijah and Phoebe Tonkin as Hayley -- Photo: Bob Mahoney/The CW -- © 2014 The CW Network, LLC. All rights reserved.
When it comes to vampires, Daniel Gillies's Elijah is the cream of the crop. Since leaving The Vampire Diaries to headline The Originals we've seen the brother of Klaus grow from the altruistic, steadfast, suit-wearing stud into a complicated, nuanced lead. Gillies plays Elijah with elegance and grace and it is this ability to be good and true that has made not only the audience, but also Hayley, fall in love with him.
I was lucky enough to chat with the incredibly eloquent Gillies about the finale of The Originals, as well as where he sees Elijah's journey headed. And oh yeah, fatherhood -- Klaus isn't the only new daddy around here.

Jumping right in -- let's talk about Hayley and Elijah. We've seen them really fall for each other this year (and kiss! Finally!) and now it appears Hayley is about to give birth. What can you tell us about the Hayley/Elijah relationship moving into the season finale? Will we have any moments of the two of them?

The birth of this child has become a beautiful allegory in a sense. The Klaus baby came to represent (at least for me) the materialization of a new Kingdom and the the promise of Hope. Especially for Elijah. Elijah didn't choose to love Hayley. Neither did she choose him. They were utterly doomed from the moment they met. There is no maelstrom greater than:
I'm a thousand-year-old Vampire in love with a girl who's a werewolf, who happens to be pregnant to my (also thousand-year-old-Vampire-plus Werewolf) brother, who's a vengeful, malevolent, hysterical monster. Also, every supernatural creature in town wants to destroy the unborn child.
Good luck, kids. It's the perfect storm. I suppose I love them (Elijah and Hayley) for standing in the face of that tsunami anyway.
We've heard Julie Plec say that this show is about Klaus' journey towards redemption but will we ever see a moment in Elijah's journey where perhaps HE'S the one who's gone to the dark side? And Klaus has to rescue him from himself, as Elijah is so often doing for Klaus?
Perhaps. I'm at the mercy of our wonderful writers. I think that's where they're headed.
I would think so. It's interesting territory.
He's made that descent some time ago. I mean, when we met him he was beheading insurgent undead minions, murdering innocents in cafes and compelling Vampires to murder themselves before him. He's always been in the shadow. He merely did so with elegance. People just confuse his code with nobility.
I love that the collapse of The Other Side is being felt in both The Vampire Diaries and The Originals universes -- as someone who is a fan of both shows, it's very fun to watch. On The Originals, it has brought back Mikael Michaelson. Is he about to join the land of the living? How afraid should we be?

You'll have to watch to find out! But he's a real threat. My own father, he's a sweet man. But fathers can be terrifying. I think for Klaus and Elijah it's more psychological than anything else. They could probably physically take him.
Ok, I know you just had a baby -- congratulations.
If Daniel Gillies the actor were to give some advice on fatherhood to soon-to-be-daddy Klaus, what would it be?

Be there for the mother and enjoy it. I'm not sure this is advice Klaus would take but -- my daughter, she's just heaven. Having children forces you to be present. I'm in awe all the time .
The Originals finale airs tonight, Tuesday, May 13th! Don't miss it.
Popular in the Community