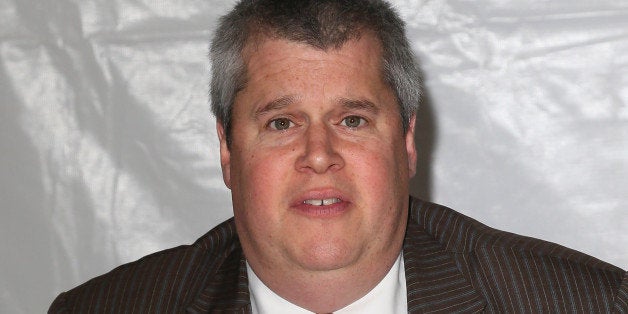 Daniel Handler, a popular children's book author and the host of the 2014 National Book Awards ceremony, has come in for sharp criticism after making several racially charged jokes during the presentation of the honors on Wednesday night.
His comments marred the presentation of the Young People's Literature Award to a celebrated black author, Jacqueline Woodson, for her book Brown Girl Dreaming. The book explores, through evocative free verse, Woodson's childhood in South Carolina and New York in the '60s and '70s. She grapples with Jim Crow, the effects of the Civil Rights movement and how each marked her youth, all in a series of gorgeous poems. After the presentation of the award, and Woodson's heartfelt speech, Handler informed the audience that he'd found out that Woodson was allergic to watermelon.
"Just let that sink in," Handler went on.
Doubling down on the racially charged bit, he noted that he'd told Woodson she should put that fact in a book, but she'd replied that he should do so himself. He joked, "I am only writing a book about a black girl who is allergic to watermelon if I get a blurb from you, Cornell West, Toni Morrison and Barack Obama, saying, 'This guy's okay! This guy's fine!'"
Handler also remarked that he hoped to someday win a Coretta Scott King award -- a prize given to African-American authors of young people's literature.
Observers such as author Roxane Gay and writer Mikki Kendall reacted on Twitter, pointing out that these supposed jokes introduced racial objectification into a celebratory moment in these authors' lives -- particularly Woodson -- and that his choice to make such quips at the National Book Awards points to a larger cultural problem within the literary industry.
Woodson declined to comment through her publicist. As of press time, Handler had not responded to a request for comment. In response to the backlash, however, Handler tweeted a brief apology:
Handler's tweets only highlight a single facet of the offense: By making jokes that played off of racial stereotypes during the ceremony, he did overshadow the accomplishments of the honorees. Woodson unquestionably deserved to have this moment in her career be untainted by controversy or offensive jokes that did nothing but make a point of her race.
It's impossible to ignore, however, what Handler avoided mentioning in his apology: race. His comments didn't just fail to shine a light on tremendous writers, they trafficked in outdated and offensive racial stereotypes and played them for laughs. It's clear that Handler was aware of the dangerous ground he was treading; by joking that he'd need blurbs from prominent black figures to get away with publishing a book about a "black girl who is allergic to watermelon," he was invoking a variation on the "some of my best friends are black" defense. The bit suggested that he was so in tune with racism, that it was okay to make jokes about it. But self-aware, ironic racist jokes don't get a free pass. "Hipster racism," as it's been called, only keeps these othering tropes part of the conversation while using a wink and a nod as an excuse to voicing unacceptable opinions.
Why, after all, did Handler feel it was funny or noteworthy that Woodson was allergic to watermelon? Why did he feel the need to, reportedly, make a jab that the two black nominees in the poetry category constituted "probable cause" (which would ensure a racially charged remark was made about all of the black nominees)? And why did he think, as Kendall asks, such comments would get a positive reception from the still predominantly white National Book Awards crowd?
These issues deserve attention his brief apology fails to deliver. His comments, though intended as jokes, speak to deeper issues in the literary industry. As Jia Tolentino noted on Jezebel, only 3 percent of children's books were written by black authors or feature black characters, a damningly small chunk. In 2013, just 93 of 3,200 children's books were about black characters; only 68 were by black authors.
Just this spring, Book Expo America was rocked by outrage when the prominent children's literature panel lineup was announced -- and initially contained only white writers. Awards galas, like the National Book Awards, have also historically been and too often remain largely white; though several writers of color were nominated this year, Handler's comments reintroduced this sense that they were out of place in the literary award circuit. These controversies and outrages will continue to occur, frequently, so long as writers of color are marginalized by the literary industry that has the power to make their voices heard.
UPDATE 1: On Friday morning, Handler tweeted an additional apology, stating that his remarks were "monstrously inappropriate and yes, racist." He also pledged to donate $10,000, and to match donations up to $100,000 for 24 hours, to #WeNeedDiverseBooks, a campaign to promote access to and the publication of books by and about minorities. "Let's donate to #WeNeedDiverseBooks to #CelebrateJackie," Handler tweeted, turning the conversation back toward Woodson. "Brown Girl Dreaming is an amazing novel and we need more voices like Jacqueline Woodson."
UPDATE 2: On Friday, Woodson's publicist provided a statement from Woodson in response to the controversy. The statement reads:
I'd rather continue to move the dialogue forward in a positive light rather than a negative one. This is a moment when our country can grow and learn and better understand each other. It would be nice to put the energy back where it should be -- on the books and what the books are saying and doing -- Redeployment is an astounding novel, Glück is nothing short of an amazing poet. I don't know Osnos' book yet but I plan to read it. Brown Girl Dreaming is about writing and about the history of this country. But more than that, it's about what this conversation should be -- a coming to understanding across lines of race.
Related