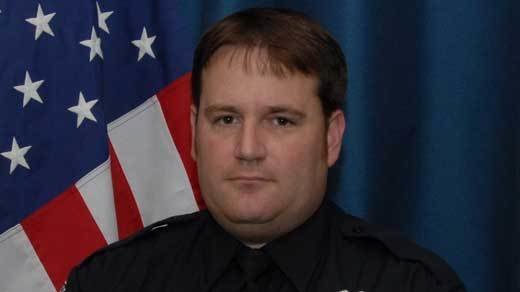 A Virginia police officer has been indicted by a grand jury on one count of murder, in connection with the shooting and death of an unarmed woman nearly four months ago, according to the Fauquier County commonwealth's attorney.
Culpeper Police Officer Daniel Harmon-Wright, 32, surrendered to State Police on Tuesday and is being held without bond at the Fauquier County Adult Detention Center. Harmon-Wright has also been charged with malicious shooting into an occupied vehicle, malicious shooting into an occupied vehicle resulting in a death, and use of a firearm in the commission of a felony.

The indictment stems from a Feb. 9 incident, in which Harmon-Wright, a former U.S. Marine and five-year veteran of the police department, is alleged to have shot and killed Patricia Ann Cook, then 54.
On the day of the shooting, Harmon-Wright responded to a call about a suspicious woman sitting in a Jeep Wrangler parked in the parking lot of Epiphany Catholic School. According to Virginia State Police, Cook was inside the vehicle and had a brief conversation with Harmon-Wright.
"While attempting to retrieve her identification, the woman suddenly closed her driver's side window trapping the officer's arm and started driving away dragging the officer alongside," stated a state police press release in February.
Cook is said to have dragged along the officer until he allegedly shot her and the vehicle crashed.
Witnesses are said to have disputed the official account of the shooting.
Fauquier County Commonwealth's Attorney Jim Fisher acknowledged that a struggle took place but said the events in the police report are only "partially accurate."
"The terms trapped and dragged were used and these were not descriptors that I would have used in connection with that particular press release," Fisher explained. "There was certainly a brief struggle at the window of this particular motor vehicle and the officer involved suffered a minor injury. In many ways, that's why we have an investigative process to vet out these details."
A special investigative grand jury began to look into the case in April.
"Without commenting on the particulars of the investigation, over the course of the month of May, this special investigative grand jury heard from more than 45 witnesses, received more than 100 separate exhibits and was presented with reams of documentary evidence," Fisher said.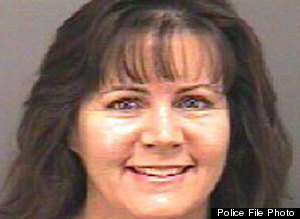 Harmon-Wright's mother, Bethany Sullivan, 55, right, has also been charged. A former administrative secretary to Culpeper's chief of police, Sullivan is accused of attempting to destroy information in her son's personnel file. Charged with three counts of uttering and three counts of forgery of public documents, Sullivan is free on an unsecured bond of $5,000 per count.
Culpeper Mayor Calvin "Chip" Coleman said Harmon-Wright has been suspended without pay.
"It is important for us to realize that the alleged actions of one officer should not taint the hard work and dedicated efforts of the men and women who strive daily to protect our community and provide quality service to the public ... Upon completion of an internal investigation, disciplinary action will be taken, if appropriate," Coleman said in a written statement.
Patricia Cook's widower, Gary Cook, has filed a wrongful death lawsuit against Harmon-Wright. Gary Cook, a disabled veteran, said he does not believe Harmon-Wright's version of the events, according to WUSA9.com. His wife's car had crank windows, he said, adding that the officer would have had plenty of time to remove his arm before driving away, the news site reported.
Harmon-Wright is scheduled to appear in Culpeper County Circuit Court on June 8.
Popular in the Community