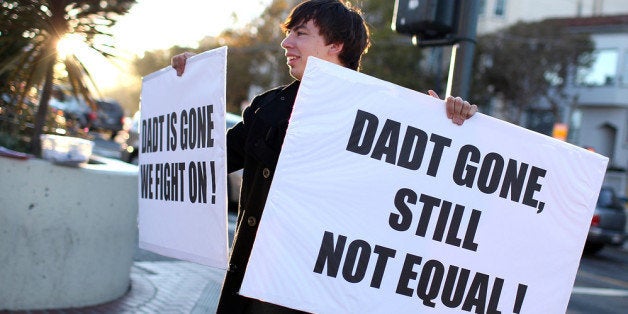 CHEYENNE -- Airman First Class Daniel Henderson needed to make an important stop before beginning his new post at F.E. Warren Air Force.
While driving to Cheyenne in the spring of 2011, he and his partner, Jerret Henderson, took a detour to Sidney, Iowa -- a small town near the border of Nebraska with a population of about 1,300.
The two were already domestic partners under California law. But they wanted an official declaration in a state that allowed same-sex marriage.
"We had always planned to get married," Daniel said. "We just wanted the documentation, because the closest thing to marriage at the time in California was domestic partnerships, and we just wanted to be married, married."
But their marriage license was largely symbolic n at least in the eyes of the military at the time.
Before a change was announced last month, spouses of same-sex couples were not eligible for the numerous benefits that the military offers.
For Daniel and Jerret, this meant forgoing more than $29,000 worth of medical, housing and other benefits that they would have received if they were man and wife.
"The benefits are huge, and it's a huge part of their pay and compensation," Jerret said. "I don't know of another career field where if you're married, your pay increases."
But like thousands of other same-sex couples, Daniel and Jerret will be able to enroll in the spousal benefits starting Tuesday.
The U.S. Supreme Court's decision in June to strike down the Defense of Marriage Act allowed the military to begin offering the full spousal benefits to gay married personnel for the first time.
"The Department of Defense remains committed to ensuring that all men and women who serve our country and their families are treated fairly and equally," Secretary of Defense Chuck Hagel wrote in an Aug. 13 memo announcing the change. "Expeditious implementation of the decisions announced in this memorandum will help the department remain true to that commitment."
Having the benefits will be a life-altering change for Daniel and Jarrett. But the couple said it remains too little, too late.
"It will be bittersweet, but for me, I'll still be sad," Jerret said. "I'll probably cry, and not tears of joy, because we have been going through this fight for so long that it has just been exhausting."
Daniel is a member of the 90th Security Forces Group, which guards the base and its 150 nuclear-tipped intercontinental ballistic missiles.
Hoping to become a police officer but too young to enroll in the police academy, he enlisted with the Air Force and set out for basic training in November of 2010.
Daniel and Jarrett were already together, and the military's "Don't Ask, Don't Tell" rule had yet to be repealed.
But the two did little to conceal their relationship.
"Because of his career field n I mean he guards nuclear weapons n I assume there is some kind of in-depth background checks," Jerret said. "So they were aware of our marriage, but they looked the other way."
The couple said they expected to face challenges and discrimination because of the openness of their relationship. But they were still surprised and disappointed by how other airmen and the military establishment treated them.
Daniel said he was the victim of homophobic slurs, and the couple received multiple hateful voicemails.
And the two quickly realized their marriage would not be treated anything like opposite-sex couples on the base.
"People would ask what it is like to be a same-sex spouse, and I would compare it to being a woman in Saudi Arabia," Jerret said. "And I know that sounds extreme, but I can't get on base without him, I can't buy a stick of gum on base without him.
"And one time I needed to go the bathroom, so he went ahead, and I was stopped and asked for a military ID. Since I didn't have one, it was like I was being read the riot act."
The Air Force additionally refused to give them a housing allowance, which is given to other married couples who wish to live off-base.
And since Jerret was not covered under Daniel's military health insurance plan, he had to pay thousands in out-of-pocket health-care expenses.
Dismayed by their treatment, Daniel and Jerret decided to join a legal effort seeking equal recognition, benefits and family support for gay military personnel.
On Oct. 27, 2011, they were named among the plaintiffs in the OutServe-Servicemembers Legal Defense Network's federal lawsuit against U.S. Attorney General Eric Holder, then-Secretary of Defense Leon Panetta and Secretary of Veterans Affairs Eric Shinseki.
Daniel is the only enlisted member who is part of the lawsuit. The other seven service members are officers.
Daniel said this gave him a much different perspective than those in the leadership roles, who he said were treated better.
"I would see the other members of lawsuit on CNN or MSNBC and all these big-time things, and the way they portrayed their experience was always contradictory to ours," he said.
Most of their grievances in the lawsuit will be addressed by the military's new policy honoring benefits to same-sex couples.
But Daniel and Jerret said they will continue to fight because the VA has not yet changed its policy to allow same-sex spouses to be eligible for veterans benefits. (Though a judge ruled in federal court Thursday that a lesbian veteran and her spouse should be entitled to disability benefits, given the recent Supreme Court ruling that struck down part of the Defense of Marriage Act.)
"And that's a shame because this is the heartland and this is Wyoming," Jerret said. "People love their trucks, their Bible, their guns, America, and they really respect soldiers.
"But when you have someone who is a combat veteran or who has served their country, to not take care of their family, that is unpatriotic."
Additionally, they are seeking the money they would have received if the military honored their marriage in the first place. Daniel and Jerret said they have itemized those missed benefits and the total amount is $29,300.
Jerret said he is looking for something else too: an apology.
"I really want that public apology, I really do," he said. "It is something that is important to me, more than any kind of retroactive benefits or getting that $29,000 back. I think we deserve it."
Daniel and Jerret have a lot to talk about before Daniel's enlistment ends in a little more than three years.
Jerret said he is literally counting down the days until Daniel is able to leave the service.
"Nov. 29, 2016. I know the exact date," he said. "It's like a countdown, I'm not kidding."
Daniel, however, has not made up his mind. And his attitude toward the military is more conflicted.
"It has been so stressful," he said. "But I enjoy what I do, and I honestly have a passion for it."
Daniel said military culture toward gay service members is obviously changing for the better. But he said homophobia still exists among some, and it likely always will, to some degree.
And by the time his enlistment is up in 2016, Daniel said he expects the military and the rest of the country will continue to change.
"Oh yes, I do believe that," he said. "And I will be happy to know that I helped out in some way." ___
(c)2013 Wyoming Tribune-Eagle (Cheyenne, Wyo.)
Distributed by MCT Information Services
Calling all HuffPost superfans!
Sign up for membership to become a founding member and help shape HuffPost's next chapter
BEFORE YOU GO
PHOTO GALLERY
Look Back: 25 Memorable Stories Since The Repeal Of DADT