WASHINGTON -- One of the heroes to emerge from the 2011 mass shooting near Tucson, Ariz., targeting then-Rep. Gabby Giffords (D-Ariz.), was intern Daniel Hernandez Jr., who helped save his congresswoman's life. Later that year, he continued his public service when he was elected to the school board for the Sunnyside Unified School District, which covers southern Tucson and adjacent areas in Pima County.
Now, however, Hernandez is facing not only a recall campaign, but an anonymous anti-gay smear campaign as well.
On one side are the two opponents of superintendent Manuel Isquierdo -- including Hernandez. On the other side are the superintendent's supporters, who include board president Louie Gonzales. Hernandez and fellow board member Buck Crouch voted against extending Isquierdo's contract in June, after news broke about his financial and legal issues.
Community members launched a recall effort against Gonzales and another Isquierdo supporter, Bobby Garcia, a month ago. Last week, supporters of Gonzales began a retaliatory recall effort against Hernandez and Crouch.
"Put a REAL Man on the Sunnyside Board," reads one flyer, with a picture of Hernandez speaking at an Equality Forum event. "Daniel Hernandez is LGBT. We need someone who will support Sports and cares about our kids. We don't need someone who hates our values. RECALL Daniel Hernandez TODAY."
The second flyer claims that Hernandez "cares about only one things [sic] taking your guns away."
Hernandez told The Huffington Post several parents had alerted him to the flyers, which were being distributed outside at least five of the 23 schools in the district.
"I've had a target on my back from my fellow board members for awhile because I don't go with the flow, and if something doesn't sound right or make sense, I call them out on it," Hernandez said.
Hernandez said he first heard the "real man" attack during his 2011 campaign, when he ran against Garcia, who was voted onto the board in a subsequent election.
The Hernandez recall campaign is being run by Marcos Castro, the campaign manager for Gonzales.
Castro told The Huffington Post he had nothing to do with the Hernandez flyers, although he received one at his house.
"I don't have nothing to do with it," he said.
Multiple requests to the office of the Sunnyside School Board to speak with Gonzales were not returned.
Hernandez's opponents need to collect 1,300 signatures by Dec. 14 to get the recall vote on the ballot.
"My governing board president has started the recall process on me, with the people who are his friends and closest allies in the community. I'm not overly concerned they're going to get the 1,300 signatures, but just the negative tone and nature of the way they're doing it has been really bothersome and upsetting," said Hernandez.
"It's disheartening that this is where we are in 2013, that people think it's okay to put out these kinds of flyers about anybody," he added.
UPDATE: Aug. 27 -- Gonzales told The Huffington Post that he was not at all involved in the flyers and does not support anti-gay attacks. He added that he believed Hernandez and his allies were actually the ones behind them, in a subterfuge attempt to make his opponents look bigoted.
"He's trying to turn this whole thing around," said Gonzales, adding, "We're not anti-gay or gun control by any means."
Gonzales said he supported the superintendent because he believed he should be judged strictly on his performance in the schools, regardless of his financial and legal issues.
"I think Mr. Hernandez may be a bit immature and young, and he's using all the resources ... and doing that, and it's kind of embarrassing," he said.
Hernandez later replied that he wasn't surprised his opponents are denying a role in creating the flyers, stating, "If they truly have nothing to do with it, I ask that they renounce these attacks, drop this sham of an election and attend sensitivity training."
Also on Tuesday afternoon, Giffords tweeted in support of Hernandez:
Before You Go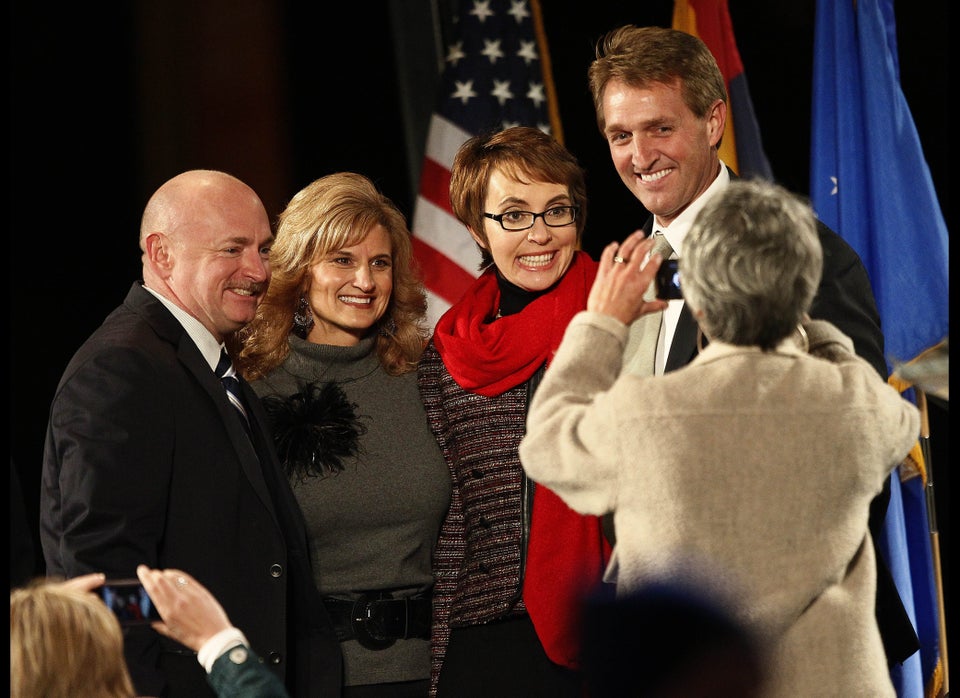 Gabrielle Giffords Shooting
Popular in the Community