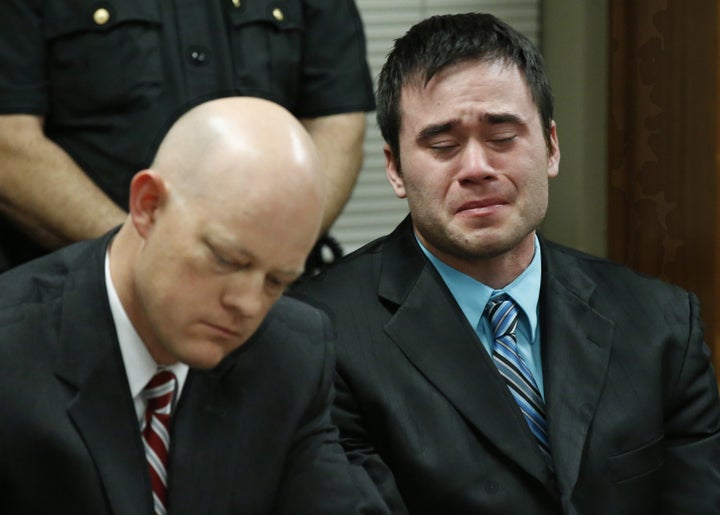 Daniel Holtzclaw, a former Oklahoma City police officer who was accused of sexually assaulting 13 black women while on duty, was found guilty of rape and sexual battery on Thursday.
An all-white jury that deliberated for more than 45 hours over four days acquitted Holtzclaw of 18 of the 36 charges he faced involving the assaults. But the 18 charges on which he was convicted, including four counts of first-degree rape, carry a possible sentence of life imprisonment. The jury also convicted him of forcible oral sodomy, second-degree rape, sexual battery and procuring lewd exhibition. Sentencing was scheduled for next month.
Holtzclaw, whose 29th birthday was Thursday, sobbed loudly as the judge read the verdicts.
Grace Franklin, activist and co-founder of OKC Artists For Justice, who has been organizing support for the victims, said she, too, was satisfied.
"It was obvious some of the survivors were not believed by the jury and that is a disappointment," Franklin told The Huffington Post in an email. "We want women who are disenfranchised to know that they will be believed. They can receive justice. We are awaiting the final sentencing on Jan. 21st and we want consecutive years. But tonight we breathe a sigh of relief and move forward."
During the trial, 13 women testified that Holtzclaw sexually assaulted them. The charges included six first-degree rape counts.
Prosecutors argued that Holtzclaw systematically targeted black women with prior criminal records and substance abuse problems because he thought they wouldn't be believed if they reported the assaults.
"He exercised authority on those society doesn't care about," Assistant District Attorney Gayland Gieger told jurors during closing arguments on Monday. "Convince these ladies that someone does care about them."
According to The Oklahoman, Holtzclaw worked from 4 p.m. to 2 a.m., often by himself, patrolling one of the state's poorest neighborhoods. The women's testimonies revealed a similar pattern: Holtzclaw would stop them, search them for drug paraphernalia and run criminal background checks. Then he'd force them into sex, threatening them with arrest if they didn't comply.
Over the month-long trial, Holtzclaw's attorney Scott Adams attacked the credibility of the accusers, questioning why they didn't go to the police initially, and reminding the jury about their criminal records and drug use.
"Each and every one of these people have street smarts like you can't even imagine," Adams said at the start of the trial, referring to the alleged victims. During his closing arguments, he called Holtzclaw an "honorable and ethical police officer" and claimed the witnesses who testified had no interest in the truth.
Holtzclaw declined to take the stand.
"Convince these ladies that someone does care about them."
An expert testified that DNA on Holtzclaw's uniform pants matched that of the youngest accuser, who said she was 17 when Holtzclaw raped her on her mother's porch.
She told the court that she didn't tell authorities because she didn't see the point. "What kind of police do you call on the police?" she asked.
He was arrested in August 2014, and fired from the Oklahoma City Police Department in January 2015.
Melissa Jeltsen covers domestic violence and other issues related to women's health, safety and security. Tips? Feedback? Send an email or follow her on Twitter.
Popular in the Community