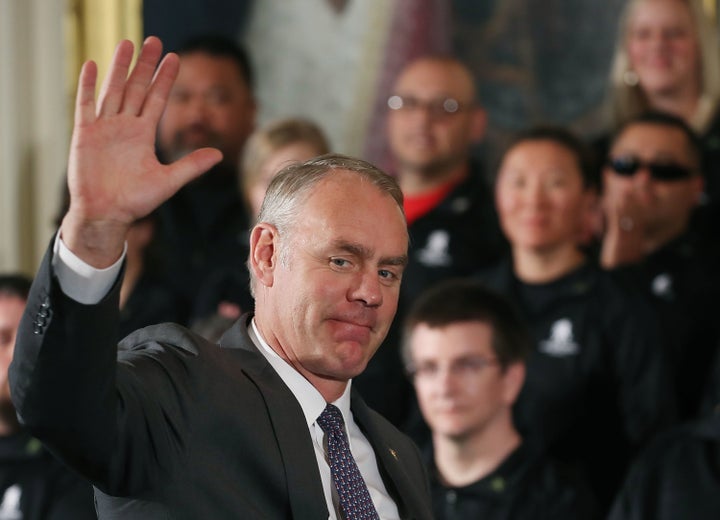 WASHINGTON — A high-ranking political appointee at the Department of the Interior told colleagues their job is ultimately to protect their boss, Secretary Ryan Zinke, internal emails reveal ― in particular from matters that could trigger an ethics probe or negative media attention.
In the March 28 email exchange, Daniel Jorjani, a former Koch brothers adviser whom Zinke appointed as his principal deputy solicitor, raised concerns over a $4,000 bill for a staffer's six-day trip to the U.S. Virgin Islands. The staffer, Russell Roddy, was the agency's director of scheduling and advance until he quit in January. Roddy had traveled to the Virgin Islands in preparation for a trip Zinke took in late March and early April.
The exchange, released as part of an open records request, occurred less than a month after Zinke took over the agency. It starts with a rather blunt email from Roddy explaining in detail why he needed to stay on the islands for nearly a week.
"I may not be good at a lot of things," he told Jorjani, "but one thing I know I am good at is efficiently planning and executing events and advance."
Roddy's email paints a picture of a frustrated and overworked employee. In his note to Jorjani, Roddy said he was "in dire need of a vacation." (Two months later, as Interior Department staff made last-minute travel arrangements to ensure Zinke's wife could join him for a dinner in Anchorage with Alaska Gov. Bill Walker, Roddy wrote to several colleagues: "UGH! We have all kinds of planes, trains and automobiles manifests to now scramble with.")
Roddy left under unclear circumstances, Politico reported at the time.
In his reply, Jorjani was understanding, writing "Rusty - Not your fault." He cast blame on another staffer for failing to prepare the paperwork in advance of the trip. What seemed to worry Jorjani most was the possibility of an investigation by the agency's Office of the Inspector General (OIG) and how such a probe could reflect on Zinke.
"$4,000 for a six day advance in the Virgin Islands is not a small sun [sic] and will draw the OIG's attention. (OIG loves travel investigations. They are easy to document and spin in a negative way)," Jorjani wrote.
Jorjani boasted that he had experience fending off such internal investigations, noting that he had "worked and successfully protected" Interior presidential appointments who had undergone investigations from the internal watchdog.
Jorjani noted that approval was sought only after Roddy departed on the trip, and he stressed the importance of properly documenting travel. "Otherwise," he wrote, "it will be easy for the OIG or the Washington Post to spin things negatively."
"At the end of the day," he added, "our job is to protect the Secretary."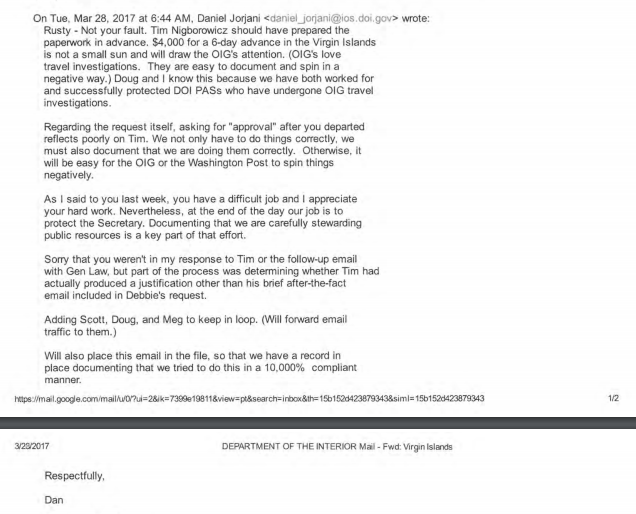 Interior spokesperson Heather Swift said that the email "speaks for itself." Jorjani did not respond to HuffPost's request for comment.
The email provides a peek into Zinke's inner circle, suggesting some appointees view their role as gatekeepers who must first and foremost protect the secretary against ethics scandals.
Jorjani previously held senior positions at the Charles Koch Foundation and Charles Koch Institute and most recently worked as general counsel at the Koch-supported Freedom Partners. A top legal operative at Zinke's Interior Department, Jorjani's calendar shows he met extensively and communicated with industry lobbyists, trade groups and corporate executives.
In December, he was involved in rolling back several Obama-era regulations, including authoring an interpretation of the Migratory Bird Treaty Act that protects energy companies and other parties from being prosecuted for unintentionally killing birds. The oil and gas industry praised the decision. Jorjani also decided to renew controversial leases for the Twin Metals copper and nickel mine in Minnesota following a lobbying blitz by the leaseholder, Chilean company Antofagasta, Plc.
Among the trips that have been heavily scrutinized was his 2017 visit to the U.S. Virgin Islands for the 100th anniversary of the transition of power from Denmark ― the trip Jorjani was worried about Roddy spending so much time and money planning. While there, Zinke flew on chartered planes, at a price of $3,150, and attended a Republican fundraising event ― one of several instances that have earned him accusations of mixing work with politics.
Support HuffPost
The Stakes Have Never Been Higher
Popular in the Community