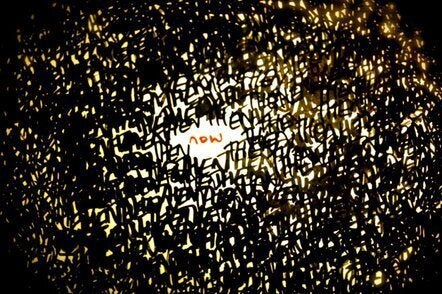 Now he's returned with another provocatively titled show -- It's Always Right Now, Until It's Later (no arguing with that, is there?). I've no doubt I'll be thinking about it for the rest of 2012 and it will be among my favorites of this year. Do I have to wait till 2013 to see him again in something new?
Kitson is a shambling, nondescript fellow who comes on stage with as little fuss as possible and starts to talk. At the end, he leaves as quickly as politeness will allow and seemingly never returns to soak in more applause. In between, he tells stories. He's got a website but it's no surprise he's the sort of fellow who doesn't update it regularly and probably finds it a burden more than a help. (For example, his list of past shows ends in 2008 and the top item in his news section proclaims Kitson is headed to St. Ann's...but it's a news item about his appearance there LAST January. I've signed up for his mailing list; I wonder if any emails will ever actually arrive.)
This time, the stories involve two people who brush past each other ever so briefly. We start with the imminent death of William Rivington and the birth of Caroline Carpenter. William has been planning his final words for many, many years and having delivered them, he is resolutely mute for the last nine days of his life. You don't want to spoil the effect of your final words by asking for more Jello from the nurse, do you? We skip back and forth throughout their lives and end neatly with the birth of William and the death of Caroline.
The set is intriguingly filled with bare bulbs hanging from the ceiling at various heights. Each bulb represents a significant moment in their lives and they light up briefly while Kitson dashes over to look at the bulb and share the memory it embodies -- an awkward blind date; sitting in a living room while your best friend is in the loo, having turned up the telly as loud as possible to drown out any unpleasant noises; and so on.
Sometimes Kitson has to crouch down on the ground to get near a bulb. Other times he must stand up on a chair. Back and forth he goes between these unconnected, not terribly unusual but in his hands movingly specific lives. Some bravura moments appear but Kitson typically barrels past any incipient applause to keep the focus on these two people. The accumulation of detail, the building up of treasured memories and quiet frustrations, the comic highs, the sad little lows that even your best friends might not be privy to -- this is where Kitson's storytelling draws its strength.
After two shows, I notice some patterns. Kitson loves elaborate structures, perhaps to keep the audience's attention on what are seemingly mundane lives. A typical passage might begin, "Eight minutes before this moment..." and end with him jumping to another bulb, another memory and saying, "27 years later...." Your need to constantly juggle the back and forth, to keep track of these people is a clever way of refocusing our attention on the specific moment, however universal the story of a little girl falling off her bicycle might actually be.
In his last show, Kitson was a character in the tale. Here, he's merely the narrator but invariably Kitson reacts like the stand-up comic he is to any stray moment. A noise in the hall outside of where he's performing will allow him to stop and discuss the noise and how much it has thrown him off (though of course it hasn't if only because it allows him to riff and remind you he's just telling a story, not "performing" or anything as grand as all that. "I'm not an actor," he says at one point, laughing, "as my family is so proud of pointing out." (That's a rough quote from memory. What sticks in the mind is how amused he is at his family's keeping Kitson in his place.)
Perhaps the biggest laugh is when he acknowledges his speech impediment and says, "If my stuttering has made you even remotely uncomfortable... you're a bigot." I've certainly noticed patterns after two shows and wonder if after a third or fourth I'll begin to feel I know his manners and methods too well. It's possible though for now I believe as long as the stories are strong I can enjoy his approach to storytelling again and again.
He is indeed an unlikely man to hold a stage until he begins to talk and then you don't want to stop listening. Like Spalding Gray and Garrison Keillor and other monologists, Kitson talks with engaging and disarming directness. He doesn't embody characters the way a Lily Tomlin or John Leguizamo can. He's always Daniel Kitson, but he burrows into the hearts of these people -- and us -- time and time again. He can be caustic and reveal genuine bitterness and pain but I've left his two shows with a genuine warmth and appreciation for how he's helped me stop and take stock, if only for a moment. You have to like a guy who quotes Calvin & Hobbes on his poster. Here's hoping he'll come back soon.
The Theater Season 2011-2012 (on a four star scale)
NEW YORK MUSICAL THEATRE FESTIVAL 2011
Thanks for reading. Michael Giltz is the cohost of Showbiz Sandbox, a weekly pop culture podcast that reveals the industry take on entertainment news of the day and features top journalists and opinion makers as guests. It's available for free on iTunes. Visit Michael Giltz at his website and his daily blog. Download his podcast of celebrity interviews and his radio show, also called Popsurfing and also available for free on iTunes. Link to him on Netflix and gain access to thousands of ratings and reviews.
Note: Michael Giltz was provided with free tickets to the shows with the understanding that he would be writing a review.
Calling all HuffPost superfans!
Sign up for membership to become a founding member and help shape HuffPost's next chapter