Daniel Koffler shares about his experience founding New Frontiers, and includes exclusive specialist information on treating learning disabilities.
Daniel Koffler couldn't have selected a better company name: New Frontiers -- because they are doing just that. They are pushing boundaries and borders and access to education through a program that places no limits on learning, mentorship, or tutoring. Half of his company provides unique assistance to each of its students transitioning to college. The other half allows those students to remotely collaborate with and mentor peers from all over the world.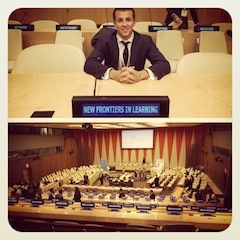 Daniel representing New Frontiers' at the UN during the recent Empact Showcase
Daniel and his team are experts in assisting students with challenges in academic learning, executive functioning, and social interaction at the secondary and postsecondary levels. Remarkably, every member of New Frontiers' administration team holds at minimum a Master of Special Education. As an educator, I know how important -- and rare -- those qualifications are.

Steve Mariotti: How are New Frontiers academic supports unique and innovative in this field?
Daniel Koffler: We stress the importance of relationship building between a student and their coach, allowing for the most specific and individualized sessions to address their needs. Our team understands that students struggle with academics and social communication. Rather than approaching our learners as completely distinct from their neurotypical peers, we teach systems used by successful people in ways that make sense to our students -- that individually differ to align with each person's specific thought processes. For example, we have discovered that teaching our students to organize their time and responsibilities into a calendar, whether it be a day planner or an electronic calendar, and then refer back to the calendar when completing tasks, encourages a dramatic increase in academic independence. We spend a lot of time teaching our students how to effectively use such systems so that they can become more autonomous young adults.
New Frontiers' kids being kids
SM: How did you get started in education?
DK: I began working in the education space in 2005, when I was 22 years old. I graduated from college in May, and wanted to start my own business. After a very short-lived and unsuccessful attempt, I joined my father at Metschools, the business he built and operated for over 20 years.

Metschools consisted of a variety of school programs, all of which he identified as needs in the market. He dreamed them up, found the real estate and financing, hired the administration, and did whatever was necessary to ensure a successful existence for staff and families who put their faith and future in his company.

Simultaneously, I was involved in, and eventually responsible for, the marketing, financial, expansion and overall strategic planning and success of two additional schools in our portfolio, in this case focusing on a population of students with a variety of learning differences. This gave me the varied experience I would ultimately call on when it came time to start and build my own venture.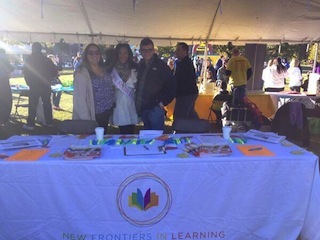 New Frontiers' team at a 2013 Autism Speaks event
SM: What practices are key to your work and success?
DK: First off, an organization is nothing without people. Establishing a culture that reflects your values is step ZERO. You need qualified, motivated, competent and energetic people surrounding you, challenging you, and ultimately, alongside you, doing the work necessary to realize your vision.

I think that it is somewhere between poor taste and unrealistic to ask employees to do something you are not willing to do yourself. If you aren't willing to LEAD THE CHARGE in getting your hands dirty, you better not expect your people to do so.

On the other hand, delegation is critical. In many cases, the people who I work with -- I prefer to view my staff as partners, not employees -- were brought on because they are the best at what they do and the reason that our efforts are viewed as the highest quality and best value a customer will find.
Lastly, there is no substitute for personal interaction. I spend a lot of my time on the street, meeting and interfacing with potential referral sources who tend to have a more direct connection to potential clients.

SM: What is a social enterprise and what is the official designation process?
DK: In simple terms, a social enterprise is one in which a business has a mission that benefits the progression of humankind, and has found profit potential in doing so. To me, when you can apply the principles of a successful business model to a market that is giving those in need an opportunity to realize their full potential, it becomes a lot more fulfilling and exciting to wake up in the morning.

In terms of official recognition as a social enterprise, I am not sure who, if anyone, actually governs that designation. If there is someone doing that, I have not yet received their blessing--but would be honored to!
SM: How did you get started with this social enterprise?
DK: I think it's the balance between finding a hole in the market, and finding something you love. It's a delicate balance -- there are days in which you may question why you ever got into this in the first place!

On the technical/quantitative side, I got into this because I had experience in a particular market, thoroughly enjoyed playing an active and useful role, and saw an area that was being underserved and thought I could make a difference
From a qualitative perspective, starting and running your own business is a lifestyle decision. Creating a brand, establishing processes and systems, putting together a team, setting your own schedule, being the sole authority over your own destiny -- these are what motivate me day in and day out. I sadly won't be able to lead this business forever, so I want to make sure the legacy I leave behind is a healthy business with a sterling reputation, run by industry and thought leaders.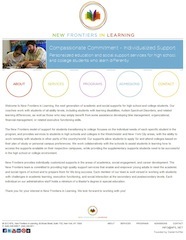 In the end, Daniel offered five tips for young readers struggling with learning disabilities, whether undiagnosed, known, or treated.
1. Success isn't achieved all by yourself - knowing when to ask for help is critical to achieving greatness.
2. Set due dates for yourself that are both realistic and achievable. Meet your deadlines and reward yourself when you reach small milestones. Setting aside extra time for yourself to complete tasks allows for flexibility in meeting deadlines in case any unforeseen obstacles or distractions arise.
3. Identify what a task is asking of you - whether it is a test, homework assignment, essay assignment, research project, etc., it is important to understand what type of information you must use to complete the task because different problems may require different strategies for completion.
4. Everyone learns differently - always ask your teacher or tutor to explain material in a different way if it doesn't make sense the first time around.
5. Understand and build on your individual strengths - everyone has strengths, and it is important to identify and utilize them to move yourself forward!
Special thanks to Maya Horgan and Lauren Bailey for assistance crafting this article.
REAL LIFE. REAL NEWS. REAL VOICES.
Help us tell more of the stories that matter from voices that too often remain unheard.