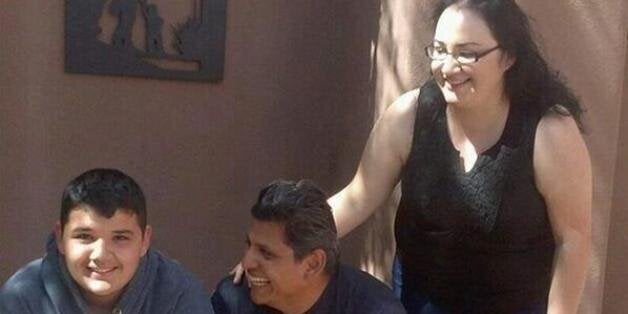 UPDATE 6/11: Daniel Neyoy Ruiz has been granted a one-year stay of his deportation order, reports NPR.
Daniel Neyoy Ruiz was ordered to leave the United States of America on May 13, 2014, after failing to produce legal documentation to immigration authorities. However, he has been able to stay by taking sanctuary in a church, Southside Presybterian in Tucson, Arizona.
Rev. Alison J. Harrington, the pastor of Southside, sees the situation as a moral one that is indicative of America's "broken immigration system." She told the Arizona Daily Star:
Offering sanctuary to Neyoy Ruiz was something we prayerfully and carefully considered because we do not take this action lightly. As one of the founding churches of the Sanctuary Movement of the 1980s, we know there are risks involved and we know there is a great deal of work ahead as we reorient the life of our church around caring for this family.

We also know that in times such as these, we are called by our faith in Jesus Christ to act on behalf of those who suffer. Throughout scriptures, people of faith are called to care for the orphan and the widow, but when it is a broken immigration system that is creating orphans and widows, we need to start intervening sooner.
On May 15, the U.S. Immigrations and Customs Enforcement announced that they would not actively track down Neyoy Ruiz for immediate deportation. Spokeswoman Amber Cargile wrote in a statement, ""After conducting a thorough review of Mr. Ruiz's immigration case, U.S. Immigration and Customs Enforcement (ICE) has decided to exercise prosecutorial discretion by not taking immediate action on Mr. Ruiz's removal order," according to Arizona Central.
The ICE's decision does not change the fact that Ruiz can be deported at any time, which is why he is remaining at Southside as a refuge until the deportation case is closed.
A petition to Secretary Jeh Johnson of the U.S. Department of Homeland Security to close the case seeks 2,000 signatures. It explains:
The good news is that what we are asking ICE to do, is something they do every day. The Obama administration has said that people like Daniel - individuals with no criminal history, with strong ties to the community, and with US Citizen children are a low priority for deportations and he has said recently that we should not be in the business of tearing apart families. While our current system needs serious reform, there is grace within our current system for people like Daniel and we are simply asking the administration to show Daniel that grace by closing his deportation order and allowing him to remain in Tucson with his wife Karla and son Carlos.
Arizona congressman Raul Grijalva has added his voice to the call for mercy for Neyoy Ruiz. Rep. Grijalva visited him at Southside and sent a letter to White House advisor Cecilia Munoz on behalf of Neyoy Ruiz, according to KVOA.
Neyoy Ruiz's son Carlos has also sent a letter to President Obama asking for mercy. He wrote, "Mr. President, I don't mean any disrespect with this but I'm just telling you to please don't turn your back on us and not only help my family stay united but all families that are being separated by immigration laws. I ask you, Mr. President, to let my dad stay in the United States."