 The star of an internationally renowned teen-friendly movie franchise hits the red carpet at a prestigious film festival to promote a cinematic portrait of the Beat Generation -- one in which the star in question gives a sexually explicit performance seemingly designed to draw a thick line between the adolescent past and the adult future.
Am I talking about Kristen Stewart, whose nude scenes in On the Road dominated a day of conversations at last year's Toronto International Film Festival? Or am I talking about Daniel Radcliffe, whose raw depiction of gay sex in Kill Your Darlings is presently the subject of titillated whispers among Sundance Festival attendees here in Park City, Utah?
Actually, I'm talking about both -- and the only way the parallels could be eerier would be if Radcliffe were exactly the same age as Stewart, instead of nine months older.
On the Road, directed by Walter Salles, premiered at Cannes last May, but it was Stewart's appearance at Toronto in September -- her first public outing since the cheating scandal that imperiled her relationship with Twilight co-star Robert Pattinson -- that created the bigger sensation, and kicked off a frenzy of Internet searches for screen shots showing the actress with her top off.
Daniel Radcliffe, by contrast, has no major scandals to his name, and bares no body parts that wouldn't be visible on any public beach. But, with his performance in Kill Your Darlings as a young Allen Ginsberg, Radcliffe takes on an entirely different set of taboos. Plenty of male actors have passionately kissed male co-stars in films, as Radcliffe and the excellent Dane DeHaan do here, but it's hard to recall a Hollywood star as famous as this one simulating the act of homosexual lovemaking this explicitly -- knees in the air, lover on top of him -- or this vulnerably.
Radcliffe, of course, is not the first movie star to depict Ginsberg's sexual adventures onscreen in recent years. James Franco played the poet in Howl, which debuted at Sundance in 2010, but that film left more to the imagination than Kill Your Darlings does, and Franco, for all his successes, does not possess a global teenage fan base of the kind enjoyed -- or perhaps endured -- by Stewart and Radcliffe.
What is it about the Beats in particular that attracts these stars and entices them to take such chances? Well, it's probably not an accident that On the Road is and long has been a popular choice for high school kids who yearn to put childish things away and test the limits of their newfound independence. Seen from that perspective, a sexually explicit movie about Ginsberg and his larger-than-life friends Jack Kerouac and William S. Burroughs is a natural next step for actors tired of embodying pre-pubescent fantasies on the big screen.
Because they wrote poems and novels, the Beats also have a patina of literary credibility that surely appeals not just to these young actors but to the managers, agents and publicists who make a living shaping their careers and reputations. Kristen Stewart is not about to go topless in an adaptation of some 50 Shades of Grey knockoff, but when the reference material is something as iconic as On the Road, she has every right to say, "This book celebrates being alive and it celebrates being human, and if you want to cover up and deny any aspect of that, you are denying the spirit of the book."
I know, alas, that we live in a world where Stewart's brave performance was destined to be immortalized in sleazy Internet stills; I still dare to hope we live in a world where Radcliffe won't have to contend with speculation about his personal life following this performance. But I also believe both actors took these roles, and ran the attending risks, for a reason.
It might even be the same reason. After years of amusing the kiddies and fattening the bottom lines of Hollywood studios, Stewart and Radcliffe are both testing their mettle as artists -- and following the lead of Ginsberg himself, who, in a piece of advice to young writers, famously said, "Follow your inner moonlight; don't hide the madness."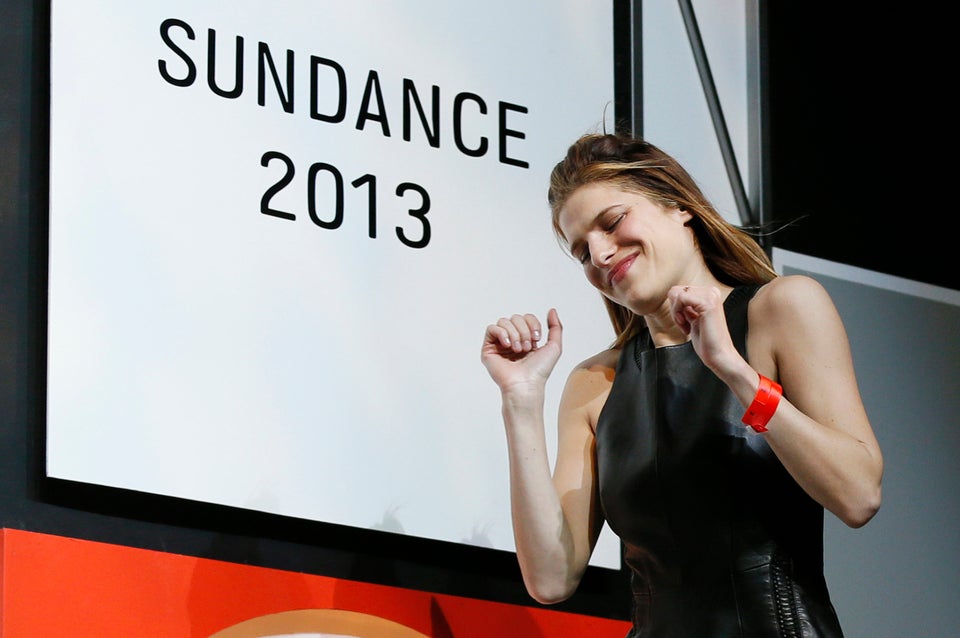 Sundance Film Festival 2013
Popular in the Community