The Australian driver, who recently left McLaren to return to Red Bull as a reserve driver, is a familiar face on the hit Netflix docuseries "Drive to Survive," which follows the danger and drama of international high-speed racing.
But, speaking with Stephen Colbert on "The Late Show" Thursday night, Ricciardo had another guess as to why Americans have suddenly gotten interested in F1 over the past few years.
"I think ultimately, it's probably my good looks," he said with his classic humility.
"I think there's parts of the world where it's always been big. You know, Europe, Formula 1's always existed for many, many years." It was only a matter of time before Americans got in on the fervor, he said, but "Drive to Survive" definitely put the pedal to the metal.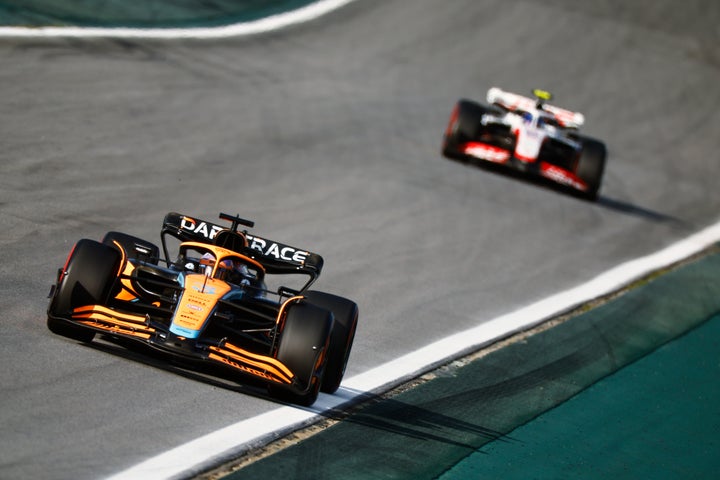 For fans new to the sport, driving might not seem like an athletic feat — but Ricciardo said sitting behind the wheel in a car that can top 200 mph requires extensive physical training.
"It's one of the very few sports that you can relate to, so when people are like, 'I don't get it, you have to be fit? All you do is sit and drive.' I used to kind of snap back and be like, no, no, it's a real sport, we have to be athletes," he said.
The G-forces athletes endure during races are the main reason. The average race, Ricciardo said, is 60 laps, or about 90 minutes of driving, with 12 to 15 corners every lap.
"All right, who's good at math?" he joked. "I don't know. It's a lot."
"You need the strength just to hold on," he said, explaining that drivers need to train their neck muscles to withstand the pressure. If you're not prepared, Ricciardo said, "it's pain, it's misery."
As far as favorite circuits go, Ricciardo said the track in Austin, Texas, is one of the best for fans, while he called Monaco the "crown jewel" for drivers.
"When you think of F1, you think of the Monaco Grand Prix. The yachts, the celebrities, the race — it's everything."
Popular in the Community