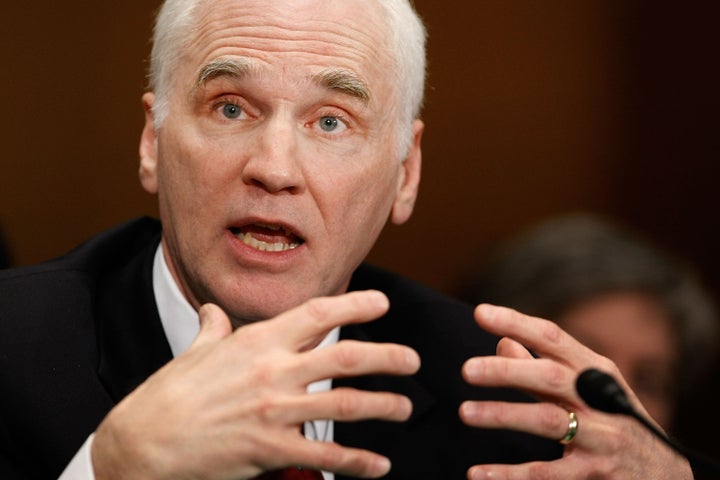 NEW YORK (Reuters) - The Federal Reserve should consider buying more mortgage bonds to support a fragile economic recovery and a downtrodden housing sector, Fed Board Governor Daniel Tarullo said on Thursday.
In his first speech explicitly on the economic outlook since joining office in 2009, Tarullo, who tends to focus primarily on regulation, argued vehemently that more should be done to address the country's jobless crisis.
Because the ongoing rut in housing is so central to the recession and the anemic nature of the subsequent expansion, the Fed should refocus its efforts on housing, he said.
``I believe we should move back up toward the top of the list of options the large-scale purchase of additional mortgage-backed securities,'' Tarullo said in text prepared for deliver at a conference at Columbia University. ``There is need, and ample room, for additional measures to increase aggregate demand in the near to medium term, particularly in light of the limited upside risks to inflation over the medium term.''
The Fed's earlier interventions in the mortgage bond market, which totaled a whopping $1.25 trillion, were controversial, with some top policy makers saying they were leery of engaging in what potentially constituted allocating credit to a specific sector of the economy. Tarullo downplayed such concerns, arguing that putting the economic expansion on a more solid footing was the more pressing issue.
``Housing continues to hang like an albatross around the necks of homeowners and the economy as a whole,'' he said.
He suggested lawmakers should also be thinking about ways to stimulate growth, but said Fed actions should be independent of fiscal policy considerations.
``I certainly do not disagree that well-conceived policies by other parts of the government could produce gains in employment, investment, and spending. But the absence of such policies cannot be an excuse for the Federal Reserve to ignore its own statutory mandate,'' he said, referring to the central bank's dual mandate for price stability and maximum sustainable employment.
Despite the Fed's extraordinary efforts to stimulate the economy through highly accommodative monetary policy, the U.S. economy grew less than 1 percent in the first half of the year. Unemployment has remained stuck at 9.1 percent for several months, and Tarullo argued that even that startling figure understates the sorry state of affairs.
``Nearly 30 million Americans ... are officially unemployed, out of the labor force but wanting jobs, or involuntarily working only part time,'' Tarullo said.
The notion that U.S. unemployment was permanently higher due to ``structural'' issues is misguided, he said, saying that less than a quarter of the recent spike in joblessness can be accounted for by such factors as skills mismatches and difficulties in relocating. (Reporting by Kristina Cooke; Writing by Pedro Nicolaci da Costa; Editing by Leslie Adler)
Calling all HuffPost superfans!
Sign up for membership to become a founding member and help shape HuffPost's next chapter
BEFORE YOU GO