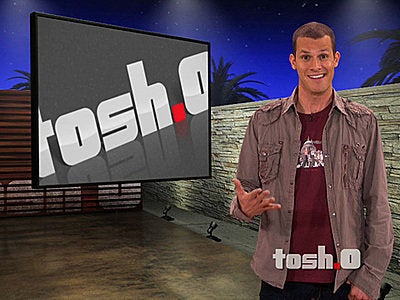 With 2.4 million viewers, Daniel Tosh has taken the lead over Jon Stewart and Stephen Colbert as Comedy Central's top-rated show host.
In its second season, Tosh's show "Tosh.0" follows a video clip format like E!'s "Talk Soup." Tosh takes viral videos, internet news, and original content — and gives them his own twist.
WATCH:
He also occasionally interviews guests on the show in segments such as "Web Redemption."
WATCH:
Last Wednesday, "Tosh.0" had its best ratings yet, boosting Comedy Central ratings in that time period to their highest since "Chappelle's Show" held the time slot in 2004.
Tosh's summer season, which premiered June 2, has averaged 2.2 million viewers and a 1.5 rating among adults 18-49, a 24% increase from the show's last season. In fact, five of the show's six episodes have broken Tosh's own previous ratings records. "Tosh.0" is now the network's #3-rated show, behind only "South Park" and "Futurama."
"It's a show that came in under the radar and it's a truly word-of-mouth kind of show," said Comedy Central's Kent Alterman, head of the network's original programming. "He hasn't been written about that much. There's really just one factor that stands out — the show is really funny."
But Tosh isn't the only funny one, and he knows it — part of his appeal seems to be his eagerness to engage with viewers (and sometimes teach them raunchy dance moves).
WATCH:
Related
Popular in the Community