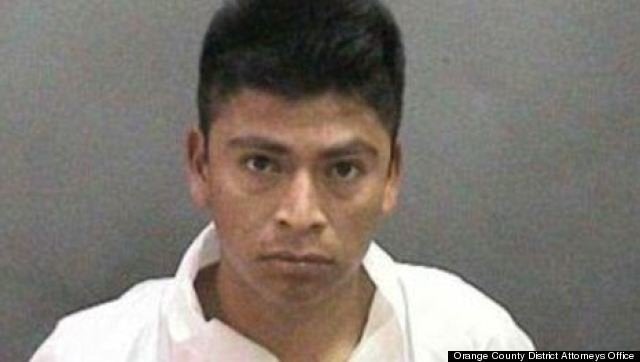 A California man who kidnapped and raped a 7-year-old girl with severe developmental disabilities was sentenced Friday to 65 years to life in state prison.
The convicted rapist was brought to justice because of an unlikely and brave little hero -- the victim's 8-year-old friend.
Daniel Vlas Flores approached the victim, who was playing with an 8-year-old girl and two boys in an apartment courtyard in Huntington Beach on April 19, 2009. Flores, then 30, told the children, who were under the care of a babysitter, that he needed help moving his furniture, the Orange County Register reports. The 8-year-old girl urged the man to take the boys to help him, but Flores pulled the victim -- who repeatedly said she did not want to go -- by the hand and ran with her into his nearby apartment.
When the 8-year-old girl became concerned that her friend had not returned, she found Flores' apartment and unlatched a sliding-glass door, through which the victim was able to escape. The victimized girl ran home, grabbed a photo of her mother and locked herself in a bathroom crying, KFI reports. Authorities were eventually able to talk her out of the bathroom, and a medical examination revealed that she had blood in her underwear and Flores' DNA was on her. Flores was arrested the same day.
At Flores' sentencing, the older girl said she considered herself the protector of the girl with developmental disabilities. The victim is primarily nonverbal and her friend used to refer to her as "the little girl who doesn't talk," the Register reports. There was a happy reunion between the two girls during the trial. "They appeared to still be the best of friends,'' Deputy District Attorney Eric Scarbrough told KFI. "There was hugging and smiles on both of their faces.''
The victim's father said at the sentencing hearing that the family has since moved out of California to get away from the place where the horror took place, according to the OC District Attorney's Office. He said that his daughter is in therapy and the entire family is attempting to recover from the trauma.
Flores was found guilty of one felony count each of sexual intercourse with a child, sodomy of a child, kidnapping to commit a sexual offense and digital penetration of a child.
Judge Lance Jensen, who oversaw the jury trial, said that Flores, who declined to make a statement, "singled out the younger, physically challenged child to ensure your chances of success and decrease your chances of getting caught,'' KFI reports.
"I can't think of anything worse you can do to a child than what you did,'' the judge said to Flores, who will likely live the rest of his days in prison.
REAL LIFE. REAL NEWS. REAL VOICES.
Help us tell more of the stories that matter from voices that too often remain unheard.
BEFORE YOU GO
PHOTO GALLERY
Dumb Crime: Masterminds Need Not Apply