Daniela Pelaez is valedictorian of her class at North Miami Senior High, in the international baccalaureate program with a 6.7 GPA, applying to Ivy League universities, and hopes to become a heart surgeon.
Pelaez came to the United States from Colombia as a four-year-old with her family, who overstayed their visa. Her mother returned to Colombia for medical reasons in 2006; Pelaez now lives with her father, a legal U.S. resident, and her brother, a member of the U.S. military, is a citizen. Limbo awaits if she and her sister are forced to leave the country March 28.
"It would mean I'd leave a country and go back to a country that I don't remember, a country that I don't feel at home, and I don't even graduate high school," Pelaez told Local10. "Everything I've worked for, it's, like, going down the drain in a matter of days."
School officials are devastated over Pelaez' situation. "She has a brother whose been serving for two years in Afghanistan and Iraq, so here's her brother out defending the country, and a judge telling her, 'Oh, but you don't deserve to be here,'" North Miami administator Larry Jurrist told WSVN. "It doesn't make any sense."
Though ICE promised in a statement to "review this matter to determine whether an exercise of discretion is warranted," Pelaez' appeal is no sure thing.
"I've been asked the question before: 'Do I feel American?' or 'Do I believe I am?'" she told NBCMiami. "And I don't think it's a question. I'm American. I know the national anthem. I know the laws. I know what it is to be an American."
View images of Friday morning's protest: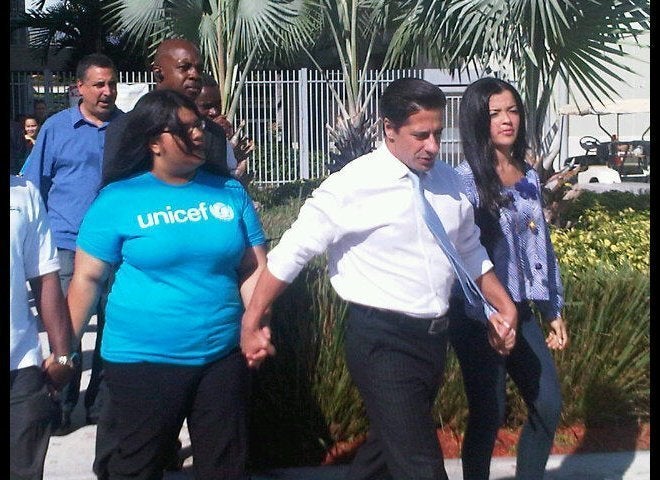 Daniela Pelaez Deportation Protest
Support HuffPost
The Stakes Have Never Been Higher
Related
Popular in the Community