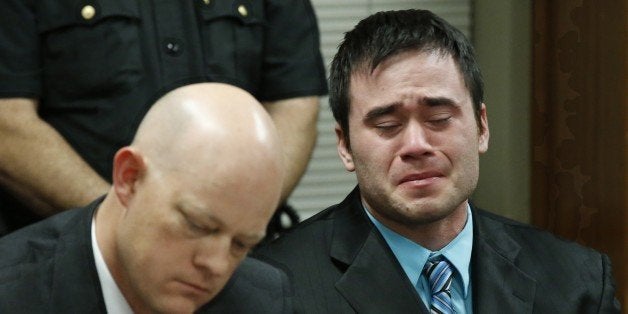 Getting a conviction on 18 out of 36 charges against former Oklahoma City Police Officer Daniel Holtzclaw does not mean justice was served. Hardly.
Daniel Holtzclaw served on the force for three years. Given this, it's likely that the 13 black women who testified against him represent only a small fraction of the actual number of black female victims out there; especially if we consider that nationwide nearly 70 percent of sexual assaults go unreported.
It also suggests that despite compelling evidence against him, including but not limited to DNA evidence, eyewitness testimony, and corroborating evidence from the GPS in his police cruiser, the jurors failed to convict on half the charges. Or as some have noted, there were five victims for whom "justice" was denied.
As Jannie Liggons, a grandmother, and brave survivor of Holtzclaw told reporters, after she begged him to stop and feared for her life, in the end it was that the now convicted serial rapist "picked the wrong lady to stop."
Those words are so powerfully true and charged with so many historical legacies that make it nearly impossible for black women to get justice in America. The fact is an earlier victim had come forward. But because she was probably an impoverished, black woman with a criminal record or substance abuse problem, his favored demographic, it was not until Ms. Liggons, an older middle-class black woman with no criminal record, came forward that the case gained legs.
Still, while investigators took the case seriously and located the additional victims and charged Holtzclaw, the mainstream national media barely covered the story.
A judge gave him bail and an ankle monitor, until he racked up two bond violations that sent him back to jail before the trial. Still, social media campaigns were mounted on his behalf.
Once the DNA evidence from his youngest victim, a 17-year-old, was discovered even the Oklahoma Police Department had no choice but to fire him, as Chief Bill Citty said: "Your offenses committed against women in our community constitute the greatest abuse of police authority I have witnessed in my 37 years as a member of this agency."
Even the seating of an all-white jury for a case involving 13 black female victims was largely a blip on the national media screen.
It was not until Daniel Holtzclaw was convicted that the story started trending.
And what that trend tells us is that except for the groups of black feminists and their allies keeping the story alive on social media and in leftist media outlets, America still does not care about black women.
After all, a black woman -- even 13 of them -- being sexually assaulted is not news worthy in this country. What has shocked and forced the major media outlets into having to say something about this case is that now it looks like someone might actually be punished for it; never mind that he can appeal.
This partial victory is also an opportunity for some to suggest that the justice system worked. It allows people to ignore the inherent bias and wrongness of selecting an all-white jury. For many, it will gloss over the likely negligence of the Oklahoma City Police force and move attention away from important, unanswered questions such as how many officers ride without partners? How often are their GPS devices checked? How many ambiguous stops are investigated?
And this: How many more victims are there, really?
Glad he was not acquitted, but black women deserve far more than the fraught, partial justice awarded here.
Support HuffPost
Every Voice Matters
Popular in the Community