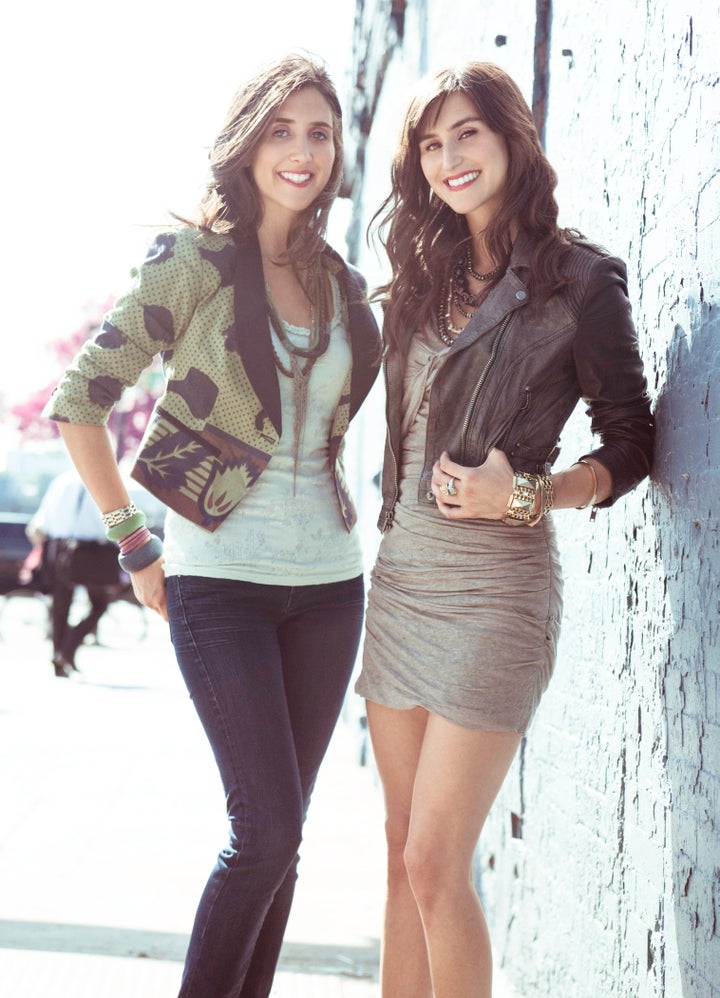 There's been a lot of concern lately among entrepreneurs about the European economic crisis and the general malaise here at home. For my sister Jodie and I, it feels not-so-strangely familiar. Which is why we're ready to tackle this period of uncertainty head-on.
We founded our company, DANNIJO, in the heart of the recession in 2008. Most of our friends thought we were crazy to launch a luxury brand in such trying times -- and they were right, to some degree. While we had a bit of savings and a small family loan, being an unknown brand and trying to approach the likes of Bergdorf Goodman and Henri Bendel -- who wanted to have confidence in their buys with well-known brands -- meant the odds were largely against us. Despite the uphill battle, we fought harder and grew more passionate. We knew our jewelry was unique to the market, and most importantly, we knew that our open-mindedness and fresh perspectives at the ripe ages of 23 and 26, respectively, would mean that we could pave our own way and find success. Our naïveté meant fearlessness. We wouldn't take no for an answer. We tweaked our designs and business plan, evolved, and tried again. Fast forward to today. Are we concerned that the global economic woes will impact our business? Yes. Do we think it will have a negative impact on the fashion industry? Absolutely. But what we're most excited about is the positives that will come out of this negative. Some incredible businesses that changed the fashion landscape as we know it came out of the 2008 recession here at home. In many ways, it marked the beginning of the fashion-technology marriage. Think Rent the Runway, Gilt Groupe, and Rue La La. These business models took the virtually unprecedented economic crisis into consideration -- and used it as motivation to propel their businesses and revolutionary ideas. For DANNIJO, we managed to grow despite the obstacles of the economy because we've been creative and nimble. When buyers started placing their orders closer to delivery dates, we were able to deliver, whereas a lot of brands that had been around for decades had trouble with the production changes. Additionally, we've diversified our portfolio: As jewelry designers, we pioneered the expansion into more affordable branded tech products (iPhone and iPad cases); collaborated with influential bloggers like Man Repeller and Fashion Toast's Rumi Neely (who in many ways have been positively impacted by the events of the recession); worked with game-changing businesses like Gilt Groupe and Moda Operandi; produced our own Fashion Week events; and created a more tangible and intimate relationship with our customer base by personally engaging in a range of social media outlets like Instagram, Tumblr, Facebook, Foursquare and Twitter. A number of these initiatives took plenty of time and relationship-building, but not a lot of money -- a lesson for any startup during tough times. Now, more than ever, we're living in a global market -- and one that's easier than ever to reach. We've learned from experience to be multidimensional and have a strong Internet presence, whether you're in Italy or America or a tiny remote village. That's why we're continuing to invest in our e-commerce site and executing innovative collaborations and product lines that will keep our brand fresh and relevant.
The European economic crisis will have an impact on small businesses, and the fashion industry in particular, because Europe plays such a leading role. And the shaky U.S. economy is obviously on our radar too. But we know this, we've been here and we're ready to find the opportunity in it.
Calling all HuffPost superfans!
Sign up for membership to become a founding member and help shape HuffPost's next chapter