The opening scene of "Daniel's Husband" features two well-dressed, wine-swilling gay couples debating the merits of gummy bears versus jellybeans – yes, really. It's also a fleeting moment of levity in a drama that examines both the fragility of human relationships and whether marriage, with its religious and antiquated implications, is the best option for everyone.
Now playing at New York's Westside Theatre, Michael McKeever's play tells the story of Daniel (played by Ryan Spahn), an architect who is in a seven-year relationship with novelist Mitchell (Matthew Montelongo). The pair's picture-perfect facade starts to crack when they invite Mitchell's agent, Barry (Lou Liberatore), and Barry's much younger lover, Trip (Leland Wheeler), to their impeccably decorated home for a dinner party.
The cocktails and crème brûlée are plentiful, and before long, the night's conversation reveals a sore spot: Though Daniel wants to tie the knot, Mitchell refuses, viewing the institution of marriage as outdated. (Watch a montage of scenes from the show in the clip above.)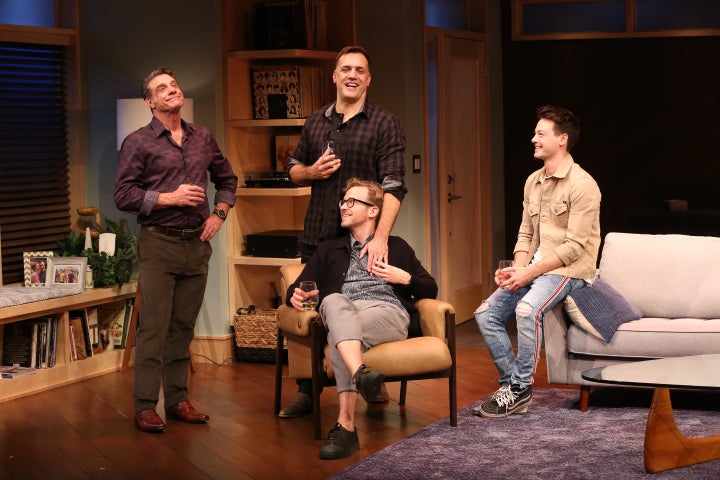 Though "Daniel's Husband" begins as a situational comedy, the play's latter half is a modern morality tale about not taking love and family for granted. When catastrophe strikes, Mitchell's long-held resistance to matrimony has devastating effects. Meanwhile, Daniel's loving but co-dependent mother, Lydia (Anna Holbrook), is eager to find a way to use the couple's lack of a marriage certificate to her advantage. The show's climax is, easily, one of the most heartbreaking scenes you're likely to see off-Broadway this season.
"Daniel's Husband" also boasts nuanced yet emotionally charged performances from its ensemble cast. Each of the five principal actors has been a part of the show since its 2016 premiere at the Penguin Rep Theatre in Stony Point, New York, and appeared in a subsequent 2017 production at Cherry Lane Theatre in New York's West Village neighborhood. 
The fact that America's political climate has shifted during the various incarnations of "Daniel's Husband" isn't lost on its stars. Still, they told HuffPost the play's lack of an "intentional agenda" means its message doesn't rely on the civic views of its audience members.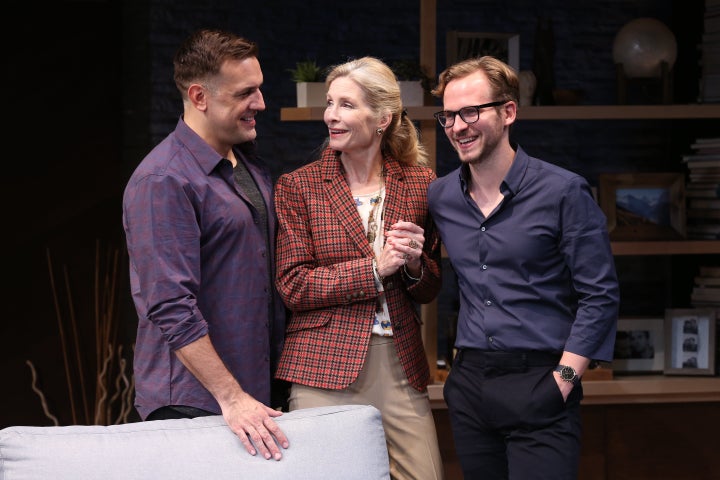 "There's not a message we need our audience to leave with, and because of that, I think it's that much more effective," Wheeler told HuffPost. "It's about not taking anything for granted, which is something that everyone can relate to."
The show also arrives at a time when the New York theater scene is hosting a plethora of LGBTQ narratives. Both "Torch Song" ― a revised version of Harvey Fierstein's 1982 queer theatrical milestone, "Torch Song Trilogy" ― and an inclusive new musical, "The Prom," opened this month to stellar reviews.
For his part, Montelongo believes the show's unexpected latter half "helps break open that 'gay play' box everyone wants to categorize us as."
"It's about protecting the love that's a priority in your life," he said. "Maybe you leave feeling not so much that you have to get married, but that you have to fight for those protections, whatever they are for you."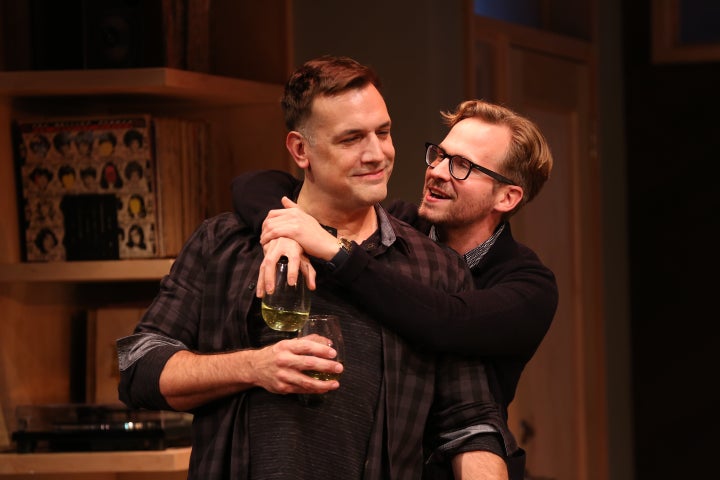 Spahn echoed those sentiments, noting that "Daniel's Husband" emphasizes "the arguments in any relationship that can divide a couple" rather than the sexuality of its characters. Audiences who don't identify as LGBTQ will find much to admire in its narrative, he said.
"No one is a green witch, yet everybody loves 'Wicked,'" Spahn said. "We, as LGBTQ people, have spent decades watching heteronormative stories and have found our way into them through relationships, through everything that's familiar to us even though they're not telling our identical stories. I feel like they should pay us the same respect and treat our story with the same respect, as we have for 30, 40 years."   
Calling all HuffPost superfans!
Sign up for membership to become a founding member and help shape HuffPost's next chapter
BEFORE YOU GO