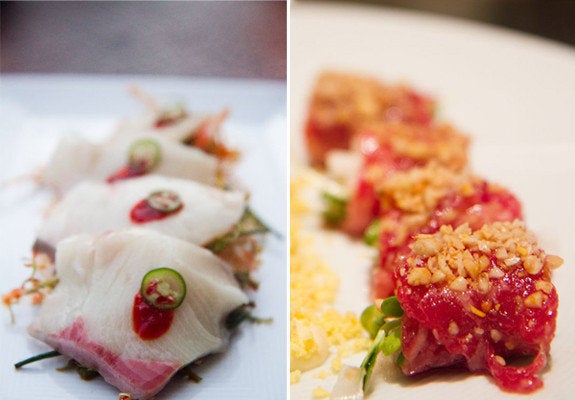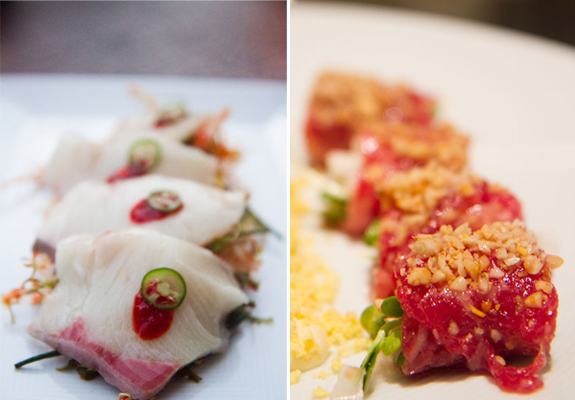 Medicine and cooking have surprising parallels -- both require knife skills, both have positive uses for bacteria, and when done the right way both will get your balls fondled. Ditching his med path for the sake of Korean food, the guy behind Danji.
After taking a short "break" from pre-med at Berkeley and heading to culinary school, Danji's chef stinted at Daniel and Masa before striking out on his own with a new-meets-old-school Korean small plate eatery, with the "washed and muted tones of a pottery studio" engulfing a mere 33 seats (so best to claym one early). Borrowing from Japanese izakayas, the menu's broken down into "Modern" and "Traditional" sections, with mod boasting bites of bulgogi beef sliders w/ roasted marrow, Kimchi Bacon Fried "Paella" topped with a farmhouse egg, steak tartare mixed w/ toasted pine nuts, quail yolk, and Korean pear, and spicy cod roe mayo'd popcorn shrimp, which is about the closest they come to Seoul food. More classic noshes, meanwhile, run from spicy spare ribs, to miso brisket stew, to braised short ribs w/ fingerlings & pearl onion, to spicy daikon-sided poached sablefish, unsurprising, as how else could a fish afford a fur coat?
The cocktail menu's similarly sectional, with classic tipples like the Negroni and Manhattan next to modern twists like the vodka & lemon Asian Pear, enough of which will hopefully get your pair fondled as well.